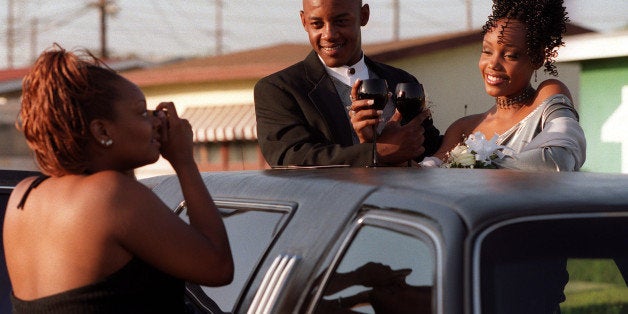 It's that time of year when teens are preparing for prom and parents go out of their way to make sure their sons have the perfect tuxedo, their daughters have custom made dresses and gowns, and they rent Hummers and Lamborghinis. Wait what? Lamborghinis? I'm looking through prom photos on social media and teens are going to prom in fast luxury cars.
Okay, I'll admit that it is a cute photo opt to take prom photos in front of a Lamborghini but it is all for show. It's like being a peacock showing off your feathers except you have to give your feathers back the next day. If your child's college tuition is not completely paid for, he or she does not need a Lamborghini or Hummer for their prom. A recent survey from Visa showed that "the average U.S. family plans to spend about $919 on a prom-going teen, with parents covering as much as 73% of the costs. Dads outspend moms, $1,160 to $710 respectively."
Fast cars mean they will be driving fast to-and-from the prom, no matter how much you "trust" them not to do so. Accidents are the number one cause of death for young people aged 12 to 19 (CDC.gov), and those involving motor vehicles are the most common. According to the Insurance Institute for Highway Safety, roughly a third of alcohol-related teen traffic fatalities occur between April and June, which is considered the peak of prom season. It puts them and their date's life in danger and if drinking becomes a factor, it can become deadly. Also fast cars going fast are more likely to be stopped by police. According to statistics by the Bureau of Justice, Black drivers (12.3%) were about three times as likely as white drivers (3.9%) to be stopped by law enforcement.
Getting a teen a fast car for prom and not having college tuition in the bank is helping to increase the statistics that your teen won't be finishing college. Getting a college education is expensive. I often hear parents say, "I paid my way through college and my child will appreciate it more if they pay their own way." No, that's not how to ensure their success. I also paid my way through college. I can tell you first hand that debt is the new slavery and it's not the way to go nor the way to start off a brand new adult life -- beginning with tons of debt that they'll be paying off into retirement.
The reality is that as a parent, if you haven't saved for your child's college tuition by prom time, you most likely won't be covering this expense. But why pay for a temporary fast car instead? University books cost almost as much as the designer shoes many of the attendees will be wearing to prom. Saving some of this money for books and other unexpected educational expenses might be a better investment.
All I'm saying is, can we get our priorities straight? There will be some parents not paying their rent in order to pose their child in front of a Hummer for a prom picture. The VISA Prom Spending Survey shows "households that earn less than $25k spend 41% more on prom than those households that earn $75k or more." Even if your teen is helping with prom expenses, without the fast car and extra luxuries, they will still have a great time and have money available for upcoming important events like attending a university.
Janice Celeste, MBA is the Founder and Editor-in-Chief of Successful Black Parenting magazine. She has a degree in early childhood education, has taught high school and was a professor at Hofstra University. She was also the executive director of a local YMCA, is the author of the book, Pride and Joy by Simon & Schuster, and is a journalist and former news reporter.
Calling all HuffPost superfans!
Sign up for membership to become a founding member and help shape HuffPost's next chapter