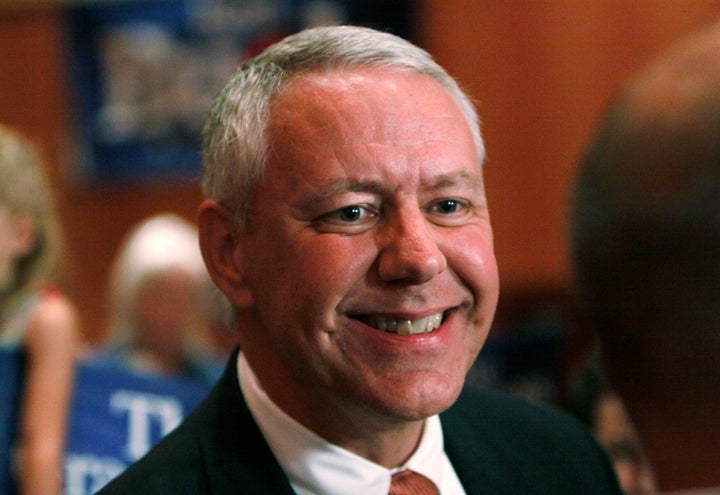 U.S. Rep. Ken Buck (R-CO) grabbed headlines yesterday by declaring the Republican Party "dead."
'After eight years of assuring that unified Republican government would allow for conservative policy, our Republican Congress has accomplished little, except for passing a spending bill that shackles the aspirations of future generations with crippling debt,' wrote Buck yesterday in The Denver Post.
In varying degrees, many Republicans in Colorado are feeling the same way.
Buck's comments came on the heels of angry Facebook comments last week by Kelly Couey, a Republican who appeared in an I-Am-Created-Equal video prior to the 2014 election criticizing Democratic Sen. Michael Bennet for his support of Obamacare.
Couey puts the blame not on Republicans, but on U.S. Sen. John McCain of Arizona and others who voted against killing Obamacare. Couey wrote on Facebook after the vote:
Did any of these a**holes who voted against repeal read the Constitution? The Ten Commandments? Sorry John McCain, the cancer in your head is not as bad as the poison in your corporate bought out black heart.
Couey's son has autism, and he and his wife have struggled with healthcare costs. In his ad, which attacks Democratic Sen. Michael Bennet's support for Obamcare, Couey complains about the cost of insurance under Obamacare.
Anil Mathai, the Chair of the Adams County, Colorado, Republican Party, has been voicing his frustration and anger over the failure of Republicans to kill Obamacare.
In a strident Facebook post, Mathai wrote:
Mathai: Our continued failure [to repeal Obamacare] will end the Republican Party via huge losses in 2017 and 2018. We were trusted and elected to lead our nation successfully.
Written just before the final GOP repeal effort went down in flames, Mathai's post stated:
Mathai: May the Republican Party immediately repeal Obamacare and return our nation to complete freedom and away from the tyranny that the Democrat communist party has enacted over the last eight years!
Mathai doesn't hold back when speaking his mind, both about his fellow Republicans and about issues he cares about.
Steve House, the former chair of the Colorado Republican Party, doesn't usually attack his fellow Republicans, like Mathai does. But he's suggested that GOP activists de-fund the National Republican Senatorial Committee, a group that raises money to support GOP Senate candidates, because the Republicans failure to repeal Obamacare.
House said on conservative radio: …"[T]he Senate in general has been telling us for a decade now –not a decade, but let's say seven years — that they had to have control of the Senate to fix or eliminate Obamacare. And if they can't get that done, what's the point of having a majority, at this point?"
House's disillusionment reflects Buck's.
Buck summarized his thinking in The Denver Post:
'At one time, the blood of the people coursed through its veins, enlivening the party with their values and virtues, their goals and dreams,' Buck wrote. 'The party became its own energizing force, compelling people to sacrifice for a higher moral purpose.'
But today's Republican Party abandoned these people. It no longer represents their values. It no longer has a vision for a better America. And no one is stepping up to provide that vision.
Popular in the Community