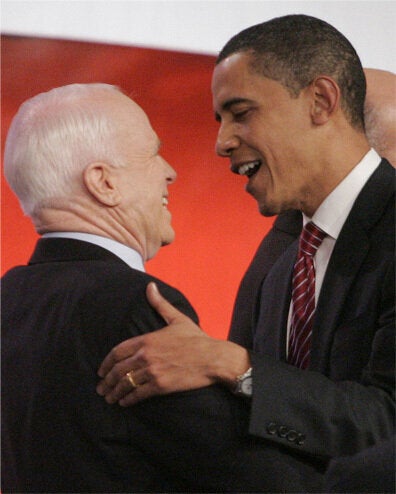 Prominent Democrats Back McCain
I usually only read Newsmax for the non-prescription boner pill ads. ("Not only can I get it up, but I can also last for a while." -- Vialipro ®. "Leonard has a larger penis. There is no doubt about it." -- Orexis ™) But when I saw the headline about prominent Democrats backing McCain, I had to click on it.
Who would it be? Gore? Daschle? Byrd? John Glenn?
Were the wounds from the primaries so deep? Were there new doubts about Barack? Was the party tearing itself apart? Is John Glenn even alive?
It turns out when Newsmax says "prominent Democrats" they mean one former congressman, three ex-mayors and former Palmyra, Maine Budget Committee Member Herb Bates.
I don't know what kind of style sheet they work off at Newsmax, but the use of "Prominent" feels like kind of an exaggeration.
Makes you wonder if they're also lying about Leonard's penis.
Now, for all I know, Herb Bates is the Rasputin of Palmyra, Maine, and when he laughs, respectable senators burst with laughter, and when he cries children die in the streets. But probably not.
He's just on the Budget Committee. The real power's with the Palmyra Board of Selectpersons.
But let's not get hung up on "Boss" Bates. Here's the whole list, in Newsmax order.
Former Phoenix Mayor Paul Johnson (Arizona)

Former Arizona State Legislator Phil Hubbard (Arizona)

Mammoth Mayor Craig Williams (Arizona)
(Population 2,167, by the way.)
Former Arizona LULAC Director Ray Gans (Arizona)

Democratic 25th Precinct Chair Silverio "Silver" Salazar (Colorado)

Adviser to Democratic Presidential Candidates and Georgetown University Professor Robert Lieber (District of Columbia)
(According to his Georgetown bio, he's not only the author of fourteen books on international relations, he can also read, but not speak, French.)
Blogger on HillaryClinton.com Renee Slater (Florida)
Former Sheriff of Highlands County Howard Godwin (Florida)

Jewish Outreach Adviser to Senator Hillary Clinton Rabbi Cheryl Jacobs

Georgia Political Director for Gore-Lieberman '00 Joseph O'Farrell Jr. (Georgia)

Former Democratic Des Moines County Chair Bruce Shulte (Illinois)

Former State Representative Brian Golden (Massachusetts)

Commander of Newport Memorial-VFW Post 1119 Francis Harding, Jr. (Maine)
(That's one Maine VFW Post Commander down, thirty Maine VFW Post Commanders to go.)
Former Palmyra Budget Committee Member Herb Bates (Maine)
(Home of the Madawaska Bog Wildlife Preserve!)
Former Lt. Governor and State Supreme Court Justice Alexander "Sandy" Keith (Minnesota)

Former U.S Representative and 2002 Independence Party gubernatorial candidate Tim Penny (Minnesota)

Former State Representative Steve Wenzel (Minnesota)

City Clerk Judi May (Mississippi)
(Specifically, Mendenhall, Mississippi. Population 2,555.)
County Supervisor Gary Dearman (Mississippi)

Alderman Bill Mosby (Mississippi)
(Specifically, Canton. Town motto: "What you need, when you need it." Which, when you think about it, would also be a pretty good motto for Vialipro ®.)
Former State Representative Jim Gamache (Missouri)

Presiding Commissioner in New Madrid County, Clyde Hawes (Missouri)
Former Concord Mayor Bill Veroneau (New Hampshire)

Former Democratic Mayor of Waterford Township George Fallon (New Jersey)

Former Democratic Committeeman in Warren Township Jeffrey Golkin (New Jersey)

Former State Chair of Environmentalists for Clinton-Gore 1992 Roberta Weisbrod (New York)

Former Majority Leader in the State Senate David Carlin (Rhode Island)

Former Texas Democratic Party Chairman Roy Orr (Texas)

Elected National Delegate for Senator Hillary Clinton Debra Bartoshevich (Wisconsin)

Former Democratic gubernatorial candidate Philip Frye (West Virginia)
(They'll probably regret putting his name on the list. Philip Frye is a headcase. Frye is a West Virginia VCR repairman who ran for office because then-governor Jim Wise was having an affair with his wife. (And not even returning her rewound.) He got 1% of the vote.)
The most prominent Democrat on his list is a VCR repairman/cuckold. If the Coen brothers started making funny movies again, he wouldn't even get a whole one to himself.
But here's the thing that really struck me, the more I thought about this pathetic list: Is there anyone in America who hasn't worked for the government?
Does it really take five guys to govern Palmyra, Maine? What would happen to New Madrid County without a Presiding Commissioner? Would Dunklin County invade and take away their freedom?
When John McCain says government is too big, what do these people think he means?
John McCain was in the navy and then he was in the U.S. Senate. He has never cashed a check a bureaucrat didn't write. I'm not trying to be glib, and I realize he was doing a solemn and dangerous job, killing people from the sky. But it was still government work.
Wait, except for those years as a POW. A sick but undeniable fact about John McCain: The only period in his life when he wasn't living off the American taxpayer, he was living off the Vietnamese taxpayer.
John McCain's father was in the navy and his father was in the navy. The last McCain who didn't live in government housing owned a plantation in Mississippi when the state still had slaves.
Which is why John McCain always sounds so emotional when he gets to this line in his stump speech:
"I am absolutely committed to reducing the size of government."
What he's promising is eventually he'll die.
Oh, by the way, John Glenn's fine.
Popular in the Community