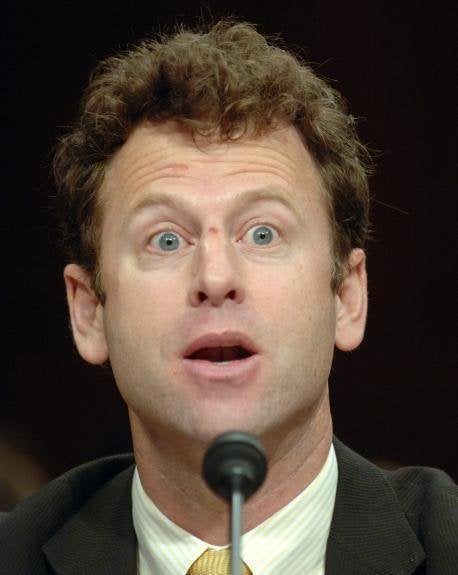 An unlikely source gave President Barack Obama a bit of cover on Tuesday for his decision to deliberate on whether or not to send additional U.S. troops to the war in Afghanistan.
Michael O'Hanlon, one of the nation's most prominent hawks, an outspoken defender of the war and an occasionally sharp critic of the current administration, told a crowd stacked with neoconservatives that it was time to cut the president some slack.
"Here we are less than six months after that first strategy review was completed and military commanders are now saying that the exact same strategy they proposed back in March, they need... well above and beyond what they thought they needed," O'Hanlon said. "And so Mr. Obama is entitled to think twice about that. He is entitled to wonder just how precise this is this military arithmetic? Just how promising is this counter-insurgency strategy anyway?"
"I do think generals should say what they think they need," O'Hanlon added. "But presidents should also digest that request."
The remarks were delivered during a conference sponsored by the neoconservative Foreign Policy Initiative, where other attendees were less supportive of the president. On Monday, just hours after it was reported that military commanders were requesting an additional 40,000 U.S. troops for the eight-year-long war, former Republican president candidate Mitt Romney demanded that Obama stop playing "Hamlet" in the White House and follow the advice. The FPI crowd, largely consisting of cheerleaders of neo-conservatism (including former Bush administration officials Dan Senor and Scooter Libby), shared this viewpoint.
O'Hanlon, a Brookings Institute scholar who was one of the most vocal proponents of the war in Iraq, urged a bit of patience. We should allow, he said, "at least for a few weeks of deliberation and indecision. If he is still in November where he is today, I will not be defending him. But I think where he is at this moment is understandable."
"As you know, President Obama... basically doubled the size of the U.S. military in Afghanistan in the first six months of his presidency. Go back and find another time in history when that's been done. That's pretty serious resolve. The people critiquing him for his supposed lack of resoluteness right now need to understand where we have come from in the past six months. It's pretty darn impressive. There are 65,000 GIs in Afghanistan today. At this time last year there were about 29,000 to 30,000."
The speech gives the White House a logical counterpoint by which to rebut Romney and other critics. But it's hard to imagine that the president is all that welcoming of O'Hanlon's endorsement. While the generals are boxing Obama in, the political pressure facing the president comes mainly from within his own party, which has quickly soured on his Afghan strategy. And O'Hanlon is not a well-regarded foreign policy voice in that community.
Popular in the Community