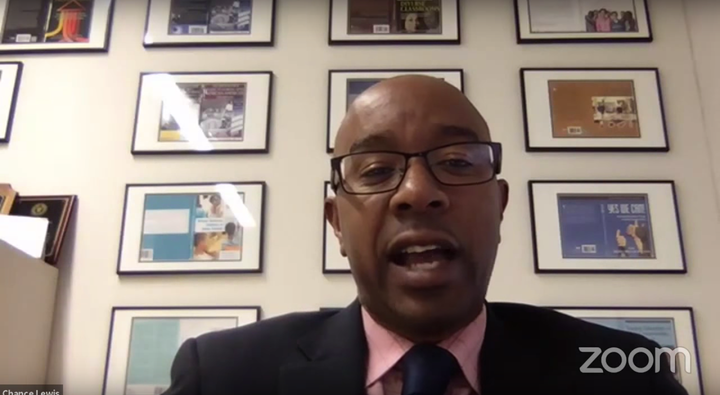 Dr. Chance W. Lewis is a scholar among scholars. He is widely regarded as one of the foremost thought leaders on urban education in the nation, serving as a Distinguished Professor of Urban Education at the University of North Carolina at Charlotte. This week, Lewis served as a guest speaker in the nationally broadcast course – Black minds Matter – A Focus on Black Boys and Men in Education.
As noted in previous contributions, Black Minds Matter is a public course designed to raise the national consciousness about issues facing Black boys and men in education. Led by San Diego State University's Distinguished Professor Dr. Luke Wood, the course provides information to educators, parents, and researchers on how to better improve outcomes for Black males in education. In particular, the course draws parallels between the pervasive criminalization of Black men in society and shows how similar patterns occur in education.
Lewis's voice in this conversation is bolstered by years of experience as a classroom teacher, prolific author, and educator who prepares teacher-leaders, school administrators and executives for America's urban schools. During his conversation, Lewis provided a number of clear strategies educators could use to better educate Black boys and men. These recommendations spanned practices such as using virtual mentoring, project-based learning, culturally relevant teaching, and exposing students to innovative learning opportunities. Social media was abuzz with learners remarking about the fluidity and usefulness of his comments. However, arguably the most compelling moment in his talk was a response to a question posed by a public student that stated, "why are teacher education programs not teaching first-year teachers the importance of connecting state requirement/curriculum to real life?"
Lewis acknowledged that many teacher preparation programs are woefully inadequate at preparing teachers for urban schools. Most noticeably, his comments centered the onus of this inadequate preparation on the programs themselves. He noted that there is a need to focus on those who are training future teachers (i.e., university professors). He argued that a sizeable contingent of professors preparing new teachers for urban schools have never set foot in an urban school.
Lewis stated: "Can you prepare a teacher to go to teach in a place that you have never been?" This point should be carefully considered. "Many faculty who are in teacher education have not taught in an urban school, have never experienced Black male students in an academic setting, have never experienced their culture, have never experienced the realities of dealing with their communities…and now this person is charged with preparing somebody else to go into this setting".
He further suggested that teacher education programs are preparing graduates who then go on to perpetuate this same cycle, both in the classrooms as teachers and as university professors. Lewis concluded noting "graduates are only as good as they are prepared." He urged the audience to consider the levity of his comments and the implications that this has for improving the success of Black boys and men.
Popular in the Community