Last year the American Foundation for Suicide Prevention set a bold goal to reduce the annual suicide rate in the United States 20 percent by 2025. That's potentially tens of thousands of lives we can save over the next ten years. It's not going to be easy, and it will require educating the public about the importance of mental health and suicide prevention. A new poll we released for National Suicide Prevention Week shows we're off to a good start.

The online survey was conducted by Harris Poll on behalf of the Anxiety and Depression Association of America, the American Foundation for Suicide Prevention, and the National Action Alliance for Suicide Prevention. There were over 2,000 respondents, and the results are encouraging.

Nearly all respondents think suicide is sometimes or often preventable (94 percent). In the survey we released last week, we learned that most adults (93 percent) would do something if someone close to them was thinking about suicide. And two out of three people said they would tell someone if they were having thoughts of suicide.

This is real progress for how Americans view mental health--and suicide prevention. What was once a taboo topic is increasingly understood as a pressing public health issue that we can address as a nation.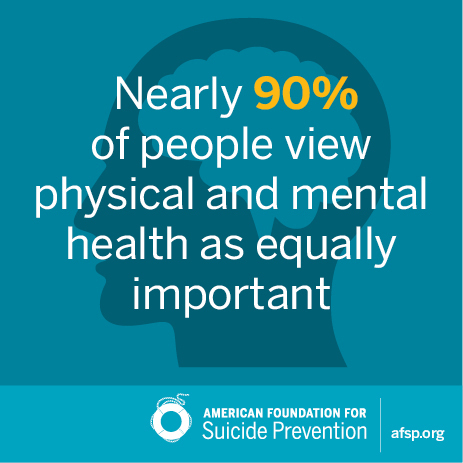 The survey also showed that when people do treat their mental health conditions, they feel the treatment works. Of those who have received treatment for mental health conditions (38 percent of all respondents), most thought it was helpful, whether it was psychotherapy (82 percent) or medication (78 percent). These are encouraging numbers, and mental health care will only improve as research uncovers better ways to treat these illnesses.

Mental health advocates still have work to do. Men, for example, were less likely than women to say they would tell anyone if they were contemplating suicide: only 64 percent of men would tell someone, compared with 70 percent of women.
Still, the overall findings of the survey suggest Americans are getting smart about mental health and suicide prevention, and there is reason to hope these numbers will improve. Advocates in communities and on social media are increasing in number. Journalists are reporting on mental health and suicide more responsibly. And this survey suggests their efforts are in fact shifting the public understanding of these issues.
If this momentum continues, we may soon live in a country where mental and physical health are treated equally. It's been seven years since the Mental Health Parity and Addiction Equity Act was signed into law, which requires group health plans to have the same requirements and limits for both mental and physical health treatment. The legislation was a big step forward, but the implementation has been slow, leaving many unable to get treatment. We need to ensure mental health services are treated the same, both by making sure insurance companies offer mental and physical health coverage in equal measure, and by encouraging people who suffer from mental health conditions to seek the treatment that can help them.

Despite this progress, the problem of suicide persists. According to the most recent data from the Center for Disease Control and Prevention, we know that over 41,000 Americans took their lives in 2013. That makes suicide a leading cause of death, one that affects millions each year, and we saw that impact reflected in the survey. 55 percent of respondents have been affected by suicide in some way (knew someone who died or who had ideation).

Our hope is that the results of this survey signal a trend that will prevent more suicide deaths. To make this happen, we need to enlist more people to be the voice. For National Suicide Prevention Week, help us spread the message about the importance of suicide prevention.

Visit our website to learn the warning signs and what to do if you're concerned about someone, and show your communities on social media (using #StopSuicide) that you support a world without suicide.