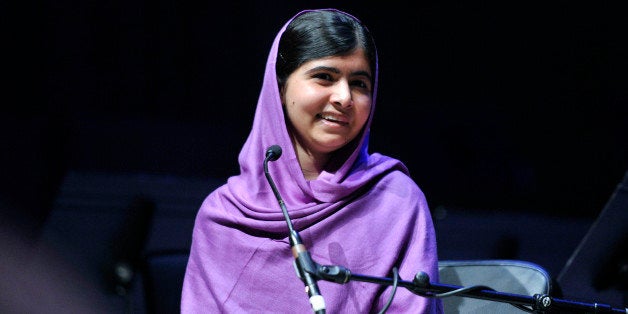 On Friday night, Malala Yousafzai shared her thoughts on being the youngest recipient of the Nobel Peace Prize -- along with Indian children's rights activist Kailash Satyarthi -- at the Library of Birmingham in the UK.
In her opening lines, the 17-year-old Pakistani role model and female education activist discussed one of the pillars that form the foundation of her work.
Namely, it doesn't matter the language you speak, the color of your skin or what religion you believe in -- what matters is we should all consider each other as human beings and respect each other as such.
This is a particularly important message for youth.
Malala's message is being shared around the world this week as the international youth empowerment organization, Global Dignity, gears-up for Global Dignity Day with over 400,000 youth in 71 countries on Wednesday, October 15th, 2014.
Global Dignity's mandate is simple: In a day and age where there is so much conflict in the world (between cultures, religions, generations, socioeconomic classes, and more), there is a great need for broad agreement on something unifying, something that encourages and even grows a sense of community.
That something is dignity.
Global Dignity offers teachers, students and partners (such as Right To Play and TakingITGlobal, amongst others) all the material they need to host dignity workshops. During the workshops students are invited to discuss what dignity means to them and why it is important -- these range anywhere from 20 minute sessions to full-day, school-wide events -- such as the event I attended at Asker High School outside of Oslo, Norway.
At these events, students are also invited to explore issues ranging from children's rights to racism, financial literacy or basic health, to name a few.
What's more, given the widespread use of social media and text messaging, one of the most common themes being discussed is bullying, where at least half of teens worldwide have been bullied online in the last few years.
This year, in an effort to reach youth about this particularly egregious issue, Global Dignity partnered with the new Canadian tech-startup, PlayMC2 (where, in addition to my role as the Canadian Chair for Global Dignity, I am the Co-Founder and CEO), in launching their first globally crowdsourced mobile campaign called: Less. More.
The Less. More. Campaign Video, created pro bono by BBDO New York
Created pro bono by the award-winning New York-based ad agency, BBDO, Less. More. is designed to empower youth around the world to reduce digital and real-world negativity by tracking their dignity-related actions in real time.
Through a variety of creative, emoticon-laden Facebook posts, tweets, posters and a video, Less. More. exposes some of the cruel and yet often subtle ways in which bullying is carried out - for example, when students use words like #sns (sorry not sorry) or #smh (shaking my head) to sarcastically make fun of someone.
To this effect, Global Dignity is featuring a special dignity quest on PlayMC2, where students can crowdsource small acts of dignity.
As an example of how the quest works to spread positivity, during a recent dignity workshop at Regina Street Public School in Ottawa, Canada, Global Dignity volunteers worked with Grade 3 to 6 students in crafting "microactions," which are bite-size activities that are really easy to do and share.
These dignity microactions included: "Give a new friend a hug," and "Give someone a high-five!," where students were invited to take a photo of themselves completing the task and could then share their microactions on social networks, tagged with #dignity.
Within or outside a classroom setting, simple microactions such as these can be done by one student or by thousands simultaneously.
Through this campaign, we're able to see the collective power inherent in sharing our small acts of dignity and the positive impact they have on our daily lives and those of others.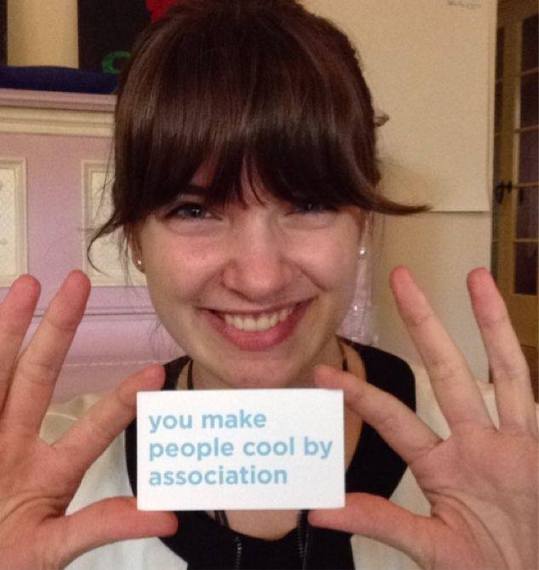 Olivia Dorey, a student from the University of Ottawa, holding a shareable Less. More. dignity card as her act of #dignity on PlayMC2.
Global Dignity is an independent, non-profit, non-political organization focused on empowering young people with dignity and was established in 2005 by HRH Crown Prince Haakon of Norway, John Hope Bryant, Chairman and CEO of Operation HOPE and respected Finnish professor Pekka Himanen.
Supported by leaders from around the world and across sectors, the Honorary Board of Global Dignity includes: Sir Richard Branson, President Martti Ahtisaari and Archbishop Desmond Tutu.
Ultimately, the power is in the palm of our hands to make the changes in the world that we want to see, and to spread Malala's message, beckoning youth to stand up and share their voices in an effort to recognize our global humanity.
Promoting this message around the world this week, Global Dignity is inviting students and teachers everywhere to participate in the Less. More. campaign - and to share their acts of dignity with their family, friends and peers leading up to Global Dignity Day on October 15th and beyond -- so that everyday we can see the power that dignity brings to our lives.
One microaction at a time.
Giovanna Mingarelli is the Country Chair for Global Dignity Canada, the Chief Executive Officer and Co-Founder of PlayMC2 and a member of the World Economic Forum's Ottawa Global Shapers Hub - to learn more, visit: www.globaldignity.ca.
REAL LIFE. REAL NEWS. REAL VOICES.
Help us tell more of the stories that matter from voices that too often remain unheard.