As May came to an end there was a buzz of hope and progress amongst the transgender prisoner population at FCI Petersburg, a medium-security federal prison in Petersburg, Virginia. For quite some time this litigious population had aggressively advocated for prison officials to treat their gender dysphoria in accordance with the WPATH Standards of Care. While this was not on the table, a half-measure was soon to be granted. The word was that there would soon be certain female items available for sale in the prison's commissary, and the word was good.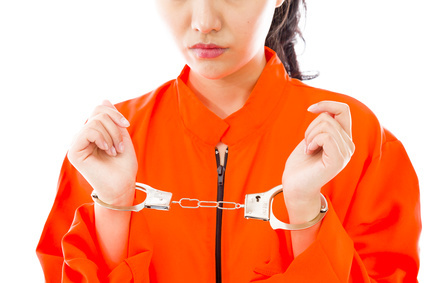 Seeking Gender Congruence
For the past three years a bitter battle has waged between the transgender inmates of FCI Petersburg and prison administrators. On the prisoners' side, calls for hormone therapy, counseling, female commissary products (e.g., makeup, fragrance, bras, underwear, etc.), hair removal, and even SRS have been advanced. The trans prisoners simply want gender congruence; for their internal and external selves to be the same.
On the other side are the prison officials, who throw every excuse in the book against the wall to see what sticks. This has included stating that female hormones could put inmates' health at risk, that makeup would enable trans inmates to fool prison security staff into allowing them to walk out of the prison, and even that bras and panties would put transgender prisoners at enhanced risk of rape. While there is often a modicum of truth to each argument, the starting position is always the same: treatment would do more harm than good because of the prison atmosphere. This is shortsighted thinking indeed.
The Wall of Denial Starts to Crumble
As litigation against prison officials has ensued, it appears as though the light of reality has shone upon prison policies and decision-making. At first this was seen in prison administrators requiring staff to refer to the transgender women of FCI Petersburg in female pronouns. While this doesn't always happen, what has occurred is an improvement. Following this, staff were educated on searching protocols. For example, in years past trans inmates were subjected to outdoor upper-body searches whenever there was a fight. This meant that transgender women were forced into exposing themselves in front of hundreds of other prisoners. In one instance, a guard ridiculed a trans woman by loudly informing her that she was a man and incarcerated in a male prison. This resulted in a crowd crowing sexual comments. This appears to have stopped, too.
The latest brick in the wall to fall is that of female commissary items. For quite some time the trans inmates have sought the ability to purchase makeup, female undergarments, fragrances, nail polish, and the like. While not all such barriers have been removed, transgender prisoners at FCI Petersburg can now order the following items through Special Purchase Order protocols:

Underwear/Bras
Just My Size
Hanes Comfort Wire Free Bras
Hanes Her Way 3pak
Fruit of the Loom Women's Brief
Shampoo/Conditioners
Infusium 23 Shampoo
Infusium 23 Conditioner
Motions Moisture Lavish Shampoo
Motions Moisture Plus Conditioner
Skin Care
Olay Hydrating Beauty Fluid
Vitamin E Lotion Extra Healing
Razors
Women's Razor (Pink)
Female Watch
Women's Watch Timex
Floral Scent Oil
Amazing Grace

Hair Care
Blue Magic Choleterol /Conditioner rinse
Softee Hair Food
Soaps/Body Wash
Jergens All Family Soap 3pak
Mango/Pomegranate Body Wash
Ocean Mist Body Wash
Tropical Body Wash
Deodorant
Lady Speed Stick
Secret
Women's Degree
Nail Polish
Glitter
Clear Nail Polish
Nail Polish Remover
Lip Gloss
Clear lip Gloss


Promoting Prison Rape
As is typical of the prison administration, notice to the effected prisoners of the new commissary items was greatly flawed. Instead of advising the trans inmates of the new items, the Warden's office elected to post a notice on the Electronic Bulletin Board so every prisoner would be made aware of the new items, which only the dozen trans inmates were permitted to purchase. This notice was published at least three times in early April. Rather unsurprisingly, this resulted in a general uproar amongst the prison population by many non-effected, and mostly nonsupporting, inmates.
From the moment the notice went up conversations could be overheard about the "f@*#ts", "creeps", and many other sexually abusive and hateful terms for transgender women. Transwomen were openly harassed about what type of panties they were wearing and if they needed some company. While unwanted sexual attention is nothing new to this vulnerable population, the underlying hatred was. Agitated prisoners wanted to know why "they" were receiving such special privileges while everyone else wanted certain items added to the commissary list, but couldn't gain approval. It was ugly, plain and simple.
While granting transgender inmates access to some of the products that they sought for the treatment of their gender dysphoria, by not caring about such inmates or their perception, prison officials chose to expose this population to unwanted, and often aggressive, sexual attention. Instead of keeping such private, treatment matters quiet and out of plain sight, they decided, as they say in prison, to "put them on blast"; to expose their treatment protocols and status to the inmate population. This willful disregard for trans inmates' safety and privacy is telling indeed.
A Better, Safer Path
If prison executive staff can't bring themselves to respect transgender prisoners' health and safety, then perhaps a better solution can be found. One such solution would be delegating large-scale trans decisions to someone who is willing to analyze the issue thoroughly. This could be a psychologist from the prison's Psychology Department, someone who treats effected inmates and, thus, has a less challenging time finding some iota of empathy or compassion. But perhaps that is too much to ask for. For now, the transgender population of FCI Petersburg would gladly settle on someone who simply doesn't wish them harm.
Popular in the Community