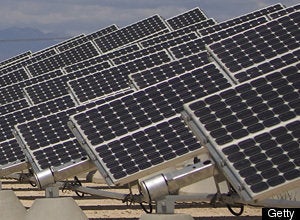 Last week marked the beginning of a new chapter in the creation of America's renewable energy future. In one of the nation's most strategic clean economy deals to date, NRG Energy, Inc. announced the $350 million acquisition of Green Mountain Energy, the company founded by my father- Sam Wyly.
"A permanent and fast-growing portion of the American population is seeking to live sustainably," NRG President and Chief Executive Officer David Crane said in a statement. "Green Mountain understands that customer base and serves it better than any other retail energy provider."
At a time when doubts prevail about the ability of clean investments to deliver real returns, the sale of the nation's leading competitive retail provider of cleaner energy and carbon offset solutions is a clear bellwether of the industry's future. For every other green entrepreneur, it's a hard proof point of the economic viability of renewable energy ventures.
Geoffrey Orsak, dean of the Lyle School of Engineering at Southern Methodist University, was quoted in an article in the Dallas Morning News yesterday saying the acquisition shows that green companies have market worth. "This is a great sign that the green economy is not likely to be another dot-com fantasy. This is real stuff that consumers believe in."
For me, on a personal level, it's an important step toward the realization of a childhood dream. The seeds of Green Mountain were planted one day back when I was in the fifth grade. I was taking an environmental ethics class and learning that the pink and grey skies over Los Angeles were neither pretty nor benign. I became afraid to breathe, and asked my father, despairingly, "Dad, what are you going to do about all this toxic waste being put into the air?" He was stunned by the question.
My father is quoted in the Dallas Morning News saying: "Somewhere in the Bible, there's the verse about out of the mouths of babes. The truth hit me like a hammer."
As a prolific entrepreneur with a history of busting up monopolies, my father wanted to see Americans have a choice when it came to buying electricity too.
Few Americans realize that the largest producers of pollution globally are the power plants that electrify our homes. The beginning of the problem is that the average American has no idea how energy is produced, or how it flows into a grid and arrives at their outlets, or what environmental consequences they are incurring by flipping the switch. Secondly -- in most of America -- they have no power to choose an alternative such as wind or solar generated electricity. But if they could be educated, and then empowered with the gift of choice -- the average American energy consumer could become the greatest weapon to reducing air pollution while creating a wave of demand for the clean energy infrastructure of the future, and in doing so create thousands of clean green jobs for Americans.
My father figured that he would be the one to show us. And he would do it through the vehicle he knew best: entrepreneurship. So, when he learned about a small clean-energy supplier in Vermont that was for sale, he decided to pursue it.
Today more than 300,000 Green Mountain Energy customers, mostly in Texas, and some in Oregon and New York, pay a premium equal to the cost of a fancy cup of Starbucks coffee every month to purchase electricity produced from pure wind, or a price-competitive mixed blend of renewables. The company, which also sells carbon offsets, is growing at 27% a year. The chairman of a competing energy company described Green Mountain as having "tremendous, tremendous customer loyalty."
All the light switches in those customers' 300,000 households have made a real difference. Since it was founded, Green Mountain customers have kept more than 11.3 billion pounds of carbon dioxide out of the atmosphere so far. That's equivalent to taking 52 million cars off the road for a week, or 473 million households turning off their lights for a week, or planting 478 million trees. The company has facilitated the creation of more than 40 wind and solar farms. To that end, it has helped to create wealth for many of the clean energy pioneers who built them.
The NRG acquisition will enable Green Mountain to take its clean energy mission national. "We look at this green energy space, served and almost created by Green Mountain," NRG's Crane told the Dallas Morning News, and "it's still a very small part of the market, so it has a long way to grow."
Crane also said he anticipates that either Congress or the Environmental Protection Agency will put a price on carbon in a matter of years. The Green Mountain acquisition is helping to prepare NRG for that day. "The fact that a price is coming on carbon is still a fundamental premise of this company," Crane told The News.
I couldn't agree with him more and applaud him and other forward thinking executives that are working to advocate for a price on carbon -- which I believe will revolutionize the world we live in -- and enable us to profitably clean up our atmosphere.
The company my father started has proven that there is consumer demand -- and even enthusiasm -- for purchasing renewable energy. There should be. And not just for the altruistic goal of saving the planet, but because clean energy is where the real money will be made in the next generation.
Educate people, give them a choice, and we will create a clean economy for all of us -- together. Stick around. It's going to be good clean fun.
Calling all HuffPost superfans!
Sign up for membership to become a founding member and help shape HuffPost's next chapter