National Grandparents Day is coming up on Sunday, Sept. 11, so Huff/Post50 decided to take a moment to celebrate the incredible contributions grandparents have made to our lives.
On Friday, Sept. 9, we'll publish a second article featuring stories of grandparents who are breaking the "grandparent mold." From what we've seen, grandparents aren't ready for the sidelines. They want to be — and are — active, engaged, involved and appreciated.
Happy Grandparents Day, everyone!
Barb Rosenstock and her grandpa, Stanley Cywinski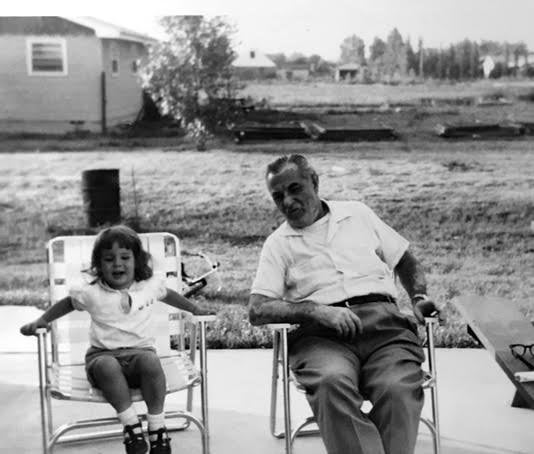 My grandpa, Stanley Cywinski, told stories the way other people take breaths. Stories filled his regular life. A trip to the corner store? A story about the time one of my mom's friends fell out of his car. Watching TV in his recliner? A story about playing violin in a roaring '20s dance band. Sick in the hospital? A story about his Armenian mother and Polish father meeting in the middle of a battle. Or about being the only one of his parents' five children to live past 2. 
Or about hopping a train to a "great job," only to be paid in sacks of potatoes too heavy to carry home.  
In grandpa's stories, sometimes he was the hero, but more often he was the fall guy. He told laughing stories and crying stories. Many stories, like daily life in his generation, had plenty of both. He even sang stories, "Casey would waltz with a strawberry blond…" "I'm looking over a four leaf clover that I overlooked…" or "I don't know why I love you like I do..." I listened while my Mary Janes scuffed the top of his wingtips. But if I learned anything about telling stories myself, it remained hidden. I grew up. He passed away. I took jobs I liked. Got married. Had children I loved. They grew up. I'm a grandmother. In my 50s, I started a great new job. I write picture book stories for children. My grandpa taught me.
Sara Neary and her grandparents, Lionel and Patricia Jeffery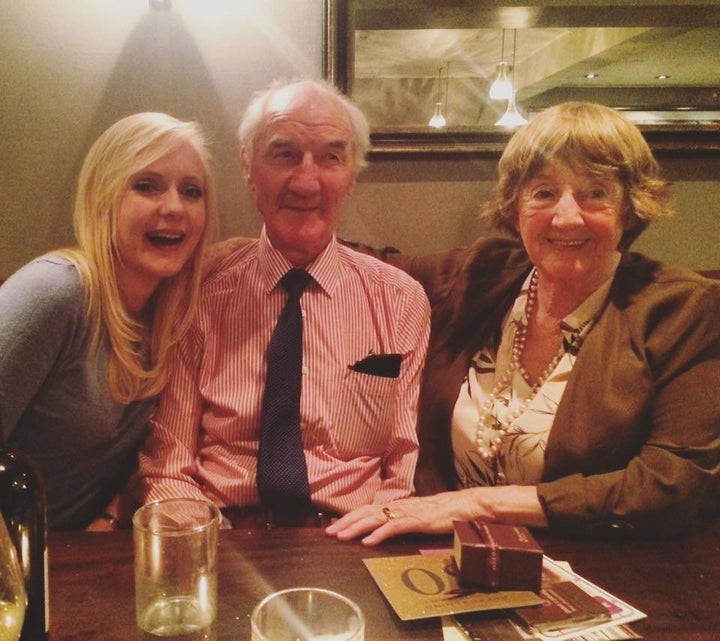 The Best Grandparents Ever. That is their name on their Facebook profile and I truly believe they are. I am the eldest grandchild and, when I was arrived, the first-time grandfather, then 50-years-old, was windsurfing and did not feel old enough to be "Grandad." For the first few months of my life, he would come over early in the morning and take me out so my parents could have a lie in. One morning a French couple walked passed us, a man very much in love with this little baby girl, and said "Papa Gateau." He liked the sound of this so much that now all five of his grandchildren call him "Papa."
Family is the most important thing to them and they both work hard to truly know each of their children and grandchildren's likes, interests, hobbies and dislikes. They are extremely generous and on several occasions we have all received several pennies straight into out bank accounts without a word, their view being that they want to be around to see us enjoy spending it.
Papa has been very sporty all his life and moved on from windsurfing to cycling at the age of 69. This year, I joined him as, at the age of 80, he cycled, for the 10th time, on the "Hayling to Paris" cycle run. Grandma sees the fun and good in everything and is constantly giggling and joking. They are my inspirations.
Yvette Greenwood and her grandmother, Ceola Baldwin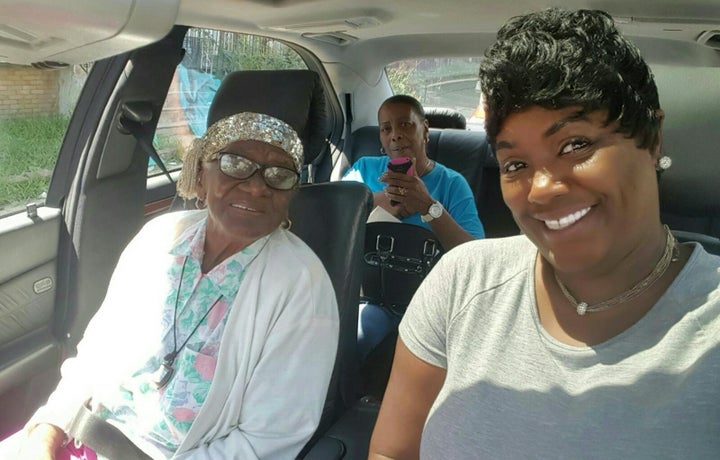 Our grandma turned 103 on August 24, 2016. She went out with some of her children, grandchildren, great-grandchildren and great-great grandchildren to Red Lobster to celebrate.
Our grandmother, Ceola Baldwin, is an awesome woman. She is strong and resilient. She is soft and hugs warmly. She is fierce about her love for her family and for God.
She loves to sing and she laughs all the time. She is happy and very proud of the life she leads. She inspires all generations of us to be the best we can be and to thank God for all we are and for all we have.
We love her so much and she makes us so proud to be hers!!!
The picture is of her doing Carpool Karaoke with her granddaughter and great-granddaughter.
May God bless her with many, many more years!!!
Marah Suarez and her grandparents, Arsenio and Maria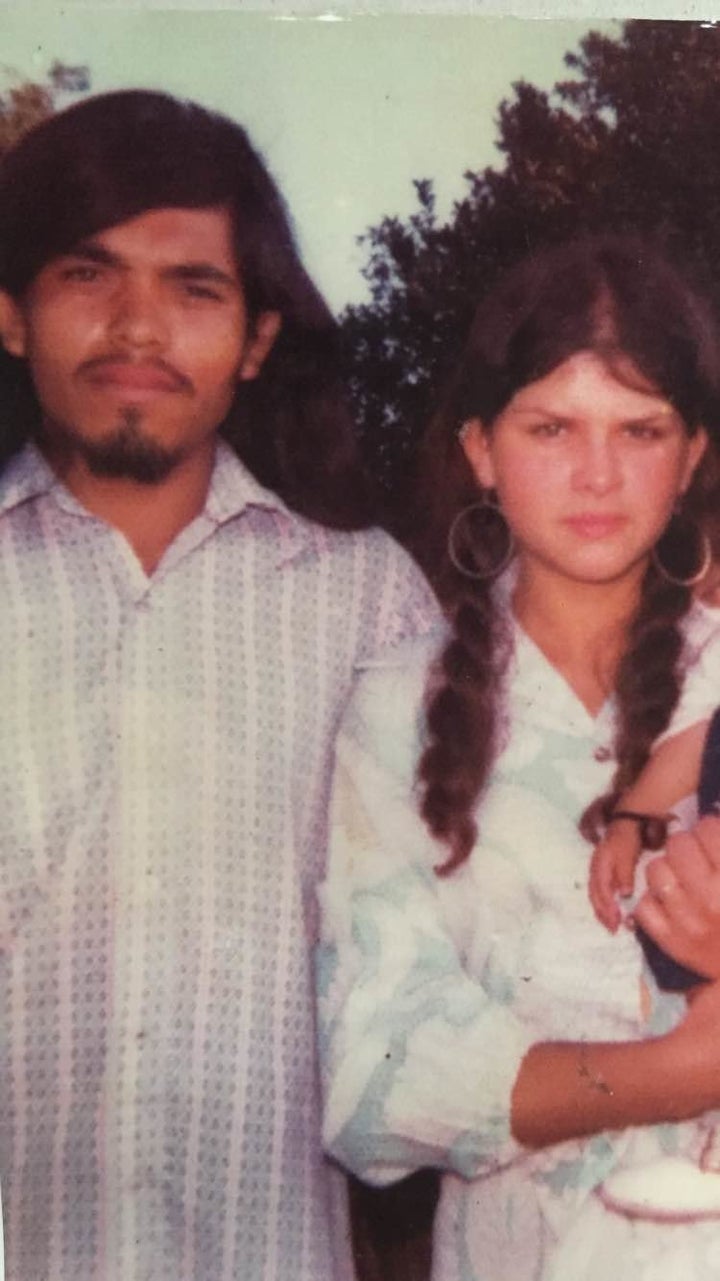 My grandparents took me and my mother in and raised us as their own, when I was just 2-months-old. They didn't have any grandchildren then so I became their oldest granddaughter and youngest daughter. My mom was a single teenage mom without any resources and they provided for us without ever asking for a penny. My mom says that she used to think they would eventually tell her to leave and our time together would only become a distant memory of a kind family that helped us. But almost 24 years later, there has never been a time they haven't been in our lives.
Sadly, my grandpa lost his life to cancer in 2004. Now, that I'm older and capable of grasping what he did for us, I am forever thankful. My grandparents are the epitome of selflessness and generosity. My grandmother, as a widow, struggles financially but continues to give. I'll never forget the day I had my D&C after suffering a miscarriage. My mom was in Mexico so she came over. All I needed was familial emotional support. But she knew I was alone and without money. She pulled out $200 instead and handed them to my boyfriend (now husband) along with a shopping list comprised of ingredients for sopa and arroz con leche, fruit juice, chamomile tea, heat pads, and comfortable clothes. She has never mentioned who she borrowed the money from or asked for reimbursement. I still cry about that today.
Erika McKeogh and her grandpa, Laurence Laverne Hooper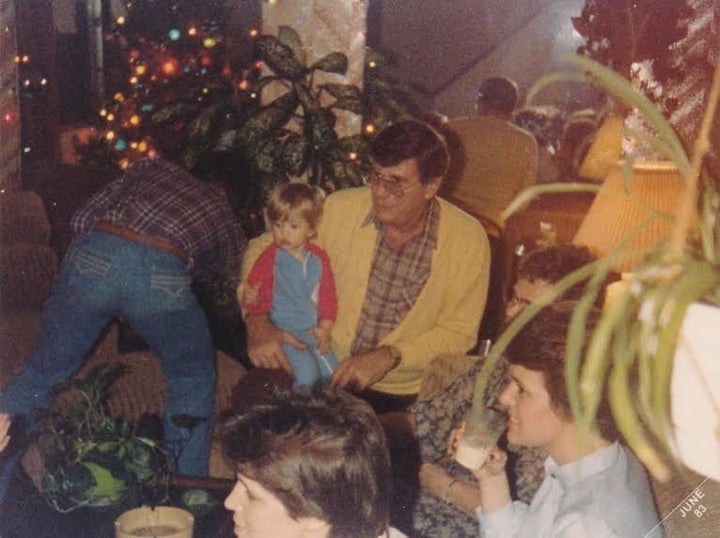 My Grandpa Florida passed away when I was six and a half. He was my everything and I [was] his everything. He told everyone I was his favorite. He shared his blue spearmint candies with me and let me sit with him in his favorite chair and read the paper. He always came up from Florida to see my dance recitals and then took me to Dairy Queen and let me order whatever I wanted, even if I took three bites from my large Blizzard. He bought me a tree and we watched my dad plant it, though my memory is that my Grandpa and I planted it together.
My Grandpa taught me that I deserved to be loved unconditionally. I still carry that with me. I have had a hard life, not able to trust many people, but I still remember what that unconditional love meant. He loved me simply because I was me. I loved him because he made me feel as though I was the best thing that ever happened to him.
Thirty years later, I still feel that feeling when I think of him. I remember that he brought me flowers to every recital or school function I was in and I carry that tradition on with my nieces and nephews. My Grandpa was not necessarily a good man while my mom was growing up, but to me he was perfect. 
Michele Silva's grandparents, Jekabs and Ilze Pukulis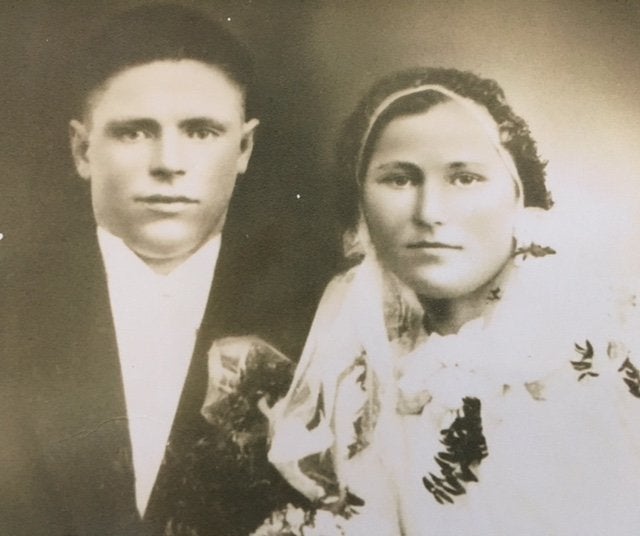 My grandparents made a life-and-death decision so their family would have a life of FREEDOM.  
Ilze and Jekabs Pukulis lived in Latvia. In 1941, their daughter Biruta was born. It wasn't long after that that the Russians took over and Grandpa decided it was time to leave. I mean, to risk their lives leaving. 
My grandparents, my mom (they call Ruth,) and my grandfather's siblings and their family members secretly boarded a fishing boat late one night and escaped to Sweden. I remember my grandmother talking about the bombs going off as they were "making a run for it." She said she was scared to death. But they made it! 
Once in Sweden, the people there so kindly allowed the women to work in the churches, the family to spend the nights while the men searched for work/and tended to their jobs during the day. Grandma and Grandpa would have another daughter and a son while in Sweden. The family eventually moved to Timmins, Ontario and had two more children before moving to the USA! (Specifically, New Bedford, MA.) My grandparents were hard workers and never expected anything to come free or easy. Grandpa was a fisherman. Grandma worked as a fish cutter in a factory. They never forgot what a  blessing it was to be in the U.S. and to be the most loving grandparents to 11 children and 8 great-grandchildren. We all miss them everyday.
Rob Sampogna and his grandmother, Jean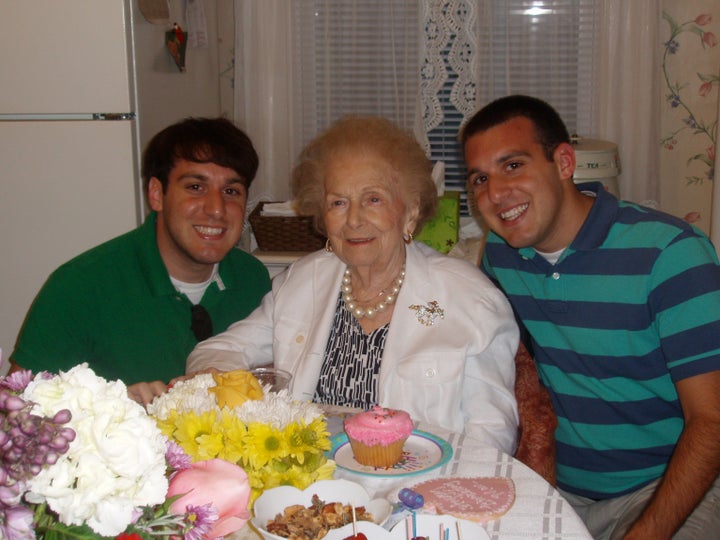 I always felt very fortunate to have three of my four grandparents in my life, and for them all to live into their 90s. When my maternal grandmother, Genevieve (we called her Jean) passed away six months shy of her 100th birthday, many stories were shared about her impact on the lives of all who knew her.
One of my favorite memories was a day in July of 1996 with my Grandma Jean and my twin brother, Nick. We were almost 11-years-old and we loved to play outside. When Grandma Jean would stay over, she would prepare huge feasts for a simple afternoon snack. (She was a master in the kitchen.)
On this day, we told Grandma Jean to come outside and watch us play. We were playing basketball in the backyard ― probably just shooting the ball or playing horse. We asked Grandma Jean to play with us and taught her how to shoot the ball underhand. I can still remember how much we all yelled and cheered when she scored two baskets! Nick and I were so happy and Grandma was smiling and laughing. She wrote our names on a brown paper bag with the date so we would always remember this day. I am 30-years-old now and I still have the bag. Not a day goes by that I don't think about my Grandma Jean, and I always smile when I think of this memory.
Caroline Bologna's grandmother, Milidean Sawyer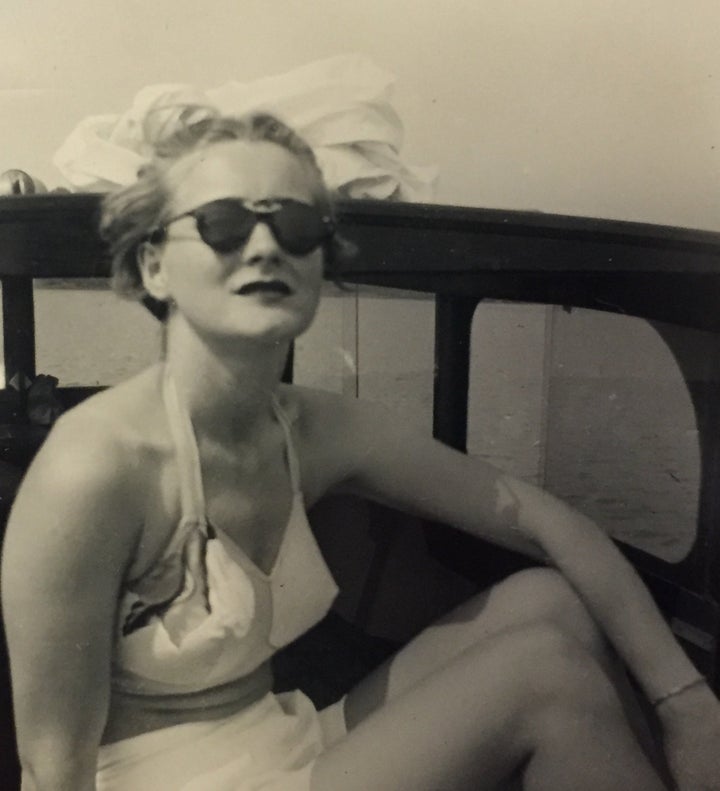 My grandmother never fails to impress me. At 88-years-old, she still loves going for walks and spending time with loved ones, and she continues to learn new skills ― most notably how to use Instagram and how to send texts with all the best emojis.
Over the past decade, my grandmother lost her husband and her daughter, but she demonstrated a resilience in the face of tragedy that I can't even imagine having the strength to muster. 
I love my "Insta-grandma" and am so lucky to have her in my life.
Doreen McGettigan's grandparents, Peg and Ellsworth Bowker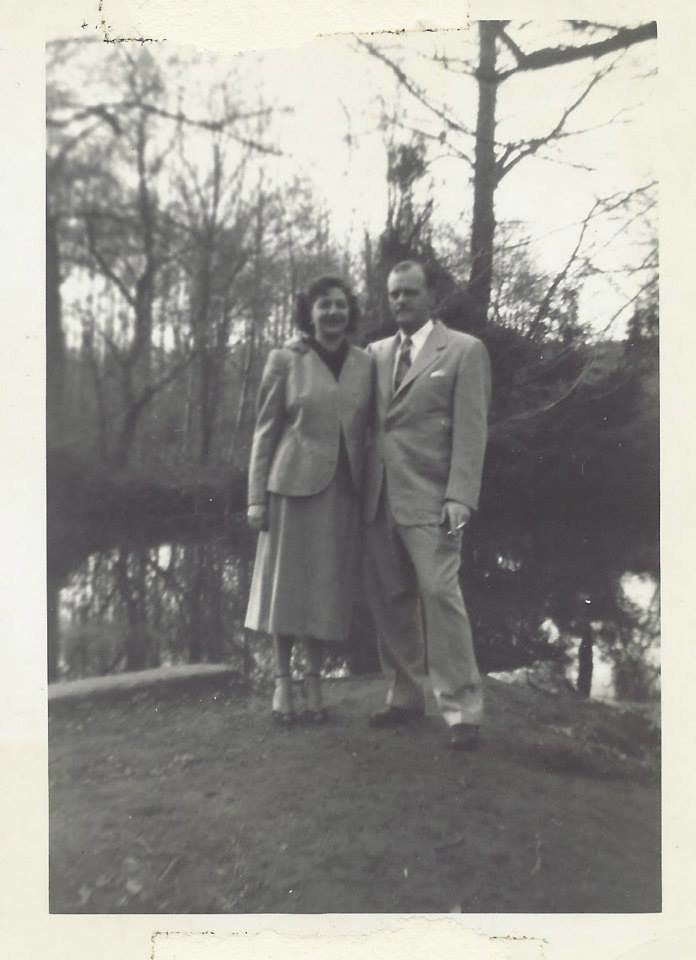 Memories of my grandmother are the gifts that inspire me to be the best grandmother possible.
My childhood days were spent with her, my siblings and cousins while our parents worked.
Grandmom was a yeller and who could blame her, there were so many of us. I cannot help but smile though when I think of the fabulous adventures she took us on. She would pile six kids into the back seat of the Buick and drive us to Margate, New Jersey.
We climbed all over the beach town's landmark, Lucy the Elephant. We spent hours holding hands and jumping the waves. There was no yelling, arguing or fighting at the shore, just smiles and laughs.
The ride home was a different story. It was two hours back to our North Philadelphia homes. We were exhausted, sunburned and cramped in the back of that car.
Another favorite day trip was to Crystal Cave in Kutztown, Pennsylvania. The cave was fascinating, 65 feet below the earth's surface, with a beautiful crystal rock formation that was shaped like an upside down ice cream cone in the center. The best thing about the cave was its cool 54 degrees. Outside it was a hot and humid 90 degrees.
My grandmother always said she wanted to give us great memories and she did. I miss her every day. I am grateful for her example and my mission is to provide my 13 grandchildren with as many happy memories as I possibly can.
Sari Veripää and her grandfather, Israel Albagly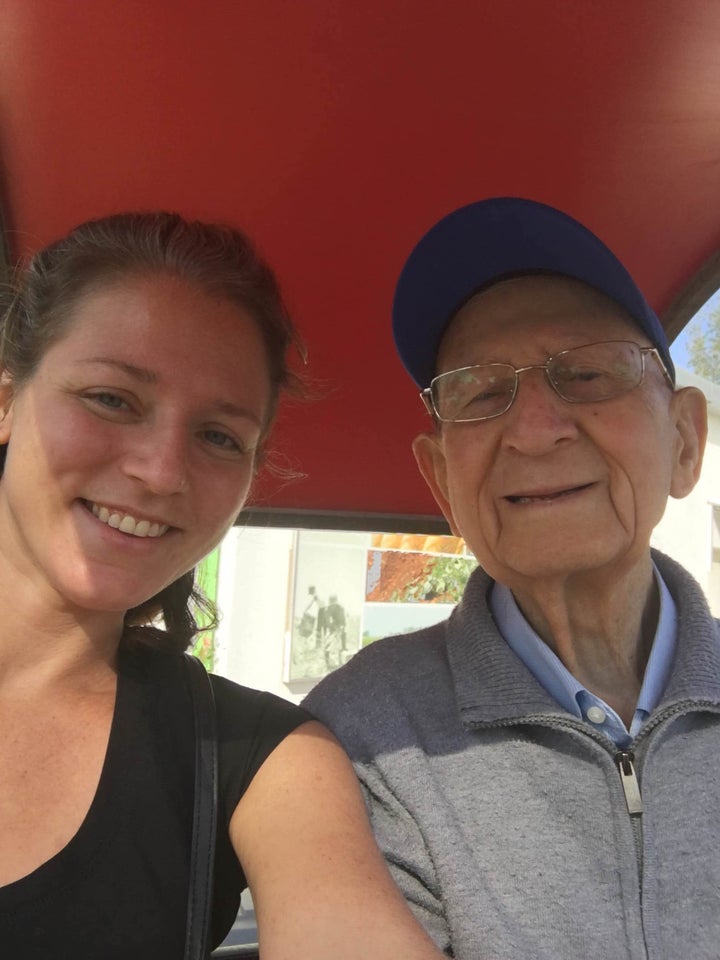 I've lived most of my life far away from my grandfather, so I had only a couple of weeks in a year to meet up with him. However, last year I decided to take a year off for traveling the world and staying three months at my grandfather's home. I expected this time to be for me taking care of him, but to my surprise, I was the one taken care of.
See, at the time I stopped to think about about life and had some big questions in my mind. My grandfather showed me what it means to love life and be thankful for every moment we have on earth. He taught me that the most important thing above all else is the willingness to live and, according to him, this is the sole reason that he is still alive and fully fit both mentally and physically at his age.
He also has a great sense of humor and is so aware of the latest trends that he knows what a selfie is and dances to Drake's music (see the clip below!). He lives alone and his days consist of volunteer work, fixed times for meals, praying, reading the newspaper, watching the news on TV and occasionally (when there's time) listening to classical music on YouTube. When I'm not there, we Skype call each other every couple of weeks. I'm so thankful for having him in my life and for everything he taught me. 
Calling all HuffPost superfans!
Sign up for membership to become a founding member and help shape HuffPost's next chapter
BEFORE YOU GO
PHOTO GALLERY
16 Celebrity Grandparents