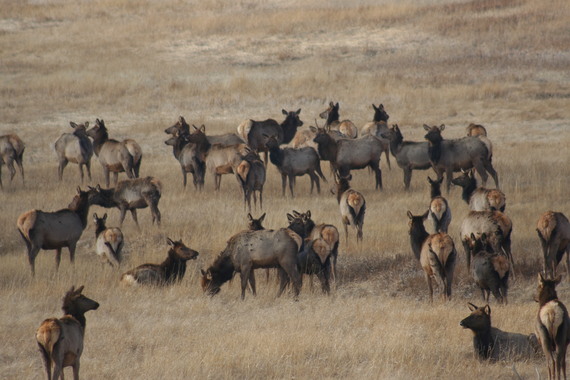 For those of us who live in the West and love its wide open spaces, wildlife and access to the outdoors, the rate of development is a common lament. But a new study shows exactly how much and how fast we are losing our natural areas. An innovative and interactive analysis of human impacts on lands in the American West shows that the region is being developed at an alarming rate. The study defined "natural areas" as land with minimal human influence -- a spectrum ranging from open parcels in cities to wilderness.
As a baseline, in 2011 nearly 165,000 square miles of land in the West was covered by roads, energy infrastructure, agricultural and timber operations, urban sprawl, and other development; that is an area roughly the size of 6 million superstore parking lots. But the area impacted by development is increasing even as you read this and you can watch the numbers climb before your eyes by going to the project's website. The aptly named project, the Disappearing West, is a partnership between the Center for American Progress and Conservation Science Partners.
Putting losses on an annual basis in terms many of us can relate to, development claims the equivalent of a football field every 2½ minutes -- roughly a Los Angeles-sized area of open land per year. Between 2001 and 2011, the West lost more than 4,300 square miles, an area bigger than Yellowstone National Park.
Not surprisingly, the largest area of land lost to development was in California with 785 square miles.
That is a huge amount of land lost just in California, but the 3,535 square miles lost in the other ten states is enough land to stretch from Los Angeles to Denver in a swath more than five miles wide. In Colorado where I live, development has consumed at least 525 square miles, an area bigger than Rocky Mountain National Park. And due to oil and gas development, even remote and rural Wyoming has lost 496 square miles impacting migration corridors for pronghorn, mule deer and elk.
The analysis showed that urban sprawl was responsible for the largest amount of natural area loss in the West followed by energy development. According to a the U.S. Geological Survey's Protected Areas Database, only 12 percent of lands in the 11 western states is permanently protected and managed to preserve natural character. Clearly the United States has a long way to go to meet our national goal of protecting 17 percent of all lands by 2020 and the Disappearing West project shows what our challenges are.
While the numbers are striking, the sophisticated data analysis and conservation biology behind the statistics are just as striking. The researchers at Conservation Science Partners analyzed a decade of satellite imagery, 11 types of human activities, and 36 sets of data covering public and private lands in each of the 11 Western states except Alaska and Hawaii.
The results are a presented in a stunningly interactive map that allows visitors to see patterns of natural area loss across the West at the local, county, and state levels. The website includes figures, tables, downloadable data, and videos that explore the loss of natural areas and its effect on the region's communities, wildlife, and way of life.
The study was cited by Secretary of the Interior Sally Jewell in a major speech on conservation. Putting the comprehensive scientific findings in perspective, Secretary Jewell said
"if you were to randomly drop a pin in a natural area in the West, on average it'd be only 3.5 miles from some form of human development. Think about that. That's a great statistic if you're a lost hiker looking to be rescued. But it has highly alarming implications for the mule deer or the grizzly bear who need connected corridors of land to survive."
This analysis should prove helpful to local and state governments, land trusts and non-profits, and federal agencies as they seek to protect habitat for wildlife and connect people to the outdoors. I hope that school teachers and professors use the Disappearing West project as a source for research, data and inspiration. Technology and data provide us with both the information and understanding about the impacts of our decisions; now we just need the vision and fortitude to act on it.
The author has served on the board of Conservation Science Partners since 2015.
Calling all HuffPost superfans!
Sign up for membership to become a founding member and help shape HuffPost's next chapter