Second-graders would miss lessons on prefixes and suffixes.
U.S. history students would gloss over the civil rights movement.
Parents would have to find three extra weeks of day care for their kids.
Standardized state tests and Advanced Placement exams would be disrupted.
And hundreds of thousands of Los Angeles Unified students would miss out on nearly 10 million healthful meals.
With polls showing support slipping for Proposition 30, Los Angeles Unified is bracing for the budget cuts that would be triggered if the tax-increase measure fails on Tuesday. To offset the cuts, the state is allowing districts to shave 15 days off their 175-day school calendars this year -- and up to 15 additional days next year -- a move that LAUSD officials fear could jeopardize students' hard-won academic gains and hinder efforts to prepare them for college or a career.
"A 160-day school calendar is unheard of," said Jaime Aquino, LAUSD's deputy superintendent for instruction. "This is subpar to what Third World countries are offering their students when it comes to an instructional day."
Backed by Gov. Jerry Brown, Prop. 30 would fill a $6 billion hole in the state budget by raising the sales tax by a quarter-percent for four years and the income tax on wages over $250,000 for seven years. Supporters say the revenue would also repay money withheld from districts during the recession and restore education funding to mandated levels.
An outright defeat of Prop. 30 or a win by rival Prop. 38 would trigger $6 billion in cuts to California's public schools, community colleges and universities.
If forced to slash $255 million from its 2012-13 budget of $6 billion, LAUSD would end its school year on May 10 rather than the scheduled date of May 31. Officials estimate LAUSD's deficit for 2013-14 would swell to $650 million, forcing them to cut up to 10 more days from the school calendar.
Education leaders are deeply worried about the loss of instructional time and how that would affect student test scores, high school graduation rates and highly competitive college admissions.
There are also concerns about how a truncated school year would affect the state's standardized tests, which are supposed to be given when 85 percent of the material is covered -- typically in late April or early May.
A solution would also have to be found for the 25,000 or so LAUSD students enrolled in Advanced Placement courses, which allows them to earn college credit. Students nationwide are scheduled to take the AP exams next May 6- 17 -- nonnegotiable dates that straddle what would be the last day of school for local kids.
"If I could, I'd set aside some of our Title I money to pay teachers to come back and administer the tests," said Judith Vanderbok, principal at Van Nuys High School, where two-thirds of this year's 1,100 AP test-takers scored well enough to earn college credit.
Officials also worry about issues outside of the classroom, like the lessons forgotten during summer vacation that suddenly would be lengthened by nearly a month.
And about economically stressed families faced with finding day care for their children for three extra weeks.
And the low-income students who eat federally funded breakfast and lunch at school each day, adding up to 9.75 million free meals over a 15-day period.
"It would be a massive loss," said David Binkle, the district's Food Services chief. "Think about yourself, if you go without half the food you eat for a month.
"This will affect not only children but their families, who will have to spend money they don't have. I think you'll see pressure on other points, like food stamps, regional food banks and Head Start. There will be a huge impact."
Loss of instructional time
LAUSD officials and teachers are taking a hard look at what might be lost under a shortened school calendar. A draft report by Aquino details the specific lessons that would be abbreviated or abandoned, and the cascading effects of the potential changes.
Second-graders wouldn't be taught about syllables, prefixes and suffixes, for instance, skills they need to tackle more complex reading material in third grade. The following year, those kids would have to spend weeks catching up on the basics, shortchanging their mastery of the third-grade skills needed in fourth grade and beyond.
Aquino is especially concerned about LAUSD's 39,000 eighth-graders who, coincidentally, make up the first class that will have to pass the rigorous college-prep curriculum with at least a C to graduate from high school in 2017.
A shortened school year would make it even more difficult to teach algebra -- a historically troublesome subject -- along with fundamental components of science and history they'll need for state tests and high school courses.
The eighth-graders would lose a three-week unit on persuasion. The ability to research, build and express a constructive argument is a key element in high school and the new Common Core curriculum being implemented in 2014.
At Mulholland Middle School in Lake Balboa, eighth- grade English teacher Michelle Sawyers has developed a persuasion lesson that uses a series of debates to develop her students' ability to research, write, speak and listen.
"Persuasion is a gift that lives forever," said Sawyers, named as an Educator of the Year by the California League of Middle Schools. "It lets us listen to our voice, and experience the full bounty of various types of understanding."
Those debates would be lost, she said, as would a popular "poetry lounge," that allows her students to showcase their talents -- musical, speaking or dramatic.
"It's dynamic, and lets them show off their outside skills and build their inner confidence," she said. "I want to create an environment that stretches their limits, and gives them 54 minutes of joy that for these children becomes a game-changer."
Propositions lose support
A Public Policy Institute of California poll released last week shows that support for Prop. 30 has slipped from 52 percent in September to 48 percent. Support for Prop. 38, which would raise the income tax for most Californians, dropped from 45 percent to 38 percent. Prop. 38 would provide some $10 billion for K-12 schools, but would take longer before it takes effect. If both measures win a majority, the one with the most votes becomes law.
Critics of Prop. 30 say the sales-tax increase would be a hardship for consumers and put small business at a competitive disadvantage as California tries to recover from the recession.
Others blast state lawmakers for passing a budget that presumed passage of Prop. 30, a move they liken to blackmail of California's voters.
"The Legislature balanced the budget on the back of schoolkids," said Doug Boyd, a member of the Los Angeles County Board of Education and an opponent of Prop. 30.
"It's deceptive and dishonest. This isn't about saving education. It's about politicians not doing their jobs and trying to have public education take the fall for their lack of competence."
Boyd and others have predicted that California's powerful teachers unions would pressure the Legislature to call a special session if Prop. 30 is defeated. The goal then would be to cut $6 billion from programs other than education.
Having won a battle last year to keep Health as a graduation requirement, Taft High teacher Bridget Brownell now finds herself weighing which topics to cut from a one-semester course that covers teen sex, drug use, nutrition and mental and personal health.
"We talk about how the choices they make affect the quality of their lives," Brownell said. "Do I not teach suicide prevention? STDs? Do I not talk about tobacco or alcohol or cancer?"
Brownell has come up with a strategy to condense rather than eliminate material, so students would at least get the essentials.
That means students would hear a lecture on anger management but wouldn't have role-playing sessions to reinforce the skills or do a group project on mental health. They'd discuss good nutrition, but a food journal would become extra-credit instead of a classroom assignment.
"These are all really important, and it's frustrating not to have enough time to apply the skills," Brownell said
Although the LAUSD board endorsed both Props. 30 and 38, district officials have clearly focused on Brown's initiative, warning of the dire consequences of the trigger cuts.
Aquino said the crisis couldn't come at a worse time, with LAUSD trying to phase in the Common Core, raise student achievement and increase its graduation rate.
"Will we be able to ensure that students have the skills and time to succeed?" Aquino said. "With 15 fewer days of instruction this year and 25 fewer days next year, it's going to be very difficult."
(c)2012 Daily News (Los Angeles)
Distributed by MCT Information Services
Related
Before You Go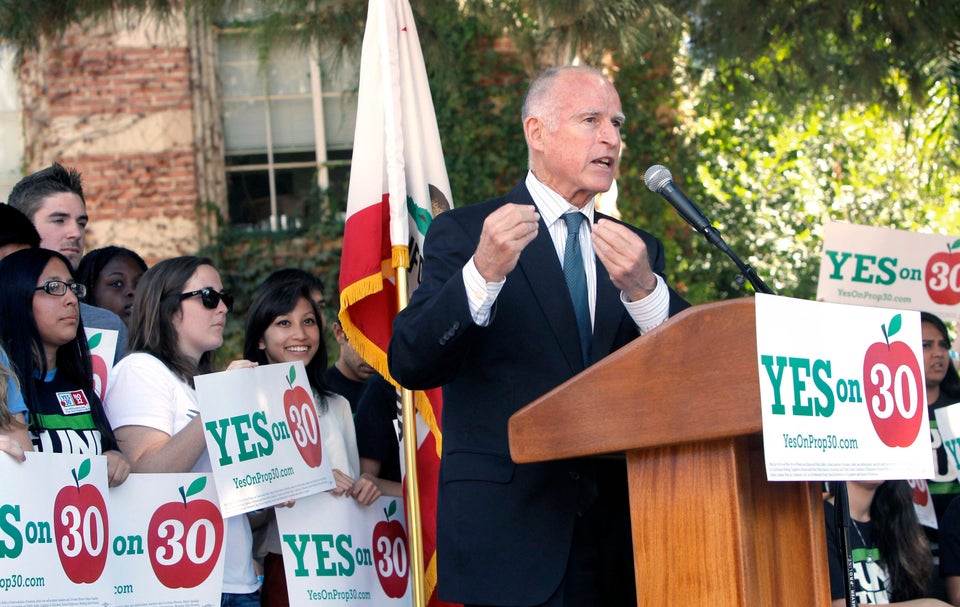 California 2012 Propositions
Popular in the Community