 SAN FRANCISCO -- California Governor Jerry Brown made a passionate and forceful case for the passage of Proposition 30, his signature tax measure that would avert drastic cuts to the state's education system, during an appearance at the Commonwealth Club of California on Thursday.
"The budget will be balanced at the end of this year by massive cuts to our schools or it will be balanced by Prop 30," he declared. "It's as simple as that."
During his talk, the governor framed the ballot measure, which would temporarily increase the state's sales tax (excluding food and gasoline) by a quarter of a cent and hike California's top marginal tax rate to 13.3 percent, as a direct moral question of investing in the state's future through education or simply giving up.
"It's about putting money into California's schools or taking money out of it...there is no third way," he said. Quoting from the Gospel of Luke to bolster his case for the upper-class tax hike, he added, "To those whom much is given, much is required."
Putting the Prop 30 fight as a simple question of right vs. wrong is a tactical shift for Brown, who has been criticized for selling his signature bill without enough forceful clarity to really persuade California voters.
The governor began his speech by going down a laundry list of areas within the state government where he has already made significant cuts. He admitted that, while reductions he has imposed are severe, there's still more fat to be trimmed.
"I personally think everyone can take a few more cuts," he with a smirk. "I've already cut the budget for my own office by 25 percent. The rug is fraying and we're all eating day-old tuna sandwiches."
Brown took great pains to recount both the extensive cuts his administration has made to government services and the major efforts at systematic reform of the state's prison, worker's compensation and pension systems.
He deflected criticisms of his tax plan, including how he could rationalize cutting schools while spending billions of dollars on California's controversial high speed rail project. "How does the U.S. government rationalize spending billions on putting a one-ton truck on Mars?" he replied. "We have to invest."
When asked if he was worried that Prop 30's tax increases on the wealthy would drive "job-creators" out of the state, the governor cited a study by a pair of Stanford sociologists which found that an increase in New Jersey's top marginal tax rate had no significant effect on the number of very rich people moving in or out of the state.
Recent polls have shown support for Prop 30 falling below 50 percent (although 14 percent of voters are still undecided and early voting has seen the measure passing with 54 percent). The dismal polling numbers have led some officials, such as California Lieutenant Governor Gavin Newsom, to criticize Brown for not doing a better job of making the case about the dire need to pass the measure.
"He hadn't been on the campaign trail since August 30, and the election is happening today," Newsom, who unsuccessfully challenged Brown in the Democratic gubernatorial primary, said in a recent radio interview. "Meaning people are already starting to put in their absentee ballots."
Related
Before You Go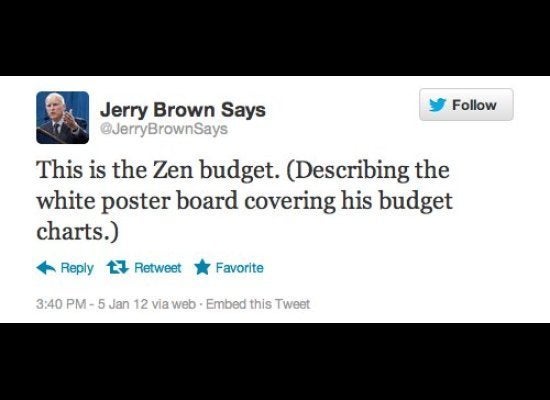 Sh*t Jerry Brown Says
Popular in the Community