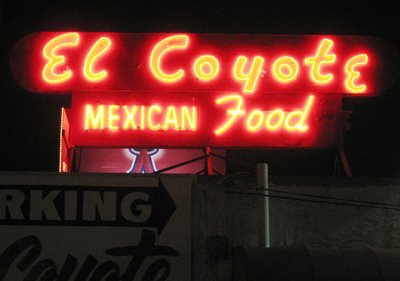 Marriage rights advocates are calling for a boycott of Los Angeles' legendary El Coyote Cafe where Sharon Tate ate her last meal, and Penelope Cruz and U2 have had much more successful dining experiences, though George Clooney and Fabio came to blows in the naugahyde upolstered dining room after the Italian romance model called Clooney "a diva."
In high school El Coyote was notorious for not checking IDs-- that's where I had my first margarita. Nowadays they check your driver license before pouring you a 'rita, but it's still homey, cheap, cheesy, campy, classic LA and great fun. And it's also listed in travel guides as being "gay-friendly" for those reasons.
So imagine the surprise when it was discovered co-owner Marjorie Christoffersen gave $100 to Yes on 8 group ProtectMarriage.com. Marjorie, who is a Mormon, donated the money to her church, according to what she told blogger JazzyJeff63 which doesn't explain how her name ended up on the California Secretary of State's list of Yes on 8 donors. (You can use the previous link, from the LA Times, to search anyone you want by name, or check out who in your zip code gave and to which side!)



Marjorie said:

I love you guys, I would never do anything to hurt you, I wish I hadn't done it.

Yeah, I bet she wishes she'd never done it because now there is a call to boycott the restaurant, which has been owned by a branch of Marjorie's family since it opened in 1931. To try to make nice, Marjorie says that she's holding "an open breakfast Wednesday at 11am to speak to the community."
Brunch ain't gonna hack it with a bunch of angry gays who've had their rights eliminated by people who "love them." However, maybe Marj's story will give some insight into the machinations of the Mormons and what exactly they said to their followers.
Meanwhile this boycott and the one called for on California Musical Theatre is raising some thoughts about a Day Without Gay, in which marriage rights supporters--regardless of sexual orientation, because there are many, many straight supporters of marriage rights--would just take the day off of work. A Gay Day Off, a statewide "lavender flu" with everyone who support equal rights just not showing up for work and taking to the streets.
Popular in the Community