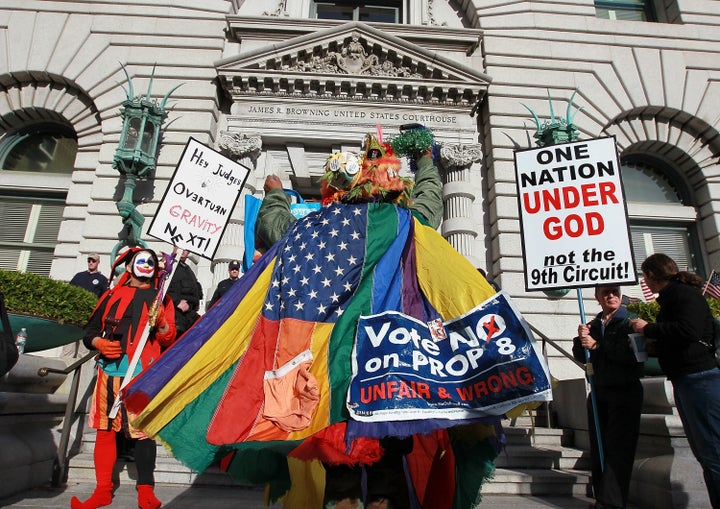 The last time a California court heard arguments on the validity of Proposition 8, the controversial measure banning gay marriage that state voters passed in 2008, the only insight most onlookers had into the trial was through the recounts of court reporters.
When the California Supreme Court hears arguments on September 6 to determine if the bill's sponsors have grounds to appeal the decision Judge Vaughn Walker issued last year -- deeming the measure unconstitutional -- the action will be broadcast for all the world to see.
Court spokeswoman Lynn Holton said that because of public interest in the case, the court has approved a live statewide television broadcast of the arguments on the California Channel, a public affairs network.
Judge Walker issued his forceful ruling against Prop 8 in late 2010, handing a major victory to gay marriage supporters. Walker had wanted to televise the proceedings of the initial Prop 8 trial; however, the U.S. Supreme Court intervened and prohibited Walker from allowing a public broadcast.
The court issued an unsigned opinion that said lower courts had not followed proper procedure in approving plans for the broadcast. The trial is to consider the constitutionality of Proposition 8, California's ban on same-sex marriage, and the Supreme Court cited arguments from proponents of the ban that releasing video of witnesses could subject them to harassment and even physical danger.
After Judge Walker's ruling, both former Governor Arnold Schwarzenegger and Attorney General Jerry Brown declined to appeal--leaving that decision up to the bill's backers. Even so, because of the specifics of Judge Walker's ruling, it's not clear that Prop 8's proponents will have the legal standing to appeal. Answering this question is precisely what the state Supreme Court will look into come September.
The 9th Circuit Court of Appeals agreed to hear the case but, since they appeared unsure about the supporters' legal standing, they sent the question to state's highest court for clarification. If the state Supreme Court rules that Prop 8's backers, led by the group Protect Marriage, have the ability to appeal the case, the issue will be sent back to the appeals court.
The high court is expected to make its ruling within 90 days of the early September hearing.
Popular in the Community