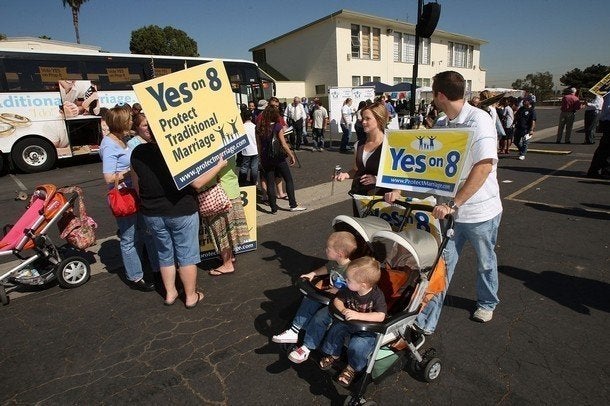 SACRAMENTO, Calif. ― A federal judge has denied a request to keep the names of donors to California's anti-gay marriage initiative secret, saying the public has a right to know who's giving money to state ballot measures.
Supporters of the initiative, which was approved by voters in November, had sought a preliminary injunction to hide the identities of those who contributed to their campaign.
They had asked the judge to block disclosure of late donors, who gave in the final weeks of the campaign or shortly after the election. The state is scheduled to release that report on Feb. 2.
They also asked the court to order the state to remove the names of all contributors to Proposition 8 that already had been posted on the secretary of state's Web site.
U.S. District Judge Morrison England Jr. yesterday sided with the state. In his ruling from the bench, England said California's campaign-disclosure laws are intended to protect the public and are especially important during expensive initiative campaigns.
"If there ever needs to be sunshine on a political issue, it is with a ballot measure," England said.
He said many campaign committees have vague names, obscuring their intent. The public would have no way of knowing who is behind the campaigns unless they can see who's giving money.
"This clearly is a victory for the people of California and disclosure. The commission will continue to vigorously defend any suit brought against disclosure of campaign statements," said Roman Porter, executive director of the California Fair Political Practices Commission, which enforces the state's campaign-disclosure laws.
Proposition 8 overturned a 2008 state Supreme Court ruling allowing gay marriage.
Supporters said public disclosure of their financial supporters had put the donors at risk. They argued that the initiative's opponents used the public lists to issue death threats, boycott businesses, accost people at their homes and engage in other forms of harassment.
Another 1,600 people will be put at risk of harassment or reprisals when the postelection campaign finance reports are released on Feb. 2, said Frank Schubert, co-manager of the Yes on 8 campaign.
Disclosing donors' names will chill the ability of gay-marriage opponents to run any campaigns related to gay marriage in the future, he said.
The judge said he didn't agree that the plaintiffs had a probability of success in court. He also said they had not proven that they would suffer "irreparable injury" if he did not grant the preliminary injunction.
The judge planned to issue a more detailed, written ruling later.
The groups that backed Proposition 8, ProtectMarriage.com and the National Organization for Marriage California, said they did not immediately know whether they would appeal.
State attorneys said the plaintiffs did not qualify for a narrow exception to campaign-donation disclosure laws that the U.S. Supreme Court carved out in 1982. That ruling was designed to protect tiny groups such as the Ohio Socialist Workers Party, which had a history of being harassed by both government officials and individuals, the state said.
"This exception does not apply to a large, well-financed organization representing the views of several mainstream organizations such as the plaintiffs, who had over 36,000 contributors, garnered nearly $30 million in campaign contributions and whose ballot measure was passed by a vote of over 52 percent of the voters," Scott Hallabrin, general counsel for the FPPC, said in a statement.
Granting the exemption sought by the plaintiffs could lead to a situation in which no campaign committee involved in a fight over a controversial ballot measure could be required to disclose its donors because of the potential for some form of harassment.
That would deny voters the right to know who was behind those campaigns, the state said in court papers.
The state also questioned whether donating to the yes-on-Proposition 8 campaign was likely to trigger harassment and discourage people from donating to any future battle over same-sex marriage.
Only one of the nine incidents of harassment cited by the plaintiffs involved a person who just contributed to the ballot measure. The others had engaged in other types of support, such as speaking at campaign rallies, posting yard signs or using bumper stickers.
Only one of the targets of harassment cited by the plaintiffs said they would not donate again if there was another ballot fight over gay marriage.
Most of the activity the plaintiffs called harassment was actually protected free speech, such as threats of boycotts, the state said.
Proposition 8 supporters argued that the contribution-disclosure exemption created by the U.S. Supreme Court did not just cover small political parties.
"Certainly the state has an interest in requiring disclosure," said Richard Coleson, an attorney representing the plaintiffs. "But there has to be an exception when there is a reasonable probability of reprisal."
He said the lawsuit was filed in federal court, rather than state court, because it raised First Amendment issues.
Schubert, of the Yes on 8 campaign, predicted the anti-gay marriage groups would have a better chance of showing that they deserved an exemption from disclosure laws when they were able to bring in more evidence of harassment during a full trial of their lawsuit.
Yesterday's ruling on a preliminary injunction was just a first step in a long legal process that could end up in appeals courts, he said.
"This fight is really about how donors to a future campaign (against gay marriage) will be treated," Schubert said. "We are committed to ensuring that supporters of traditional marriage can do so without fear of intimidation and harassment."
Supporters of gay marriage said it was hypocritical for Proposition 8 backers to bring the legal challenge. During the campaign, the initiative's supporters threatened boycotts against businesses that failed to donate to their effort, said Fred Karger, founder of Californians Against Hate, a gay-rights group that has been listing the names of Proposition 8 donors online and in some cases organizing boycotts against them.
"Now they complain of harassment?" he said.
Popular in the Community