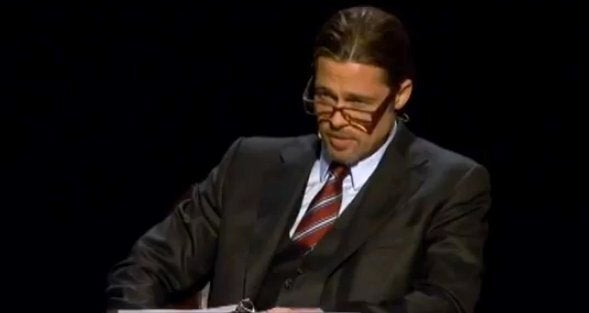 Dustin Lance Black's traveling Prop. 8 play, "8," landed at the Wilshire Ebell Theatre in Los Angeles Saturday night with its star-heavy cast, including the newly announced Brad Pitt (there's a "Se7en" joke here somewhere), George Clooney, Kevin Bacon, Jamie Lee Curtis, Martin Sheen, John C. Reilly and too many more to name. The play, which is a reading of the Perry v. Schwarzenegger trial -- the case the American Foundation for Equal Rights filed with the federal district court to overturn the bill preventing gay and lesbian couples from marrying in California -- was also livestreamed on YouTube. According to the AP, director Rob Reiner said the livestream attracted 200,000 viewers.
For those of you who were not sitting at home in front of your computers on a Saturday night, you can watch the full, one-night-only performance here this week (Reiner predicts about a million of you will do so). Pitt takes the judge's seat as United States District Chief Judge Vaughn R. Walker, while Clooney and Sheen play plaintiffs' lead co-counsel David Boies and Theodore B. Olson, respectively. If only there were a market for star-studded C-Span trial recasts, we'd all probably be much more well-informed.
Find a reading of "8" near you here. And if you're interested in staging a reading of "8," find out more here.