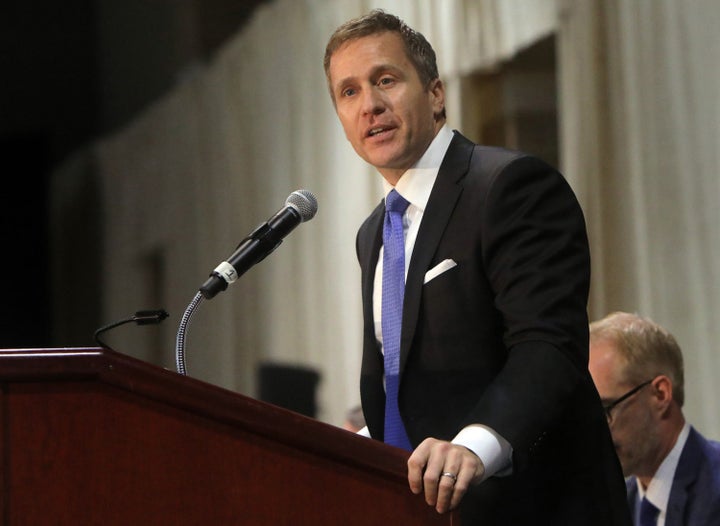 So many states have been passing right-to-work laws that the anti-union statutes are now the norm rather than the exception. But could Republican-controlled Missouri be the state that reverses the trend?
The state's voters on Tuesday will cast ballots on Proposition A, an up-or-down referendum on the right-to-work bill passed by Missouri legislators and signed by then-Gov. Eric Greitens (R) last year. The law still hasn't gone into effect. If the "no" votes win, it will die ― and so, unions hope, will some of the momentum behind the nationwide right-to-work campaign.
Right-to-work laws allow workers to opt out of paying union fees while still enjoying the benefits of a union contract. In doing so, the laws tend to drive down union membership and weaken organized labor ― a pillar of the Democratic Party ― which helps explain why Republican-dominated states have become so eager to institute them lately.
In 2017, Missouri became the 28th state to put one on its books, following Indiana, Michigan, Wisconsin, West Virginia and Kentucky in recent years. In those six states, the laws were passed by GOP-controlled statehouses. By getting Prop A on the ballot, unions and their progressive allies in Missouri succeeded in putting the question directly to voters instead.
"This attack on everyday workers has got to end," said David Cook, the president of United Food and Commercial Workers Local 655 in eastern Missouri. "Voters across the state have shown they're not in favor of 9the right-to-work law). Let's focus on the things that matter."
Despite the trend toward right-to-work laws, unions have a strong chance of winning the referendum fight. The group supported by labor, We Are Missouri, has outspent the main right-to-work group on advertising by a margin of roughly eight to one, according to an analysis by the Missouri Times.
A referendum also plays to one of labor unions' primary strengths ― canvassing and getting out the vote. Unions have spent weeks rallying members and knocking on doors urging people to vote "no" on the ballot initiative.
Chloe Collins, a janitor at St. Louis Lambert International Airport, has been canvassing roughly six days a week for the "no" camp over the past month. Taking her five-year-old daughter along for the door-knocking, Collins has been telling voters that the right-to-work law would weaken her union and weaken her working conditions.
″I feel I wouldn't have security at work," said Collins, a St. Louis resident and member of the Service Employees International Union Local 1. "The union steps in and helps a lot with things ― paid time off, vacation days, sick days, and other benefits. Sometimes jobs are unfair and unfair things happen. The union is there to back you up."
Under U.S. labor law, a union like Collins' has to represent everyone in the bargaining unit at the airport, even those who are ambivalent toward the union and its function. Because the union has to negotiate for everyone, it prefers to have a contract with a "union security" clause, which stipulates that all of those in the unit chip in to cover the costs of representation.
A right-to-work law would make such clauses illegal in collective bargaining agreements, giving workers the option to stop paying any union fees, even though the union would still have to represent them. That leads to what unions derisively call the "free-riding" problem: It's logical for someone to stop supporting the union when they know they can still receive its services for free. And the more members who bail, the less effective the union becomes.
Advocates of right-to-work laws argue that such statutes make states more attractive to businesses. They also say workers shouldn't be required to support a union whose positions they disagree with ― though under federal law, no worker can be required to pay for a union's political activity.
The Economic Policy Institute, a left-leaning think tank, estimates that there would be 60,000 fewer union members in the Missouri private sector if the state's right-to-work law takes effect. According to the same analysis, the worker in a right-to-work state earns roughly 3.1 percent less in hourly wages than a similar worker in a state without such a law.
Union membership is now hovering near a historical low in the U.S., with just 10.7 percent of workers belonging to a union. That's down from around a third of workers in the 1950′s. The numbers are more dismal in the private sector (6.5 percent) than the public sector (34.4 percent).
According to labor leaders like Cook, the diminished footprint of unions will pull down wages in entire industries. He said if unions want to stop the spread of right-to-work laws, they'll have to build strong alliances beyond organized labor and convince the general public that the laws are bad for everyone, not just union members.
"If all you're going to talk to is labor, then we're going to lose this every time in every state," Cook said. "This truly can't be a labor issue, because it's not. It's a worker's issue."
Popular in the Community