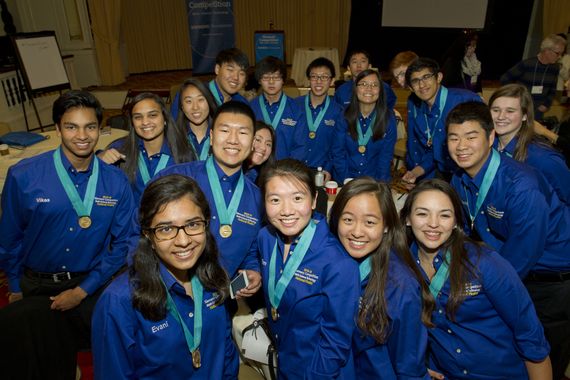 This fall has already been a busy and inspirational season for science. Earlier this month, an elite group of chemists, physicists, and a cell biologist --all of whom have already made enormous contributions to our society -- were awarded the Nobel Prize. In September, Priscilla Chan and Mark Zuckerberg announced they were dedicating $3 billion over ten years to "focus on bringing scientists and engineers together to build new tools that can empower the whole scientific community to make breakthroughs in basic science" on four major disease categories: heart disease, cancer, neurological diseases, and infectious diseases. They also plan to support young investigators who have big ideas. No doubt they recognize the breakthroughs in their own space in Silicon Valley were discovered by the ingenuity and innovative spirit of young talented people.
The difficult news is that we have a shortage of young talent in the pipeline. We need to inspire and support more young people in this country - and a more diverse group of them - to excel in science, technology, engineering and math, or STEM.
There is good reason to do so. Science and innovation are keys to economic growth, and in fact, jobs in STEM fields are growing three times faster than every other sector of our economy. Over the next decade, we need to produce about 1 million more college graduates in STEM fields than we currently have available. Already, fewer than 40% of students who enter college intending to major in STEM fields end up earning a degree in one of those fields, according to the U.S. Department of Education. And many students don't even get that far, especially girls and other under-represented groups like African American and Hispanic students.
We must nurture young curious minds with a passion for science, whether that is sparked by tracking a sprouting lima bean in elementary school or the desire to develop a diagnostic test for pancreatic cancer after the death of a loved one. We must support teachers, mentors and research labs that offer students new opportunities, especially in underserved areas so that low-income students have the same shot at access their peers at well-resourced and connected schools have. And lastly, we must celebrate student achievements and excellence in STEM and recognize how these innovations can impact societal needs.
By recognizing the best and brightest scientific minds in high school, we help recognize and build a strong pipeline for the nation's most promising scientists, engineers and mathematicians. That's why the Siemens Foundation started its Research Competition 17 years ago to increase access to higher education for students who are interested and talented in STEM areas. This year, almost 2200 high school students submitted projects from 46 states plus the District of Columbia and 7 countries to vie for college scholarships ranging from $1,000 to $100,000. Out of the more than 1600 projects submitted, roughly 400 students were selected as semi-finalists and announced today. From this select group of students, professors from universities across the country will soon determine who advances to compete in regional competitions and then national finals held in Washington, D.C. in December.
Science is all around us from smartphones and tablets to the development of cancer-fighting drugs to ways to provide clean drinking water, but we have so much more work to do to improve our health and our world. We need more unique and innovative research like that being explored by these Siemens Competition scholars to improve our lives and world. We look forward to seeing how their accomplishments will drive a stronger, healthier, and cleaner world for all of us.
Popular in the Community