Former Ms. Michigan, Christine Marie, was a single mother of four, a successful entrepreneur, Young Mother of the Year and deeply committed to her Mormon faith until she fell under the spell of a self-proclaimed religious prophet who debased and prostituted her in the name of religion. In the end, she was left homeless, penniless, without her children and in desperate need of help as a victim of sexual trafficking.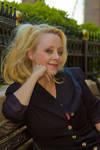 Christine Marie today. (Photo courtesy Christine Marie)
Her horrific experiences are chronicled in Dangerous Persuasions, a documentary produced by Raw Television (U.K.) that aired on Wednesday evening, January 30, at 10 p.m. EST on Investigation Discovery.
"I'm telling it publicly to warn people that anyone can become a victim of a psychopath," she says. "It took eight years of therapy to realize it was not my fault."
Marie is not the typical runaway teen who falls prey to men who profess love and protection. She was a grown woman when she met Adam* at a Mormon singles dance. "He immediately charmed me because he looked exactly like the man who had appeared in a dream revealing the man I was destined to marry.
"I had always been taught that dreams are powerful because Joseph Smith's revelation about the ancient Gold Plates had come in a dream. His translations of the text became the basis for The Book of Mormon, a tenant of our faith."
Adam convinced her that he had found a new sealed version of the Gold Plates he was translating. Thus, he would become the new prophet and Marie would become his spiritual wife. Together, they would become as revered as Joseph and his wife, Emma.
"The thought was enthralling," Marie says. "I wanted to believe him. He even sent me the first eight chapters, written in the style of the Gold Plates, along with an updated version of the New Testament. My faith was so deeply rooted, I truly believed he was the next prophet."
Within a week, Adam began testing Marie's faith by telling her she would not be in heaven for all eternity with her children unless she began making sacrifices. She was to turn over all her worldly possessions to help the poor and needy, and even send her children to live with others. "He positioned himself as being the prophet between me and God and threatened if I doubted his instructions then God would not consider me worthy to become the wife of the new prophet," she says.
He groomed her with psychological tricks: telling her to do something, then denying it had been said; was sweet and loving one minute, then turned on her in anger and violence, all the while threatening her with Hell if she disobeyed - classic signs used by predators. Before long, Marie lost her critical thinking skills and became a victim of what experts call The Stockholm Syndrome where victims are psychologically manipulated to side with their perpetrators.
"I kept telling myself what he said was true. After all, God had sent me this man in my dream. The whole world rested on my obedience to him, even if it included being debased and sold to men. He compared it to Christ's suffering." Other so-called "believers" called and emailed her to affirm their beliefs that Adam was the new prophet.
Adam's "new" translations of the Gold Plates turned the traditional teachings of the Mormon faith upside down, particularly adultery and having sex outside of marriage. Her next test was to live among the poor and needy as Christ had done.
He sent her to live in an apartment among five men and three women in a dangerous part of town where she was beaten and raped repeatedly, all in the name of serving God. When two of his so-called followers finally confessed that Adam was a hoax, Marie teetered on the brink of suicide, realizing that all of her sacrifices had been in vain. "I was going to Hell anyway," she said.
Though homeless, Marie had the courage to reclaim her son and daughter. The other two children remained with their father. She went to the police, but because she only pressed charges for fraud, she was denied the support of a victim's advocate. The Church also refused to help, saying she had broken one of their most sacred beliefs, sex outside marriage.
It took a move to California before she told her full story and was accepted into a program for trafficked women who helped her rebuild her life. "Even though I was an adult, I didn't realize that people were evil enough to put a humanitarian face on evil," she says.
Ironically, Adam, who was in jail on unrelated charges, is now free and still perpetrating the same crime on other Mormon women.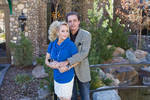 Christine Marie and husband, Tolga Katas (photo courtesy, Christine Marie)
As for Marie, her children are grown and she has re-married. "I'm not my past," she says. "I can choose what I want to be." Her hope is that Dangerous Persuasions will help other women avoid falling victim to similar schemes.
(*) His real name is withheld to protect the victim.)
Popular in the Community