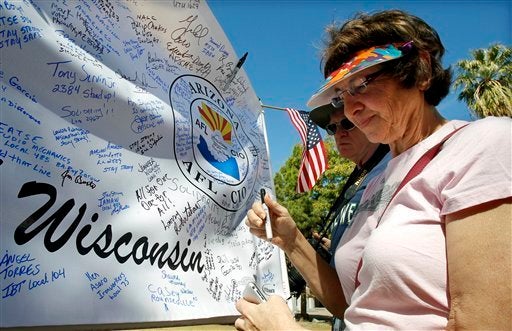 As a right-to-work state, Arizona has never been union-friendly, but now the state's lawmakers are considering four anti-labor bills that would strip away the existing rights of public sector unions. On top of the anti-union legislation, Governor Jan Brewer is encouraging the Legislature to weaken the state's personnel system and make it easier to fire public employees.
The Arizona bills have been dubbed "worse than Wisconsin" because they negatively affect all public sector employees, including police and firefighters. Together the bills would outlaw collective bargaining, prohibit public employers from compensating employees for union activities and eliminate payroll deductions for union dues.
According to Republican leaders in the Senate, the bill banning collective bargaining is in trouble, but the bills banning payroll deductions for union dues and release time for union activities still may pass.
Democratic legislators have been opposed to all four bills from the beginning, but since Republicans have an iron grip on both houses and the entire state government, the fight against them appeared a bit like jousting at windmills. Nevertheless, unionists and labor supporters in Tucson and Phoenix have been protesting the legislation; Congressman Raul Grijalva has made public statements against the bills; MoveOn.org activists have created an online petition; the AFL-CIO is holding public hearings in Tucson and Phoenix; and a major demonstration has been planned for the state capitol on March 1.
Meanwhile, Brewer's plan to weaken the state's personnel system has been advancing. It could impact workers as much as the anti-union legislation. Currently, most of the state's workforce is covered under the personnel system, and as such, they have grievance rights and other protections. If the governor has her way, those rights would be stripped from 29,000 state workers. Under the Brewer proposal, most non-university state employees would move to uncovered status when they accept future promotions or the 5 percent pay increase the governor has in her budget. In addition, all new hires, supervisors and some current employees who work in legal services or information technology also would move to uncovered status. Brewer proposed similar legislation in 2011, but it failed to pass the Legislature.
In 2010, when Republicans solidified their hold on Arizona government, none of them campaigned on an anti-worker platform. This year, all of Arizona's legislators are up for re-election, and some of them--including Republican State Senator Frank Antenori and Democratic State Senator Kyrsten Sinema--hope to win Congressional offices. Are election year pressures softening (or hardening) some ideological positions--at least temporarily? Only time will tell.
Video: Approximately 100 union workers and supporters protest the proposed Republican legislation in Tucson, Arizona,
Pamela Powers Hannley is an independent writer and videographer in Arizona. If you would like to contribute as a citizen journalist to The Huffington Post's coverage of American political life, please contact us at www.offthebus.org
Popular in the Community