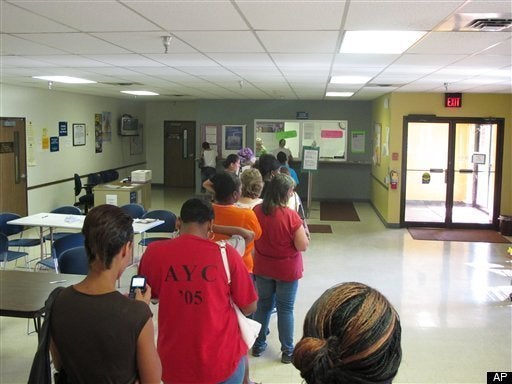 To help prevent a pair of domestic spending bills from adding to the national budget deficit, Democratic leaders in the Senate have proposed cuts to future food stamp funding, saving $14.1 billion over 10 years.
Several Democrats have said they'll prevent the cuts -- which will phase out a stimulus bill provision that increased families' monthly food stamp payments -- from ever taking effect. So are the planned cuts nothing more than an accounting gimmick to win "yes" votes from deficit hawks, or are they a serious threat to families who rely on the money to feed their children?
"I do believe [the Democrats] are sincere in not wanting these cuts to go into effect, but I'm concerned that, when the time comes, they won't be able to find a way to put the money back," said Elizabeth Lower-Basch, a senior policy analyst with the Center for Law and Social Policy. "There's no precedent for this."
In April 2009, the American Recovery and Reinvestment Act boosted monthly benefits under the Supplemental Nutrition Assistance Program (formerly known as the Food Stamp Program) by 13.6 percent. As economic misery has worsened, participation in SNAP has risen since then from 34.4 million to 40.8 million as of May 2010. That's one of every seven Americans.
With the stimulus bill provisions, the average benefit is $133.77 per month. If the cuts take effect, the Food Research and Action Center (FRAC) estimates that a family of four will receive $59 less per month starting in November 2013. It's not the first time an unkind change has been made to food stamp policy, but experts say it would be the first time ever that beneficiaries would receive less money from month to month under the program.
"The raid on SNAP must stop," said FRAC in a statement. "These are real cuts with real impact on low-income households who, for the first time, will see their benefits fall from one month to the next."
Cutting the elevated SNAP funding to pay for a state aid bill "is one of the more egregious cases of robbing Peter to pay Paul," wrote Reps. Keith Ellison (D-Minn.) and Jim McGovern (D-Ma.) in a letter signed by 106 other Democrats protesting the cuts to House Speaker Nancy Pelosi (D-Calif.).
The first cut saved $11.9 billion by phasing out the stimulus bill food stamp money in 2014 in order to help pay for $26.1 billion to protect public sector jobs at the state level. That measure has become law, as the House members who signed the letter to Pelosi acknowledged the importance of preventing state governments from laying off thousands of teachers, cops, and firefighters. But they say they can't stand the second cut, which has been approved by the Senate but not the House, and which would save $2.2 billion to help pay for a child nutrition bill by moving the SNAP cuts up to 2013.
The Congressional Budget Office estimates that the $8 billion bill, which is a top priority for First Lady Michelle Obama, will provide 21 million afterschool meals per year by 2015, but FRAC calls it "a 'child nutrition' bill that will make children hungrier" because it takes away SNAP money from the stimulus bill.
A Senate Democratic aide pointed out that the "more we provide childhood feeding, the less strain there will be on the whole family food budget, including monthly SNAP benefits."
The increases in SNAP benefits were planned to be phased out simply by allowing inflation to catch up with the increased payments (since the amounts are tweaked for inflation every year), and that was expected to happen by 2014. The CBO originally estimated that the increase in SNAP benefits would cost $20 billion over those five years, but the Department of Agriculture, which administers SNAP, estimated in June that the elevated SNAP benefits would last 10 years and cost $65.8 billion. "This significant increase is a product of rapidly increasing caseloads and slower than anticipated growth of food prices," the USDA said.
But Democratic senators have not attempted to wade into wonky arguments about food price inflation. Instead, several of them -- including Sens. Sherrod Brown (Ohio), Ron Wyden (Ore.), Debbie Stabenow (Mich.), and Senate Majority Leader Harry Reid (Nev.) -- have said they'll stop the cuts from hurting the hungry.
Said Lower-Basch, "I'd rather not play this game of chicken."
Popular in the Community