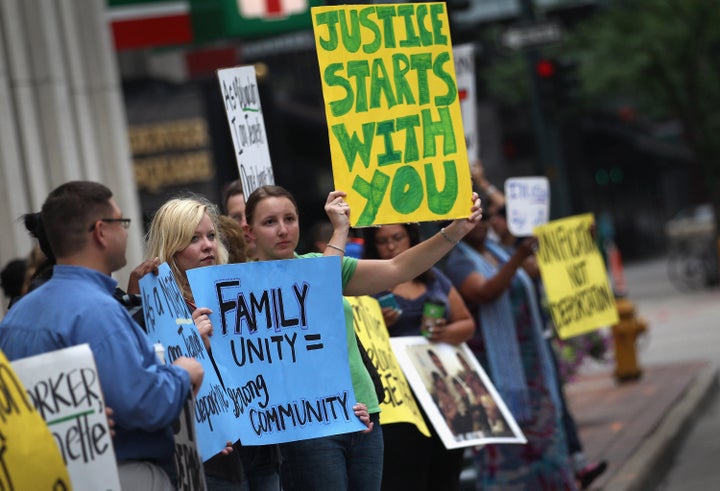 WASHINGTON -- Kelly Alfaro, who lives in Washington state, almost lost her husband, Guillermo, to a bacterial infection in 2011 after he went to Juarez, Mexico, to obtain a green card to return to the United States.
An undocumented immigrant, Guillermo was one of thousands of men and women who have spouses and parents with U.S. citizenship but are forced to return to their native country before obtaining permission to get a green card based on their family member's status.
A proposed rule announced Friday by U.S. Citizenship and Immigration Services would change that, allowing those eligible to stay in the United States while they apply for a waiver to remain with their families until they get permission to obtain a green card. At that time, they would return to their native country to get their green card and then return to the United States more quickly than they can today.
For Alfaro and her husband, this could have meant saving his eye, which was removed to prevent the life-threatening infection from spreading. Guillermo lived in Juarez for eight months last year while attempting to prove his absence caused "extreme hardship" for his wife, which is the only way to get past a three- or 10-year bar on reentry placed on undocumented immigrants who leave the country.
"I was terrified for his safety because I knew how dangerous it was there and I had no idea how long he would have to stay down there," she said on a conference call Friday, adding that he could have gotten better medical treatment in the United States.
Immigrant rights advocates are applauding the proposed rule change, which, if approved, could go into effect within the year. The proposal would fix a long-standing complication with current immigration law, although it would not change the law itself.
"The goal is to substantially reduce the time that the U.S. citizen is separated from the spouse or child when that separation would yield an extreme hardship," Alejandro Mayorkas, director of Citizenship and Immigration Services, told The New York Times.
For immigration reform supporters, this would be a welcome policy change.
"This was definitely on my Christmas wish list," Douglas Stump, the vice president of American Immigration Lawyers Association First, said on a conference call.
Some Democrats in Congress praised the decision on Friday. Senate Majority Leader Harry Reid (D-Nev.), a supporter of immigration reform, tweeted that he applauds "Obama's stance for [family] unity; allowing speedy reunification of spouses/children of US citizens, adjusting #immigration status."
The proposed rule wouldn't change existing law, or even lower the requirements for being granted a green card as the spouse or child of an American citizen. Undocumented immigrants and their family members must still prove "extreme hardship" -- which does not mean just being separated -- for the American citizen based on the absence of his or her spouse or parent.
Still, there will likely be backlash from detractors of immigration reform who refer to most legalization as "amnesty." Rep. Luis Gutierrez (D-Ill.) issued a statement attempting to preempt those criticisms by pointing out that obtaining a green card based on the immigration status of a spouse or parent is a method of legal immigration, something most lawmakers against unauthorized immigration say they support.
"If Republicans are serious about supporting legal immigration and having rules families can play by without being split apart, they should thank the president and work with him to implement more common sense changes," Gutierrez said in the statement.
Obama has made a few administrative changes to immigration enforcement in the past six months, including a change in "prosecutorial discretion" that allows some undocumented immigrants to be released from deportation charges as long as they have a clean criminal record and ties to the United States.
But immigration advocates point out that just changing the rules, rather than the laws, isn't enough to help those who are not eligible for help under those policies.
For instance, immigration law does not apply to same-sex couples, meaning they are not eligible to petition for legal status even for their legal spouses. The proposed rule change, therefore, will have no impact on them, but immigration advocates are lobbying to help change it.
"This victory is also a reminder that we still have a lot of work to do," Jose Antonio Vargas, founder of Define American, said in a statement. "There are still countless of families, like my own, who do not qualify for this waiver and whose lives continue to be in limbo."
CORRECTION: 1/8 -- This article has been updated to reflect that people would still need to return to their native country, although more briefly than the current law dictates, to receive their green card.
Calling all HuffPost superfans!
Sign up for membership to become a founding member and help shape HuffPost's next chapter