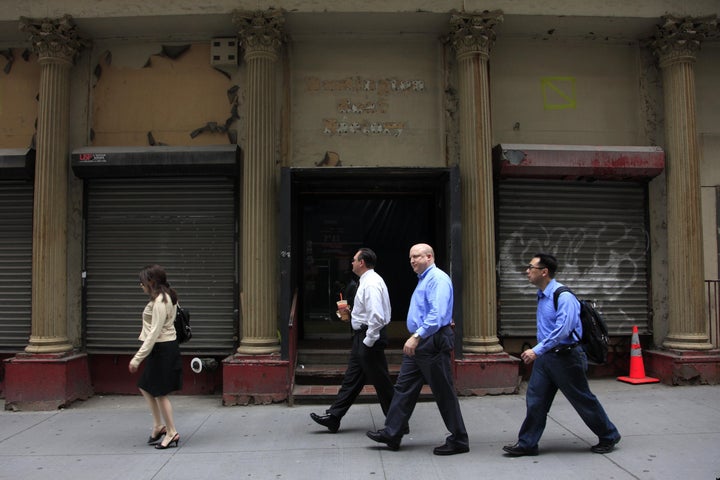 Two blocks from Ground Zero -- around the corner from the Glad Tidings Tabernacle and up the street from the Christian Science Reading Room -- stands a former Burlington Coat Factory outlet damaged on September 11th . If all goes as planned, it will soon house Cordoba House, a community center and mosque open to people of all faiths.
At the heart of the project are the American Society for Muslim Advancement (ASMA) and its sister organization, the Cordoba Initiative led by Imam Feisal Abdul Rauf and his wife, Daisy Khan. Supporters of the initiative include hundreds of Muslims, Jews, and Christians who have known this couple and their work for decades and share their dream of a place to house a vibrant, pluralistic American Islam.
On May 12, the Community Board of Lower Manhattan unanimously voted to support the project. According to a New York Times article, "The location was precisely a key selling point for the group of Muslims who bought the building in July. A presence so close to the World Trade Center ... 'sends the opposite statement to what happened on 9/11.'"
As Daisy Khan put it: "For us it is a symbol, a platform that will give voice to the silent majority of Muslims who suffer at the hands of extremists. A center will show that Muslims will be part of rebuilding lower Manhattan."
The Reverend Dr. Joan Brown Campbell, former General Secretary of the National Council of Churches of Christ, agrees: "Building so close is owning the tragedy. It's a way of saying: 'This is something done by people who call themselves Muslims. We want to be here to repair the breach, as the Bible says.'"
But not everyone sees it that way.
In an article in the New York Daily News on Thursday, Rosemary Cain of Massapequa, Long Island, whose son was killed in the 2001 attacks, called the project a slap in the face. "That's sacred ground," she said. Retired FDNY Deputy Chief Jim Riches opined, "I realize it's not all of them, but I don't want to have to go down to a memorial where my son died on 9/11 and look at a mosque."
I understand those reactions; loss and profound pain leave a residue, and these are emotionally honest responses. Men and women of good will may differ on how to redeem that which has been sullied in the past. Symbols are powerful and multivalent, and they will be experienced differently by different people.
I have no patience, however, for the self-appointed watchdogs who have responded to the proposed project with a smear campaign in the blogosphere. For them, any Muslim building in that space is a symbol of Islamic triumphalism. In order to keep the community center from being built, they change the conversation to one about the alleged background and intentions of Imam Rauf. Their attempts to tarnish his credentials are so strained that a fair reading of their rants would lead an intelligent person to seek more credible sources of information.
In fact, these opponents do have a problem, which is why their tactics smack of the red baiting of the McCarthy-era paranoia.. There is simply no support for their claims in Imam Rauf's own words or work. An Egyptian American , Feisal Abdul Rauf has been Imam of Masjid al-Farah in New York City's Tribeca district since 1983. In 1997 he founded the American Society for Muslim Advancement, a civil society organization aimed at promoting positive engagement between American society and American Muslims. In many books, articles, and public initiatives, he and his wife Daisy Khan have been tireless in their efforts to help create and represent an Islam that understands and incorporates what is best about America.
To my sensibility, the image of a Muslim community center going up in lower Manhattan is a sign of hope, a very real manifestation of faith in the future of America and of Islam. As a rabbi, I look forward to finding ways for American Jews to partner with American Muslims in building the kind of pluralistic society in which we all can flourish. If you disagree, let's talk about what it means to build positive messages on complicated sacred ground. But let's keep the character assassination out of it.
Popular in the Community