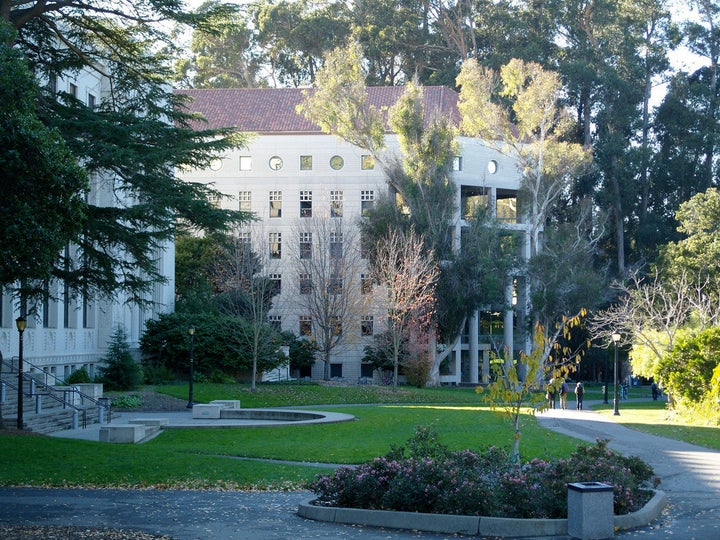 More than a decade after California law banned race-conscious admissions, outreach and financial aid at public universities, the state's most selective public university system has seen a significant impact on its ability to increase enrollments of African American, Latino and American Indian students.
A ruling by the Supreme Court ending race-based preferences in college admissions would have a limited effect in California because state law already prohibits it. But as other states consider the effects of a Supreme Court ruling on their own college populations, they might observe what's happened in the Golden State.
The University of California Board of Regents in 1995 passed a resolution that eliminated race, religion, sex, color, ethnicity or national origin as criteria for admission to the university. The following year, California voters approved Proposition 209, which went further by also prohibiting race-conscious outreach and financial aid.
The percentage of underrepresented minority students admitted to the UC system dropped significantly as soon as Prop. 209 passed. Today, despite a number of policies and strategies employed by the university to diversify its student population, these groups remain a substantially smaller proportion of those admitted to and enrolled at the university's most selective campuses - UC Berkeley and UCLA - than they were before the elimination of race-conscious policies.
What's more, the gap between the percentage of underrepresented minority students graduating from California high schools and the percentage enrolling at UC has widened.
At UC Berkeley, from 1995 to 1998, the number of admitted California resident African American, Latino and American Indian undergraduates dropped 58 percent. These students went from 27 percent of the admitted pool to 12 percent.
At UCLA, underrepresented minority admissions dropped by 53 percent in that period. They went from 28 percent to 13 percent of the pool.
The percentage of underrepresented minorities at UC Berkeley and UCLA has grown but never fully recovered. In fall 2010, these students made up 17 percent of the admitted pool at Berkeley and 21 percent at UCLA, according to UC data [PDF].
And while the percentage of new UC freshmen from California public schools who are underrepresented minorities has grown since 1995, from 20 percent to 25 percent in 2009, that hasn't kept pace with the changing demographics of California's public schools.
The gap between the percentage of underrepresented minorities graduating from California public high schools and the percentage of resident underrepresented minorities enrolled at UC has grown from an 18 percentage point gap to 23 percentage points, according to university data [PDF].
Anne De Luca, associate vice chancellor and acting director of undergraduate admissions at UC Berkeley, said Prop. 209 put the university at a disadvantage compared with some of its competitors, such as Stanford, MIT or Cal Tech, because those institutions can more freely reach out to underrepresented minority students and woo them with bigger financial aid packages.
De Luca said that when a parent whose son or daughter was offered a race-based scholarship from another institution calls UC Berkeley to ask whether Cal can match the award, the university's hands are tied.
"For us, it's a clear no," De Luca said. "It doesn't mean that a student's not deserving. For us, it means we can't take that approach with that student."
Under the provisions of state law, the university can't create outreach programs based on students' race or ethnicity, and admissions officials are prohibited from viewing applicants' race or ethnicity during admissions reviews.
In fact, application readers get 30 hours of training every year before starting to read active applications, in part to walk through scenarios that might test the boundaries of race-neutral admissions.
"When we see a mention of racial or ethnic background, it's neutral," De Luca said. "If a student says, 'I'm the only African American student in my AP calculus class,' that's not a plus. ... We're trying to understand the full context of a student's experience - what have they done with the opportunities they have been provided, how they respond to the challenges in their lives."
It's a balancing act for the university when it comes to recruitment strategies in the post-Prop. 209 era. For example, a new program called the Summer Institute for Emerging Managers and Leaders will bring 25 students from historically black colleges and universities to six UC business and management schools.
Such programs are aimed not only at training future leaders, but also at recruiting diverse undergraduates to UC graduate schools, said UC spokesman Steve Montiel. These programs have to be evaluated and approached delicately because of the ban on race-based outreach.
"Some people asked the question on that; is it consistent with Prop. 209?" he said. "We say it is, because HBCUs are open to students of all races."
In the wake of Prop. 209, the university implemented a number of strategies aimed at increasing diversity that were not race-based.
The Eligibility in the Local Context program allows the university reach out to the top 9 percent of students in each California high school early in their senior year and follow up with them throughout the application process.
The university implemented "comprehensive review" admissions, which encouraged UC campuses that could not admit all eligible applicants to more fully review each applicant.
UC also has worked to increase partnerships with community colleges and K-12 schools.
Gibor Basri, UC Berkeley's vice chancellor for equity and inclusion, oversees a portfolio of outreach programs that reach about 35,000 students with an annual budget of roughly $7 million. Many of the programs are aimed at developing a college-going culture in K-12 schools and community colleges. The university works directly with students, teachers and counselors.
The university runs the California College Preparatory Academy, a charter school in partnership with Aspire Public Schools, for example. All 17 students in the first graduating class went on to four-year colleges. Only one went to UC Berkeley.
"These programs are not Berkeley-specific," Basri said. "They are just raising the college-going culture in general ... so most of the people they touch won't be coming to Berkeley. We think that's a worthwhile thing in a broader sense."
Erica Perez is an investigative reporter for California Watch, a project of the non-profit Center for Investigative Reporting. Find more California Watch stories here.
Related
Popular in the Community