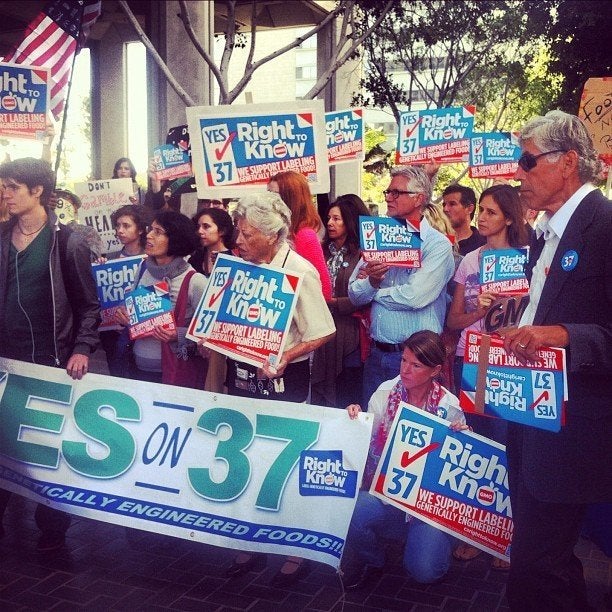 Proponents of Proposition 37, the California ballot measure that would have required labeling of genetically engineered foods, are attributing Tuesday's narrow defeat to corporate dollars and deception, but are also pledging to persist in a battle that they see as key to the health of Americans.
"I think this election was largely a story of money. We didn't have the funds to compete," Stacy Malkan, media director of Yes on 37, said on a Wednesday press call. "Ultimately, we were not able to get the truth out to voters."
The "No on 37" campaign, funded primarily by agro-chemical giants including Monsanto and DuPont, outspent the "Yes on 37" campaign five-to-one. Prior to the opposition's $46 million push, proponents had held a consistent two-fold lead in the polls. But they lost on Tuesday, with voters rejecting the measure 53.1 to 46.9 percent.
"California voters clearly saw through Prop 37," Dr. Henry I. Miller of the Hoover Institution, a conservative think tank at Stanford University, said in a statement on Wednesday. "Food labeling policy should be based on logic and science, not fear. Leading scientific organizations have all agreed that foods containing genetically engineered ingredients are safe and are not materially different from their traditional counterparts."
Malkan highlights Miller's lead role in the opposition's campaign as part of the "lies, deceit and trickery" that, she said, her campaign was unable to publicly correct. The known supporter of oil and tobacco companies and climate change skeptic was misrepresented as a Stanford doctor in a television campaign ad until the university ordered it re-shot. She also pointed to the opposition's distribution of deceptive mailers and its misrepresentation of the positions of scientific organizations and government agencies such as the Academy of Nutrition and Dietetics and the U.S. Food and Drug Administration.
Directly above the official FDA seal, a campaign mailer read that the agency "says a labeling policy like Prop 37 would be 'inherently misleading.'" A FDA spokeswoman later denied that the agency had made "such statements with respect to Prop 37."
As for Miller's point that genetically engineered ingredients are safe, even some proponents of labeling so-called GMOs generally agree.
"A GMO crop, in theory, is not something to be afraid of," said Laura Vandenberg, a biologist at Tufts University and co-author of an editorial published last week in favor of labeling efforts. "The problem is how they are actually used in the real world. It's like talking about guns vs. gun control. Guns don't hurt people, people hurt people."
Most GMO crops in use in the U.S. have been engineered to resist herbicides, which allows growers to spray the chemicals without concern about harming their corn, rice or soy harvest. But as The Huffington Post previously reported, growing resistance among weeds is leading farmers to apply larger quantities of chemicals to achieve the same level of control.
In fact, contrary to biotech industry claims of a reduction in the use of pesticides and herbicides, a recent study estimated that GMO crops have resulted in an additional 404 million pounds of toxic pesticides doused on U.S. fields between 1996 -- when they were first introduced as farm crops -- and 2011. That's about a 7 percent increase.
"This means we're being exposed to a lot more of these chemicals," Vandenberg said. "Some of these chemicals we know very little about in terms of safety. But there are ones we know are endocrine disruptors."
Monsanto's Roundup brand herbicide is among the chemical products that some researchers suggest could disrupt human hormones, even in tiny amounts. As a result of the widespread use of the company's Roundup Ready seeds, it's also one of the most widely sprayed herbicides. Monsanto has refuted such arguments.
"I don't think failure of Prop 37 is the end of this discussion, by any means," Vandenberg said.
Gary Hirshberg, co-founder and chairman of Stonyfield Farm and chairman of Just Label It, agreed.
"Even if Prop 37 had won, sooner or later it would have had to have been resolved at the federal level," Hirshburg said. "And now the nation is paying a lot more attention."
The agro-chemical industry, meanwhile, maintains that GMO labeling is unnecessary.
"Consumers have many choices and can select the products they prefer. We expect the food industry to continue meeting the needs of their customers through their product offerings and with truthful and non-misleading labeling," Tom Helscher, director of corporate affairs for Monsanto, told The Huffington Post in an email. "FDA labeling guidance remains in place which requires labeling of material differences in foods, whether it be in composition, nutrition or safety."
In 1992, the FDA enacted a policy of "substantial equivalence." In other words, GMO foods would not be considered materially different from traditionally bred crops. Dave Murphy, co-chair of the Yes on 37 campaign, calls this a "politically engineered loophole."
"We believe there's enough emerging evidence which states that GMO crops are not substantially equivalent," Murphy said on Wednesday's call. "Now is the time for the FDA to reconsider that ill-conceived policy that was written 20 years ago."
"Ironically, one of the persons that will be reviewing that policy is Michael Taylor, who helped write that standard," Murphy added, noting that Taylor is also a former Monsanto attorney.
The labeling of genetically modified food was among the pledges Barack Obama made during his first run for president. "Americans should know what they're buying," he said during a campaign speech in 2007.
"I'm encouraged that he was reelected last night, and we plan to use that opportunity to hold him accountable," Pamm Larry, founder of LabelGMOs and the movement to get Prop 37 on the 2012 ballot, said during the call. "This is just the beginning."
Related
Popular in the Community