There is a fiercely fought and extremely expensive political battle raging in California over the passage of Proposition 61, an initiative that's intended to lower pharmaceutical prices paid by the state. The November ballot measure's official name is the California Drug Price Relief Act, although its opponents call it the "Deceptive Rx Proposition."
The measure has turned out to be one of the most expensive proposition battles ever fought in California as prescription drug companies are throwing more money at defeating this initiative than has ever been collected by one side in a ballot fight.
As of October 25, the No on 61 campaign has received about $109 million — an increase of $22,038,414 since the end of September, a little more than 20 percent increase in just three weeks, according to the California Secretary of State's office.
Most of that money has come from the drug companies and the Pharmaceutical Research and Manufacturers of America (PhRMA), a trade group representing those firms.
The struggle over passage of Proposition 61 has pitted AIDS groups, patient advocacy organizations and veterans against each other. Even doctors have sided against nurses.
In fiscal Year 2014-2015, the state spent about $3.8 billion on prescription drugs, according to California's Legislative Analyst Office. Prop. 61 would mandate that California's Medicaid, and state agencies such as California's Department of Health Care Services and the Department of Corrections and Rehabilitation, along with the California Public Employees Retirement System (CalPERS), pay no more for prescription drugs than the lowest price paid by the federal government's Department of Veterans Affairs (VA). The VA typically gets the largest discounts in the country from the pharmaceutical industry when it buys prescription drugs.
"When 61 passes here, this idea is going to spread like wildfire across the country and that scares the hell out of the pharmaceutical drug industry."
Roger Salazar, a spokesman for the Yes on 61 campaign told Capital & Main, "This initiative will reduce the cost of drug purchases by the state by lining up state purchases with the lowest prices paid by the VA."
Jamie Court, president and chairman of the board for the Santa Monica-based Consumer Watchdog organization, and one of the member organizations in the Yes on 61 campaign, added, "This isn't just about Big Pharma's outrageous drug prices. This is also about an idea. It's the idea of bulk drug purchases at very low cost, and when 61 passes here, this idea is going to spread like wildfire across the country and that scares the hell out of the pharmaceutical drug industry."
Prop. 61, however, would not cover the state's managed care systems, only its fee-for-service programs. Medi-Cal is the state's program that provides health care to low-income citizens. Its managed care system covers about 75 percent of the people enrolled in that program, and those enrollees would be excluded, as the No on 61 side has repeatedly claimed in its TV and online ads, and in campaign literature.
One of those managed care clinics, the No on 61 side points out, is run by the Los Angeles-based AIDS Healthcare Foundation (AHF), the primary sponsor and funder of the Yes on Prop. 61 campaign. Kathy Fairbanks, a spokesperson and one of the lead "No" strategists, insisted to Capital & Main the proposition was "deceptive and misleading."
"Prop. 61 would only cover about 4.4 million people," Fairbanks said. "That's 12 percent of the people, which means that 88 percent of the population is not covered and that includes more than 10 million low-income patients in Medi-Cal."
Court dismissed the charge of AHF's self-interest as one more in a long list of "straw men" the No on 61 side has advanced to scare people and distract from the real issue of out-of-control prescription costs. The No on 61 contributions, which account for more than 88 percent of the total contributions received by both sides, have dwarfed the money given to the Yes on 61 campaign, which has received a total of $14,780,024 in the same time period.
Most of that Yes money has come from AHF ($14,709,556), which is also the primary funder behind a similar initiative headed for the Ohio ballot in 2017, and the California Nurses Association PAC ($54,930), according to the California Secretary of State's office. (Disclosure: The California Nurses Association is a financial supporter of this website.)
And though the biggest pharmaceutical firms have contributed millions to the No on 61 campaign, their contributions are not even a drop in the bucket when compared to their sales figures. Merck alone reported revenues in 2015 of $17.5 billion, just in the U.S., and total revenues of $39.5 billion worldwide.
"If you can overcharge people by billions of dollars, it just makes good business sense to spend $109 million to try and defeat a proposition that is going to cut into your obscene profits that are putting peoples' lives at risk," Court told Capital & Main.
Consumer Watchdog points to an investor query to Johnson & Johnson made by Jami Rubin, a Goldman Sachs analyst, regarding what the drug industry's response will be if Prop. 61 passes in November, as the catalyst for the new influx of money to the No side.
Johnson & Johnson's executive vice president responded by telling the investor conference call listeners, "Pharmaceuticals represent 14 percent of total expenditures, and we understand that we need to work with different stakeholders in order to try to manage our health-care costs."
It was after that investor conference call that another $22 million was given to the No side by the pharmaceutical drug companies.
Fairbanks acknowledged the conference call, the $22 million in new contributions this month and the issue raised by investors. She said the drug firms clearly understand the cost of prescription drugs is an issue that needs to be dealt with. However, she declined to talk about how the No on 61 campaign would be spending its newly enriched war chest.
"That comes under the heading of campaign strategy and we don't discuss our campaign strategy in the press," she said.
However, an examination of the latest expenditures report filed by the No on 61 campaign covering the period up to the third week in September indicates it has spent a total of $46,226,148.
Those expenditures have included: television time and production costs, web services, print ads, campaign literature, mailings, polling, research, travel, information technology, accounting, campaign workers, reimbursements to friendly veterans groups for meetings and appearances, and campaign consultants. Those consultants include such well-known names in political circles as Cerrell Associates, Inc, David Mixner and Pete Conaty & Associates, a high-profile lobbyist for veterans groups in Sacramento.
Based on its current filings with the California Secretary of State's office, this left the No on 61 campaign as much as $62,727,926 to spend in the final month of the campaign. Most of the No money has come from out of state, which is not surprising since most of the pharmaceutical manufacturing firms are based in the Eastern U.S. By contrast, 99.96 percent of the Yes on 61 money comes from California.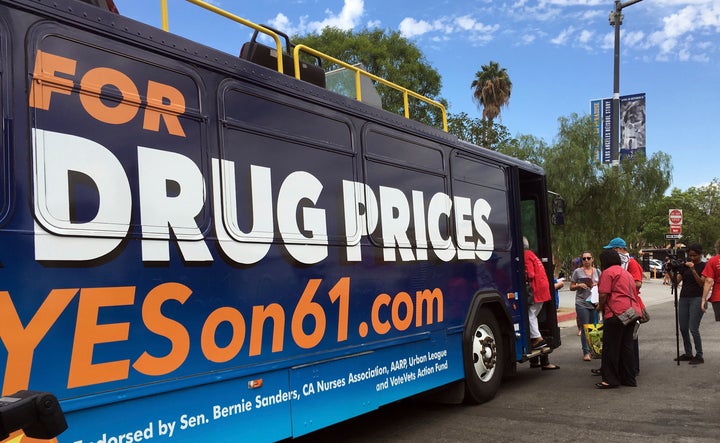 Merck: $9,420,395
Pfizer: $9,420,395
Johnson & Johnson: $9,301,646
Amgen: $7,635,768
AbbVie: $6,859,873
Besides receiving largess from the AHF and the California Nurses Association PAC, the Yes on 61 campaign has taken in hundreds of smaller contributions, mostly ranging from a few dollars to $25, according to the Secretary of State's office.
Americans' growing anger over the exorbitant prices charged for prescription drugs is being fueled by examples of greed by Pharmaceutical companies. A case in point is Mylan, which raised its price of a two-pack of EpiPen — an allergy treatment drug that can be immediately injected by anyone – from a little more than $100 to more than $600 since it bought the drug in 2007 — a 500 percent increase.
Meanwhile, the "No" campaign has warned that 61's passage could hike drug prices for veterans and others. "The Yes on 61 people can make any claim they want," Fairbanks said. "But they wrote the initiative they wanted to and there's nothing in there that prevents the pharmaceutical industry from raising their prices to offset their losses."
"If Big Pharma threatens to raise prices on vets and everyone else once the proposition passes, that is called blackmail," AHF General Counsel Tom Myers told Capital & Main. "Prop. 61 will be a benchmark and will create pressure for downward pricing of drugs across the board."
Roger Salazar remained optimistic. "California is the drug companies' largest market," he said. "They're not going to pull out of here. And if they decide to raise the prices on veterans out of spite, they will have to explain that to the American people and to the Congress, and I don't think they will want to take the PR hit this will deliver."
Popular in the Community