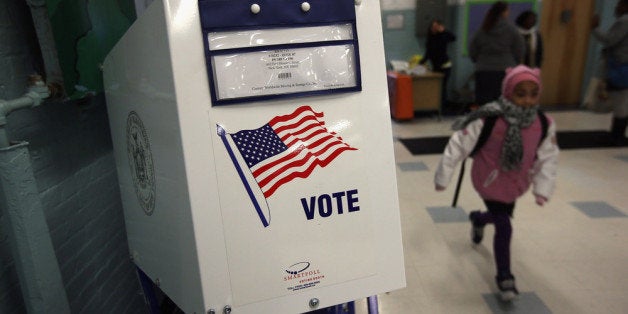 CIVIC CENTER -- Voters on Tuesday will be asked to vote on six ballot proposals that range from allowing casinos across New York to raising the maximum age for state judges.
Here's a quick rundown of what to look for in the voting booth.
Proposition One: Bringing casinos to New York State
Bringing casinos to New York has been on Gov. Andrew Cuomo's to-do list for some time. He and other proponents of the measure have argued that, with Massachusetts, Pennsylvania and other states offering more options for gamblers, New York is losing out on revenue.
If approved, as many as seven casinos can be authorized by the legislature, all of which would be in upstate New York.
Opponents of the amendment argue that gambling represents a kind of tax on the poor, and that casinos aren't the way to stimulate the economy, as the governor proposes.
Proposition Two: Giving disabled vets a boost on civil service exams
Military veterans currently get preferential treatment on exams to become civil servants. Currently, vets get five additional points for an original civil service appointment and two-and-a-half points for a promotion. Disabled vets are eligible for double the amount of bonus points on exams.
However, since the bonuses are for one-time use only, a vet who gets classified as disabled after taking the civil service exam would be ineligible for the additional bonus points. Should the measure pass, that loophole would be eliminated, giving newly disabled vets the chance to earn the higher bonus points on future civil service exams.
Proposition Three: Keep sewage upgrades from factoring into local government debt limits
The ballot measure would keep in place for another 10 years a half-century old exemption that allows local governments to keep the debt they incur for improving sewer systems from counting against their constitutionally mandated debt limits.
Proponents say extending the exclusion will allow local governments more flexibility to continue to improve their infrastructure without running into financial issues. Opponents point to the "unfunded water mandates" as a chief reason water bills continue to rise.
This ballot question relates mostly to municipal governments outside New York City, which funds its water and sewer system through revenue-backed bonds.
Proposition Four: Settling a long-standing dispute over Adirondack land
Both the state and local landowners claim to own the 216 land leases in dispute. If the measure passes, the state would hand the land over to the property owners, who would pay a fee that the state could use to purchase replacement land to be added to the nature reserve.
Proposition Five: A land swap to allow a mining company onto a state forest reserve
NYCO Minerals operates a mining facility adjacent to the Adirondack Park in upstate New York. The company is looking to acquire approximately 200 acres of parkland from the state to mine. In exchange, the company is willing to exchange an equal amount of land, if not more, valued at least $1 million, that would be added to the existing forest preserve.
At the conclusion of mining operations, NYCO Minerals says it will return the land to the state to be reintegrated into the state park.
Proponents of the measure site the economic benefit to the region, as well as the land swap that will keep the park with as much reserved land as before. Opponents worry about the long-term environmental impacts, as well as the precedent set if a private company is allowed to mine on public land in New York.
Proposition Six: Raising the age limit for state judges