ProPublica, a nonprofit news organization, published audio on Monday of children crying out for their parents at a U.S. Customs and Border Protection facility.
The nearly eight-minute recording is of 10 Central American children who were separated from their parents last week by immigration authorities at the border, according to ProPublica.
A U.S. Border Patrol agent can be heard in the audio clip making a joke about the wailing children.
"Well, we have an orchestra here," the agent says. "What's missing is a conductor."
The person who made the recording asked not to be identified out of fear of retaliation, ProPublica reports. HuffPost has not independently confirmed the authenticity of the recording.
At one point in the clip, a 6-year-old Salvadoran girl begs a consulate worker to call her aunt, whose number she'd memorized in case she was separated from her family.
"My mommy says that I'll go with my aunt and that she'll come to pick me up there as quickly as possible," the unidentified girl says.
Homeland Security Secretary Kirstjen Nielsen also falsely purported the claim that the Trump administration's tactic of taking children from their families at the border was an enforcement of the law.
There is no law requiring immigrant families to be separated, even if they are crossing the border illegally. Previous administrations allowed families to face deportation proceedings together in civil court.
Nielsen said at a Monday press briefing that she did not hear the recording of the children and referred reporters to the department's "standards" in treating the kids.
"I would have waited until I was called on to play it, but I was not being called on," Nuzzi wrote on Twitter. "After another reporter's phone began loudly ringing with a melodic jingle, I figured the briefing room could probably deal with a more important disturbance."
Attorney General Jeff Sessions officially announced the change in policy in May, though some cases indicate the practice was in place for months before. The American Civil Liberties Union filed a lawsuit in February on behalf of a Congolese asylum-seeker who was separated from her 7-year-old daughter. The ACLU is seeking a nationwide injunction to stop the Trump administration's policy, claiming it is a violation of the Fifth Amendment's right to due process.
Listen to ProPublica's full audio above.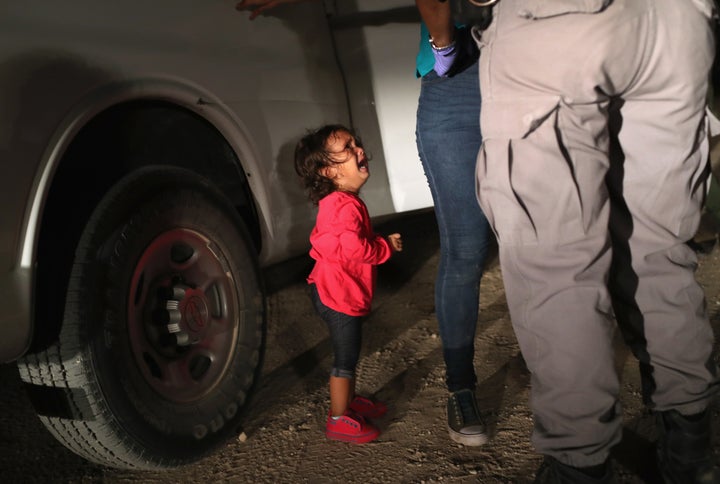 Popular in the Community