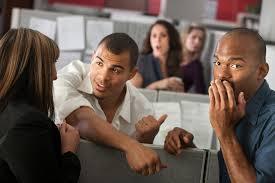 Every workplace has gossip, there's no way to avoid it. When we typically think of the word "gossip", there seems to be a negative connotation that comes along with it. But gossip doesn't always necessarily have to be a bad thing. Does it? The last thing an organization wants is to create an environment where people can't, don't or won't openly and freely express themselves.
Opening up dialogue among your colleagues can have an array of different affects. Depending on the content, it may or may not be beneficial to the organization or the people within. In effort to address some of these issues, I've listed a few pros and cons of workplace gossip.
Pros of Workplace Gossip:
1) Workplace gossip (whether negative or positive) provides valuable insight on how employees think, feel and behave. It's an inside look on an individuals character, which is priceless when choosing partnerships and friendships in and out of the workplace.
2) Workplace gossip can be entertaining and help lighten the mood and potentially increase productivity, which can be helpful especially in high stress level work environments.
3) Workplace gossip gets the communication flowing. People love to talk about what interests them, and sometimes the conversation isn't work related. However, it opens the door for a certain level of comfort to talk about work related issues in the future.
Cons of Workplace Gossip:
1) Workplace gossip can create chaos, confusion and miscommunication. It can also create the wrong perception of an employee and make others not want to work with them.
2) Workplace gossip can lead to hurt feelings. It can stir unnecessary controversy, intrude upon personal information and create resentment.
3) Workplace gossip can impede productivity. It can have a negative impact on employee moral, work performance and team building.
Click here to watch my latest July 12, 2015 interview on "Here And Now" ABC: 7online.com/uncategorized/here-and-now-on-July-12-2015-part-6/838208/
Did you enjoy this blog? If so, I would love for you to comment below and share it with your family and friends.