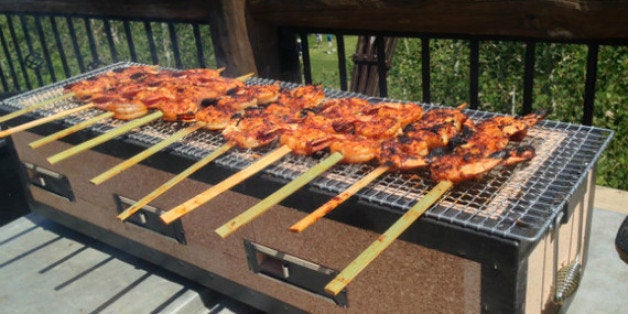 When it comes to providing maximum grilling efficiency in minimal space, few grills can beat the direct, concentrated, blast-furnace heat of the compact Japanese-style tabletop grill known in the West as the hibachi. Without it there would be no yakitori or robatayaki.
Perhaps you owned one when you were in college or installed one on the fire escape or balcony of your first apartment. If money and space were tight, your first grilling experience may well have taken place on a hibachi. (Hey, you never forget your first time.)
For me--having been born in Japan--the hibachi is more than a nostalgic icon. It reminds us how uncomplicated and elemental grilling can be, requiring little more than a vessel to hold and channel the fire, and vents to control the airflow, and thus the heat.
So what are the advantages and drawbacks of hibachi-style tabletop grills?
•Small footprint, which makes them ideal for people with limited space outdoors.
•Inexpensive--generally among the most affordably priced charcoal grills on the market.
•Highly portable, which makes them ideal for picnics, camping, and tailgating.
•Highly fuel-efficient.
•Well-suited for grilling for one or two people.
•Can easily be stored on a closet or garage shelf.
•A great gift for college students, grads, or newlyweds.
•Fun for entertaining--for example, set up a kebab or sate bar where your guests can grill their own skewers to order--or use to grill appetizers while you prepare large hunks of meat on your larger grill.
•Cannot be used for indirect grilling or smoking, as there is no cover or lid. Suitable only for small, thin, quick-cooking foods that can be direct grilled.
•Limited yield: you can cook for two people--four at the most.
•Heat control can be challenging, especially in low-end hibachis that are made of thin metal and don't have separate vents.
•When butted together, heatproof tiles or bricks make a good surface to set your hibachi on. Alternatively, use inverted commercial-grade rimmed baking sheets. If you opt for a wooden cutting board, use an old one you don't mind scarring with sparks or embers. Do not place a plastic cutting board or tray under a hot hibachi.
•If using pricy binchotan charcoal, conserve any un-burnt pieces by placing them in an airtight metal container. This extinguishes the fire.
•Use a blowtorch to light binchotan. It is very dense, and will take longer to light than lump charcoal or briquettes.
•To obtain a hotter fire, aerate the coals using a hair dryer or fan.
•Do not spray water on your cast iron or clay hibachi while it is hot. The grill may crack.
•Cast iron is prone to rust. Rub it with vegetable oil after each use and store it in a dry place.
•Good foods for grilling on a hibachi include yakitori, sates, kebabs, chicken breasts or thin fish fillets or steaks, sliced vegetables, tofu, hamburgers, hot dogs, pork chops and beef steaks (less than 3/4 inch thick), fruit, and bread (but watch carefully).
SIGN UP for Steven Raichlen's UP IN SMOKE newsletter to learn more about barbecue!
Steven Raichlen is the author of the Barbecue! Bible cookbook series and the host of Primal Grill on PBS. His web site is BarbecueBible.com.
Support HuffPost
A No-B.S. Guide To Life
Related
Popular in the Community