Just days before my visit to Goucher College's Prison Education Partnership at the Maryland Correctional Institution in Jessup, Maryland with Secretary of Education Arne Duncan, I had the honor of chairing my first meeting of the Federal Interagency Reentry Council -- a group comprised of representatives from more than 20 federal agencies that works to align and advance reentry efforts across the federal government with an overarching aim to not only reduce recidivism and high correctional costs, but also to improve public health, child welfare, employment, education, housing and other key reintegration outcomes. It was a privilege to sit beside my colleagues from across the government to discuss the pressing issues before us. And given President Obama's recent commutations and his visit to El Reno Federal Correctional Institution to highlight these critical issues, the meeting provided a timely opportunity for us to share information about recent accomplishments, and more importantly, discuss upcoming policy considerations.
Each year, more than 600,000 individuals are released from state and federal prisons, and over 11 million cycle through local jails. In addition, a broader population -- approximately one in three U.S. adults -- has an arrest record, mostly for relatively minor, non-violent offenses, and sometimes as a result of crimes committed decades in the past. The long-term -- sometimes lifetime -- impact of a criminal record will keep many of these people from obtaining employment, accessing housing, higher education, loans, and credit -- even if they have paid their debt to society, turned their lives around, and demonstrated that they are unlikely to reoffend. At the same time, research sponsored by the National Institute of Justice (NIJ) shows that individuals who stay out of trouble for just a few years after an arrest are largely indistinguishable from the general population in terms of their likelihood of committing a crime. Further, participation in pro-social behaviors like employment, education and civic engagement -- the very things that people with criminal records are often barred from participating in -- actually reduce recidivism.
As a lifelong prosecutor, I understand how important it is to aggressively prosecute criminal behavior as a means of keeping our communities safe. But I also recognize that prosecution is only one aspect of a comprehensive justice system -- particularly when nearly every person behind bars will one day come home. In order to truly make our communities safer, we must make sure that people who have served their time are able to fully and productively engage in our society -- whether through education or employment or some other constructive means.
Listening to my colleagues on the Reentry Council discuss their commitment to this mission and their dedication to this cause makes me confident that we will continue to make progress. For example, Labor Secretary Tom Perez briefed the Reentry Council on DOL's new Linking Employment Activities Pre-release (LEAP) grants, which support the development and implementation of specialized American Job Centers inside the correctional facility that directly connect local inmates to the full-service AJC within their community. Providing incarcerated individuals with a range of workforce services while they transition out of local correctional facilities better prepares them to reenter the workforce and improves their opportunities for finding suitable employment immediately upon release.
Administrator Maria Contreras-Sweet of the Small Business Administration updated the Council on SBA's efforts to increase access to their Microloan Program. SBA published a final rule for the Microloan Program that provides more flexibility to SBA non-profit intermediaries and expands the pool of microloan recipients. The change will make small businesses that have an owner who is currently on probation or parole eligible for microloan programs, aiding individuals who face significant barriers to traditional employment as they seek to reenter the workforce.
During the meeting, I had the distinct pleasure of announcing Daryl Atkinson as DOJ's first-ever Second Chance Fellow. This position was designed to bring in a person with expertise as a leader in the criminal justice field -- and as a formerly incarcerated individual. Recognizing that many of those directly impacted by the criminal justice system hold significant insight into reforming the justice system, the Bureau of Justice Assistance -- led by Director Denise O'Donnell -- released a competitive solicitation that led to Daryl's selection.
Daryl has a remarkable story. In 1996, Daryl served 40 months in prison after pleading guilty to a first-time non-violent drug crime -- and when he was released, he faced a series of collateral consequences. He lost his driver's license, making it difficult for him to secure employment. He was barred from receiving federal financial student aid, which presented obstacles to furthering his education. And he was unable to vote in his home state of Alabama, restricting his ability to participate in the civic life of his community. But through all of these obstacles and challenges, Daryl persevered -- earning a bachelor's degree and then a law degree, and ultimately rising to become a Senior Staff Attorney at the Southern Coalition for Social Justice where he focuses on criminal justice reform issues, particularly removing the legal barriers triggered by contact with the criminal justice system.
Last year, Daryl was recognized by the White House as a "Reentry and Employment Champion of Change." Then-Attorney General Eric Holder recognized Daryl's transformative journey in his remarks when he said "Daryl overcame his own involvement with the criminal justice system and has since worked to build a better future not only for himself -- but for countless others who deserve a second chance." And now, Daryl will work with us, as a colleague to the Reentry Council, as an advisor to the BJA Second Chance programs, and as a conduit to engage the broader justice-involved population so that DOJ and the Administration are hearing from all stakeholders as we move forward in strengthening our nation and empowering our communities.
Although the path ahead of us is far from easy, there is momentum -- across federal agencies, across political parties, and across the United States -- to reform our criminal justice system and give people a legitimate chance to earn their way back and lead law-abiding lives. Working with my colleagues, I look forward to continuing the good work of the Reentry Council and taking concrete steps to achieve the president's vision for meaningful criminal justice reform.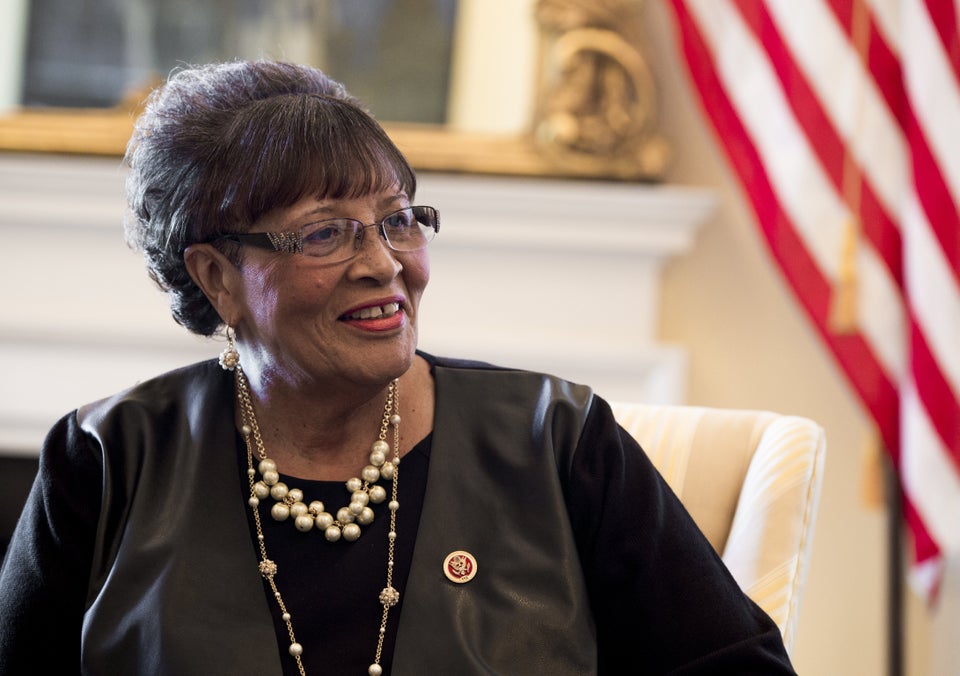 Women In Congress
Popular in the Community