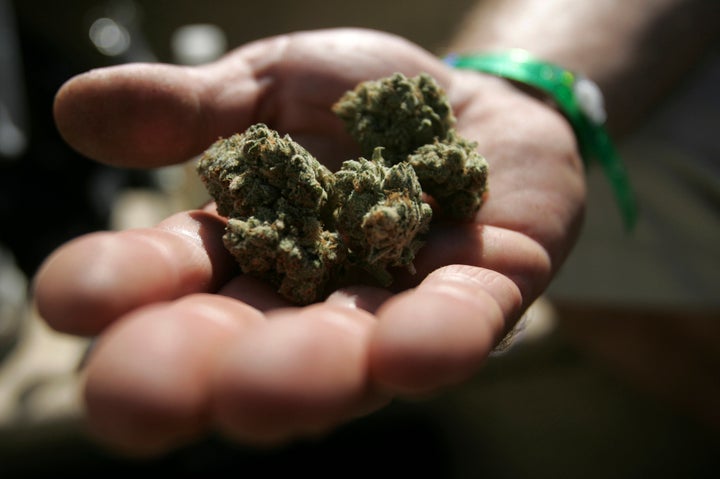 LOS ANGELES ― Millions of Americans have marijuana-related convictions on their criminal records — marks that can impair their ability to obtain jobs, housing and loans. But most Americans now believe pot should be legal, and about a quarter of Americans live in jurisdictions where it is. In some legal-weed states, legislators are passing bold new laws to address those past pot crimes. And some prosecutors are finally taking notice — and are looking to roll back outdated convictions.
In California, prosecutors in San Francisco and San Diego counties announced earlier this year they will review, recall, resentence and potentially dismiss and seal thousands of misdemeanor and felony marijuana convictions.
The movement is spreading. On Friday, Seattle City Attorney Pete Holmes became the latest top prosecutor to join, asking a city court to vacate all convictions and dismiss all charges for misdemeanor marijuana possession that were prosecuted in the city before the state legalized marijuana for recreational purposes in 2012.
Now prosecutors in Denver and Burlington, Vt., are mulling similar measures, their representatives told HuffPost this week.
In Denver, where prosecution of low-level pot offenses has been a low priority for a decade, Ken Lane, a spokesman for newly elected DA Beth McCann, said that while McCann hasn't retroactively applied Colorado's laws for post-conviction relief, "she has asked staff to research the matter... in response to what DAs in California are doing." And in Vermont, which recently became the first state in the nation to legalize marijuana via legislature rather than ballot measure, another prosecutor is making moves.
Justin Jiron, deputy state's attorney in Chittenden County, Vermont, which contains Burlington, told HuffPost that his office is weeks away from announcing a new policy that will allow individuals to apply to have their past marijuana possession records expunged or sealed regardless of when the conviction took place. It's not as immediate of a review as San Franciscans and San Diegans can expect, but it's a meaningful step.
"I think the simplest way of looking at it for us is just that these people have convictions that if they were to commit them today they wouldn't be a crime," Jiron said. "So it seems unfair to basically saddle them with a conviction for something that is now legal."
""Laws and public opinion are evolving, but past convictions for marijuana-related offenses can still haunt someone.""
Prosecutors in pot-friendly jurisdictions have enormous power to offer relief for people previously convicted of marijuana offenses in their jurisdiction, but many aren't using it. California's marijuana law requires individuals to apply for relief for previous marijuana-related crimes — a process that can be costly and time-consuming. Prosecutors there could greatly speed up the process by following San Francisco's automatic process, which makes relief more immediate.
Prosecutors in other legal-weed jurisdictions could potentially follow Seattle prosecutor Holmes' lead and leverage their own state's laws to move for post-conviction relief for past marijuana offenses. Those state laws, however, are complex and vary tremendously by jurisdiction ― this includes expungement, which does not have a standard definition across jurisdictions, as well as sealing and dismissal. Some states don't address retroactive relief for past criminal convictions. Some require a governor's pardon to vacate a conviction. Others allow post-conviction relief but require years-long wait periods, or limit which kinds of convictions can be removed from a person's record.
But few prosecutors are making moves like Holmes' — either because they don't want to, or because state legislatures haven't passed laws that allow relief for now-legal acts. People convicted of state pot crimes in the past in Washington, Oregon, Nevada, Colorado, Alaska, Vermont, Massachusetts and Maine — all places where the drug is now legal for recreational purposes — may still have violations on their record. And even in California, where the legal marijuana industry is already valued at $7 billion, according to one estimate.
In Los Angeles County, California's largest by population, District Attorney Jackie Lacey announced in February that individuals will have to continue to apply for relief themselves, "rather than wait for [her] office to go through tens of thousands of case files." Lacey estimated there were 40,000 felony convictions involving marijuana since 1993 in Los Angeles County. When reached by HuffPost, her office did not have any updates on this decision.
Prosecutors' and legislators' failure to wipe now-legal pot crimes from Americans' records has real consequences, especially for people of color. Drug convictions, even for a misdemeanor offense like possession of marijuana, can have devastating consequences long after the offense was committed. The nation's war on drugs has disproportionately harmed low-income and communities of color — blacks are nearly 4 times more likely to be arrested for possession of marijuana than whites, despite similar rates of use of the drug, according to the American Civil Liberties Union.
"Laws and public opinion are evolving, but past convictions for marijuana-related offenses can still haunt someone," said Mason Tvert, who works with VS Strategies, a Denver-based communications and government relations firm focused on marijuana policy.
"It is great to see officials in some of the states that have legalized marijuana are proactively working to clear people's records," said the activist who was instrumental in the passage of Colorado's recreational marijuana ballot measure. "But it does beg the question of why it is only occurring in some jurisdictions. Hopefully, we will see more local officials following the examples that are being set by the leaders in San Francisco and Seattle."
The exact extent to which prosecutors can retroactively apply their state marijuana laws or seek to vacate past convictions is a point of debate, and it depends on many complicated factors. This includes a prosecutors' individual preferences, resources, a state's laws regarding retroactivity and post-conviction relief, said Lauren-Brooke Eisen, a former prosecutor who is now a senior fellow at New York University School of Law's Brennan Center for Justice.
"There's no one right answer to this," Eisen said. "But what's happening with marijuana in states like California and Colorado, which have built in some of this retroactivity, it does open the door absolutely for a little bit more pushing the envelope by DAs."
"We can only truly claim victory when we center our efforts on the persons most harmed by prohibition."
Some prosecutors can be hesitant about retroactive relief over concerns that a marijuana conviction may be just one of many charges that were once filed against a defendant, Eisen said. That's because more than 90 percent of felony convictions at both the state and federal level are the result of plea bargains. If a defendant is facing multiple charges, the plea process allows for them to plead guilty to a lesser crime, while not facing a trial, and possible conviction, for the more serious charges. But charges that weren't brought shouldn't necessarily be held against a defendant, Eisen said.
"There's an argument to be made that a defendant should get the benefit of that doubt," she said. "Today, many prosecutors are working to repair damage from the war on drugs ... But more can be done."
Rodney Holcombe, staff attorney at the Drug Policy Alliance echoed this sentiment, saying it is not enough to simply legalize marijuana because prohibition ravaged many communities.
"Tens of thousands of people across the country – especially persons of color – continue to suffer from the consequences of prohibition," he said. "We cannot in good conscience legalize without repairing the harms wrought by the failed drug war. We can only truly claim victory when we center our efforts on the persons most harmed by prohibition."
Popular in the Community