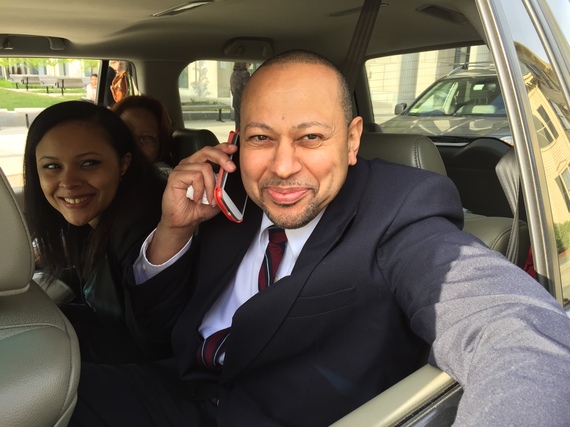 SALEM, Mass. -- Angel Echavarria, who served 21 years of a life sentence for murder, cleared one more hurdle on the path to freedom for a crime he has always insisted he did not commit. The Essex County District Attorney's office confirmed yesterday that it will not appeal Judge David A. Lowy's decision overturning Echavarria's conviction and ordering a new trial.
At a hearing scheduled for June 16 at 2 p.m. at the Superior Court in Salem, prosecutors are expected to announce whether they will retry Echavarria. Echavarria was released May 18 at his bail hearing when Judge Lowy vacated his murder conviction. Judge Lowy overturned Echavarria's 1996 murder conviction on April 30 based on ineffective assistance of counsel. The weakness of the evidence against Echavarria, in combination with the ineffective performance of his trial counsel, left Judge Lowy with a "compelling belief that justice may not have been done in this case."
In his 26-page decision, Judge Lowy wrote that the performance of Echavarria's trial attorney, Charles H. Robson,"fell measurably below that which might be expected from an ordinary fallible lawyer." He also cited the fact that Robson "had complaints pending against him from the Board of Bar Overseers" at the time of Echavarria's trial - unbeknown to Echavarria. Several months after Echvarria's conviction, the Bar Counsel commenced proceedings against Robson, who was suspended from the Bar in 1997 for three years. Judge Lowy noted that Robson promised the jury in his opening statement that they would hear Echavarria testify that he wasn't at the scene of the murder and knew nothing about the crime. Over the course of the trial, however, Robson never called his client as a witness. "It is certainly conceivable," wrote the judge, "that the jury's verdict may have been different were it not for Mr. Robson's error."
From day one, Echavarria, the father of five children, maintained that he was in prison for a murder he had nothing to do with. No physical evidence connected him to the crime; he was convicted based solely on shaky identifications, including that of one eyewitness who, as Judge Lowy noted, "demonstrated a marked lack of mental acuity over the course of trial." The witness couldn't tell time, height, distance, or his own age, and gave a description of the shooter that "was inconsistent with Mr. Echavarria's physique," noted the judge. The witness also repeatedly described the shooter as Puerto Rican; Echavarria, like the witness, is originally from the Dominican Republic. Judge Lowy cited in his decision expert testimony presented at Echavarria's evidentiary hearing in December that "there are significant differences in sounds and in meanings of words between Dominican and Puerto Rican accents," and that "the perpetrators spoke enough words such that somebody familiar with the Puerto Rican accent would accurately have been able to distinguish whether their accents were Puerto Rican."
Echavarria is on a GPS monitor and cannot leave the state pending the Commonwealth's decision whether to retry or drop the case entirely.
The Schuster Institute for Investigative Journalism investigated Echavarria's case over the course of 10 years, unearthing valuable evidence that led the judge to grant an evidentiary hearing last year. See a timeline of the case here.
Calling all HuffPost superfans!
Sign up for membership to become a founding member and help shape HuffPost's next chapter