Prospect Park: Olmsted & Vaux's Brooklyn Masterpiece
Foreword by Adrian Benepe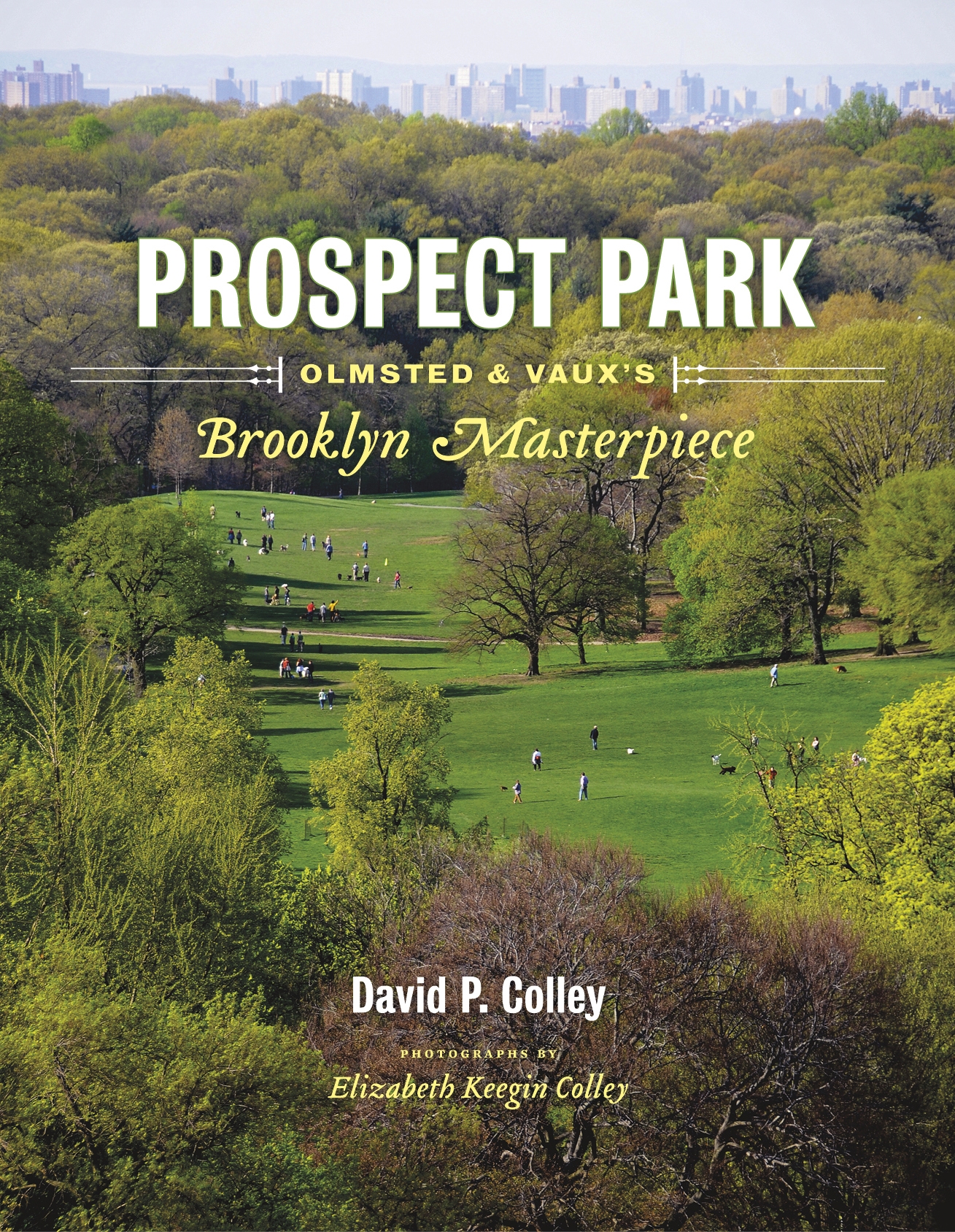 I didn't grow up in Prospect Park. My neighborhood park was Riverside, and Central Park was where I sometimes went on weekends as a child. Prospect Park was, to me, a mythical land in distant Brooklyn, across the East River and reachable only by a long trip on the subway. Later, when I was hired as a member of the first corps of urban-park rangers in 1979 (assigned to Central Park), I first started to explore Prospect Park. Conducting research for tours of Central Park, I learned that the Brooklyn park was also the work of Frederick Law Olmsted and Calvert Vaux, the celebrated designers of Central, Riverside, and Morningside Parks as well as many other great urban parks across the country.
As we worked on our tours and traded bits of knowledge, my Brooklyn colleagues supplied the first lesson on Prospect Park: "Olmsted and Vaux designed Central Park, learned from their mistakes, and then designed Prospect Park." That claim seemed to be an audacious bit of Brooklyn boosterism, anticipating the unabashed cheerleading of its eventual borough president, Marty Markowitz. After all, everyone knew that Central Park was the greatest park in the world; how could it be challenged by its smaller and younger sibling?
Gradually I came to know Prospect Park myself, first while working for the urban-park rangers when Mayor Ed Koch and Park Commissioner Gordon Davis appointed Tupper Thomas the park's first administrator. (Shortly thereafter, Thomas worked to establish the Prospect Park Alliance, a sister organization to the Central Park Conservancy.) Later, while running the natural resources and horticulture divisions of the parks department, I came to know the foresters and horticulturists working to restore Prospect Park's landscape and care for its towering trees. While overseeing the art and antiquities division, I participated in the restoration of the park's stunning public sculptures, an outdoor museum of nineteenth-and early twentieth-century bronzes, including Frederick MacMonnies's magnificent, muscular Horse Tamers and the neo-classical splendor of the Soldiers and Sailors Memorial Arch at Grand Army Plaza.
It wasn't until I was appointed parks commissioner in 2002 by Mayor Michael Bloomberg that I was able to devote my attention to the entire park and came to understand its many virtues as a living and historic landscape, as a sports and culture mecca for the marvelously diverse residents of Brooklyn, as the borough's most important and enduring park, and perhaps as the most perfectly realized landscape design of Olmsted and Vaux.
In the intervening twenty-three years, from when I started as a park ranger to my appointment as parks commissioner, Prospect Park and its surroundings, indeed all of Brooklyn, had seen unparalleled growth, restoration, and improvement. The Prospect Park Alliance, led by a hardworking and dedicated volunteer board, and the careful and inclusive nurturing of elected officials and community organizations by Thomas, who served for three decades as its ebullient and unsinkable administrator and president, had brought the park back from the precipice of decay to a glorious state of rebirth. The Long Meadow and the Ravine woodlands had undergone a careful, decades-long restoration. The Picnic House, Tennis House, and Boathouse had all been rebuilt and reactivated, the latter now serving as the nation's first urban Audubon Center. Outside of Prospect Park proper, the Parade Ground, which spawned so many baseball legends, had been reimagined as a state-of-the-art athletic complex. The park's cultural neighbors, the Brooklyn Botanic Garden, the Brooklyn Museum, and the Brooklyn Public Library, shared and strengthened the park's rebirth with their own massive restoration and expansion programs.
This was the Prospect Park I encountered and explored; as I soon discovered, it had indeed some aspects that could not be found in its sibling parks. Central Park, perfect as it is, is a long and narrow rectangle, surrounded by tall buildings. Despite the designers' exacting efforts to create escapes from city streets in winding paths, bucolic woodlands, and artistic reinterpretations of English landscape gardens and of the precipices and cloves of the Catskills, as a visitor you are always conscious of the city around you. During Prospect Park's development, the real estate pressures were fewer, and the park was designed in the form of a large, rambunctious, bulging diamond. There are currently only a few tall apartment buildings along the park's perimeter. Standing in the middle of Prospect Park, on the Long Meadow or Nethermead, or deep in the wooded Ravine, you truly feel as if you were in a vast English landscape designed by Capability Brown or in a deep woodland in the Adirondack Mountains.
Prospect Park shares Central Park's three major landscape features--meadow, lake, and woodland--as well as a winding carriage drive. But its Long Meadow undulates for a mile, much longer than any of the meadows of its older sibling. The Lake is bigger than Central Park's Lake, its intimate backwaters more secluded, its vast expanse almost an inland sea. And its Woodland and Ravine are deeper, darker, and more mysterious than its cousins in Central Park, the Ramble and North Woods. To stand in the Long Meadow amid its rolling hills and not to see its terminus, or to stroll under the gloomy beauty of the stone arch in the Ravine and not to sense the city around you, is to feel in your heart and soul the essence of the romantic landscape, which reaches its apotheosis in Prospect Park.
Prospect Park also plays a role different from that of Central Park, which is in some ways the world's park, but not necessarily the signature park of Manhattan, which also has Riverside Park, the large landscaped parks of Harlem and Washington Heights, the historic squares of Lower Manhattan, and the new West Side waterfront parks. Brooklyn has Marine Park, its largest park, way out on its southern fringe, the Works Progress Administration- era recreational hub of McCarren Park on its northwest corner, and the new Brooklyn Bridge Park next to Brooklyn Heights. But Prospect Park is definitely Brooklyn's park, its heart, its centerpiece, and a magnet for all of Brooklyn to come out and enjoy sports, music, history, and plants and animals, but most of all to leave behind the busy streets and re-create oneself in the perfection of nature tamed and reimagined, perfected and yet still wild -- a modern paradise free and open to all.
Adrian Benepe
New York City Parks Commissioner 2002-2012
Prospect Park: Olmsted & Vaux's Brooklyn Masterpiece
By David P. Colley with Photographs by Elizabeth Keegin Colley
In collaboration with the Prospect Park Alliance
Foreword by Adrian Benepe
Published by Princeton Architectural Press, New York
c. 2013, David P. Colley, Elizabeth Keegin Colley, The Prospect Park Alliance