When one of Mike Milken's eight grandchildren asks him if he was any good at baseball as a kid, they're likely to get the same answer he recently gave me.
"I was a great hitter. But I was a terrible fielder."
We all have our strengths, right?
What Milken lacks in his fielding skills, however, he more than makes up for in other areas: like shaking up and improving the status quo in medical research. In the early seventies, after his mother-in-law was diagnosed with breast cancer, Milken began his lifetime commitment to pushing for better, faster medical solutions. And he's never stopped. A Fortune magazine cover story referred to him as "The Man Who Changed Medicine." And Esquire magazine has named him among "The 75 Most Influential People of the 21st Century."
So what's this self-proclaimed lousy fielder done?
The list is long. But from my perspective as a guy who's been to the prostate cancer battle field and is (so far) winning the war, he's known to me as the guy who founded the Prostate Cancer Foundation, the world's leading philanthropic organization funding and accelerating prostate cancer research. The emphasis in that last sentence, by the way, is the word "accelerating." Something Milken's quite good at doing.
Like me, Milken received a prostate cancer diagnosis in his forties. And like me, it was initially detected by a PSA blood test. Milken was told he had 18 months to live -- a diagnosis many of the 40,000 American men who died annually of the disease back in the early 1990s received.
But as opposed to passively putting his life in order, he stepped up to the plate with funding and a commitment to kick off the Prostate Cancer Foundation. And their stats today are pretty impressive:
• They have raised over $530 million for prostate cancer research
• They've provided funding to over 1,600 research projects in 16 countries
• They are a key leader in a 20-fold increase in U.S. government funding for prostate cancer research
• They've helped bring six new drugs to prostate cancer patients in the last three years
• They've helped deliver a new genetic test that predicts the potential aggressiveness of a man's prostate cancer, helping physicians direct patients to either active surveillance or treatment with 95 percent accuracy.
238,000 men in our country still receive a prostate cancer every year. It's similar to the number of cases of woman diagnosed with breast cancer in our country. Largely due to the efforts of the Prostate Cancer Foundation, the death rate due to prostate cancer is decreasing with current annual deaths closer to 28,000.
But that, according to Milken, is still not acceptable.
"We're dedicated to finding better treatments. But we're ultimately going to find a cure for prostate cancer," he told me.
When I asked Milken when we'd see a cure for this disease, he didn't miss a beat.
And for a prostate cancer survivor like me, that's music to my ears because I'm counting on having grandchildren of my own someday.
And if they ask me about baseball, I'll have to fess up that I was a pretty terrible fielder. And hitter. But I'll also have a few stories about some rather amazing home runs, of all kinds, I've seen with my own two eyes.
Keep Dad in the Game this Father's Day

Major League Baseball and teams across the country are once again stepping up to the plate to hit home runs for prostate cancer research and encourage fans to "Keep Dad in the Game" as part of the 18th annual Home Run Challenge. Fans can make a pledge for every home run hit during all 84 MLB games played between Tuesday, June 11 and Father's Day. Last year, 150 home runs were hit, raising more than $2.2 million for prostate cancer research. More that $40 million has been raised since The Home Run Challenge, coordinated by the Prostate Cancer Foundation, began 17 years ago.

Visit the 2013 Home Run Challenge website to make a pledge. And help all dads have a better prospect for many more Happy Father's days to come.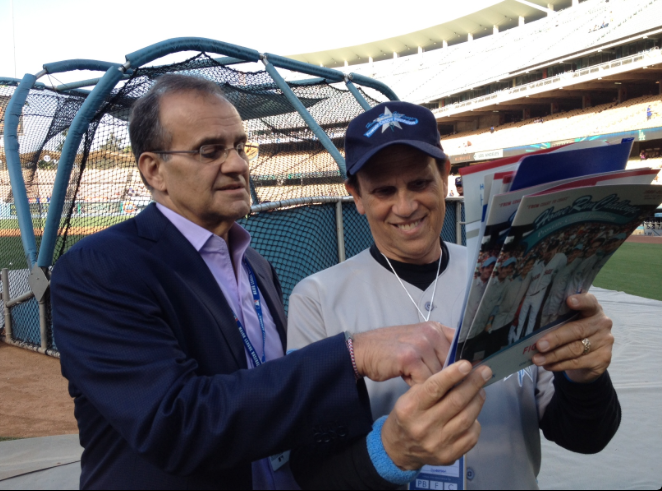 Joe Torre (left) and Mike Milken counting home runs at last year's MLB Home Run Challenge (Photo courtesy of the Prostate Cancer Foundation)
Calling all HuffPost superfans!
Sign up for membership to become a founding member and help shape HuffPost's next chapter