Here is the honest truth: I'm incredibly lucky that none of the leading men in my life have been affected by prostate cancer. I know that at the mention of prostate cancer, I may have lost half of the men who started reading this, but you can't ignore the statistics: one in six men will be diagnosed with prostate cancer in his lifetime.
Those numbers certainly got my attention as both a wife and a daughter. The good fortune of not having any of the men in my life diagnosed with prostate cancer meant that I didn't know a lot about the disease. I also quickly realized that most men don't know much about the disease either. The thought of prostate cancer immediately becomes one of those unpleasantries in life that we'd much rather ignore. As human beings, we are particularly sensitive to diseases that affect our reproductive organs for a variety of psychological and societal reasons. It is unfortunate that these sensitivities attach an unfounded stigma to a prostate cancer, particularly because there should be no shame in cancer. It is a diagnosis that no one would welcome with open arms.
In order to fight this disease, we need to know what we are up against. Men need to take stronger action in educating themselves on the disease. I can't stress enough how crucial it is to see your doctor and openly discuss any symptoms or signs, and if appropriate, screenings. A conversation now could potentially save your life later.
Conversation is what led me to become a Stand Up To Cancer (SU2C) Ambassador. Hearing from friends and family who know or have known men diagnosed with prostate cancer really brought home the notion that maybe one day my father or husband would join the statistics. And after going through what I'd mentioned above -- the shared human denial of "it won't be me," I thought -- why wouldn't it happen to me? Cancer does not discriminate. There is nothing that separates me from all of those other wives and daughters, who have seen their loved ones affected by this disease.
And so it is for all of the wonderful men in my life that I am joining the SU2C movement and raising my voice about a disease that affects more than two million American men and remains the second-leading cause of cancer death for men in the U.S. I truly believe that we can make a difference with the progress of finding better treatments and ultimately, a cure. That is my wish, and a wish I share with so many.
SU2C has collaborated with The Safeway Foundation to help raise awareness and funds in the fight against prostate cancer by designing a limited edition, reusable shopping bag available for purchase at all Safeway locations. Many of us concerned with the environment have been carrying reusable bags for some time. This isn't a new concept, but it's one that can help save lives. Here are just a few reasons this reusable bag -- embossed with the words, "It starts with a wish; it can end with a cure" -- is better than any plastic or paper bag:
Your father
Your husband
Your brother
Your son
Your nephew
Your uncle
Your cousin
Your grandfather
Your best friend
Your fellow man
We all have men in our lives that we would be lost without -- men who have shaped our lives, been our best friends and loved ones. So the next time you're at a Safeway store, ask about purchasing this bag, available through the month of June. It is our responsibility to be not only environmentally conscious, but conscious of our fellow man, or men.
For more information on the campaign, visit www.SafewayFoundation.org and for more information on how to get involved with Stand Up To Cancer, visit http://standup2cancer.org/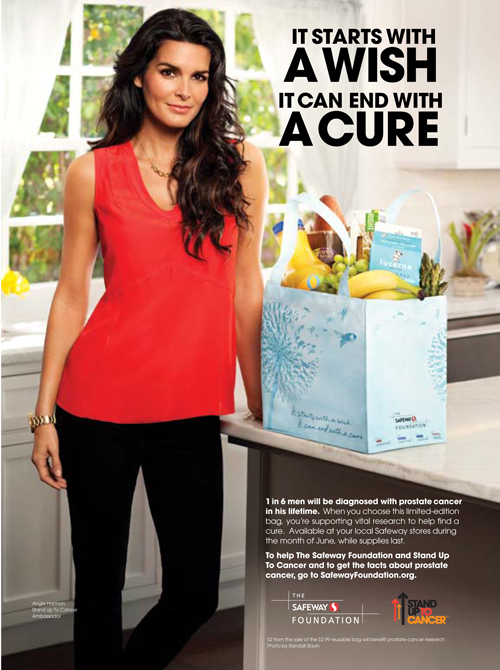 REAL LIFE. REAL NEWS. REAL VOICES.
Help us tell more of the stories that matter from voices that too often remain unheard.