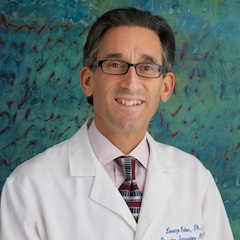 Early in 2010 I was diagnosed with prostate cancer -- at age 35. With no family history of cancer, I sought the opinions of top doctors in Houston and New York on how to treat my diagnosis. I spent many stressful days and sleepless nights wrestling with which path to take, then chose an "active holistic" approach since my prostate cancer was "low-grade." This meant quarterly PSAs, annual biopsies, a variety of supplements and a radical change in diet and lifestyle.
Six months after my diagnosis, in September of 2010, I emailed Dr. Lorenzo Cohen at MD Anderson Cancer Center. He didn't know me, but I knew who he was, having visited four cancer centers in Houston and New York while asking many questions and doing much research. I'd heard and read about his work in integrative medicine, where he is researching complementary therapies such as meditation, yoga, tai chi, music therapy, acupuncture and massage used alongside conventional cancer care. His group is also researching comprehensive lifestyle changes in the areas of diet, exercise, stress management and social support to improve cancer outcomes.
I became intrigued by the roles of diet, exercise and overall lifestyle in turning cancer genes on and off. Could men's behavior increase or decrease their chances of getting prostate cancer? And could cancer patients undergoing conventional treatment while combining complementary therapies and a comprehensive lifestyle approach to their health reach a better outcome?
Though Dr. Cohen was not my doctor, I was curious and needed to learn more from the director of integrative medicine at The University of Texas MD Anderson Cancer Center. Graciously, he responded, including this emailed advice:
"If you have not done so, you must read David Servan-Schreiber's book Anticancer.
Reading that book became a defining step in my journey with prostate cancer -- and in my belief that I must share this message and launch a prostate cancer nonprofit: the Blue Cure Foundation.
After reading Anticancer in August of 2011, I met the then-outgoing president of MD Anderson, Dr. John Mendelsohn. I shared my story and my mission for Blue Cure: to encourage preventative "anticancer" dietary and lifestyle habits -- before cancer can strike -- and to promote an integrative approach so those getting conventional treatment have much better outcomes. As I received his counsel he brought up Dr. Cohen, of whose work he was a huge proponent. Dr. Mendelsohn encouraged me to reach out again and seek Dr. Cohen's counsel for my nonprofit. I did so, and we met. I now enthusiastically support the efforts of Dr. Cohen and his team in the fight against cancer.
Here are five questions for Dr. Lorenzo Cohen:
1. You are the director of the integrative medicine program at MD Anderson and a proponent of men taking an "integrative approach" to managing their prostate cancer. Explain that.
Dr. Cohen: The key is that men become active participants in their healthcare. There are many lifestyle changes that men can make to improve their quality of life, biological functioning and overall health, making their body as inhospitable to cancer as possible. This includes a healthy diet, exercising regularly, managing stress and ensuring that you foster a healthy social support network. Making changes in one or two of these areas is a start, but we believe that they will work synergistically. This means that fostering health in all four areas will lead to dramatically better outcomes than only one alone or even combinations of two or three. An integrative approach will work with people to optimize their health in a comprehensive manner.
2. What advice would you give a man just diagnosed with prostate cancer?
Dr. Cohen: The stress of a diagnosis of prostate cancer can be overwhelming. One of the biggest challenges men face at the initial diagnosis is making a treatment decision, including whether to have no "treatment" and undergo active surveillance. It is critical to seek medical consultation with multiple health care professionals to make a treatment decision that is right for you. In some situations, opting for active surveillance may be the appropriate treatment decision. Yet, even if it is the right course of action, it is a difficult choice for men as they think this means "not doing anything" and just waiting for the cancer to grow. Regardless of the treatment decision, this is a time for men to assess how they can get engaged and proactive in controlling the disease.
At this early stage, it is most important to try and find a strategy to manage stress and get connected to friends and loved ones for support. Extensive research shows that psychological stress can negatively affect every biological system in the body and these biological changes can literally get right into the tumor micro-environment, making it more hospitable for cancer growth. Different forms of relaxation or meditation and/or movement-based practice like yoga and tai chi can be very helpful. It is also a time to reflect on other lifestyle factors that can influence health and disease outcomes such as diet, exercise and alcohol use. And, assuming a man is still smoking, QUIT SMOKING. It is HARD to quit smoking, but there are many options now available to make the process easier -- from behavioral treatments to the aid with nicotine replacement therapy, and certain pharmacological agents. Combing treatments can be helpful for those who are struggling. Again, managing stress is a critical factor in smoking cessation.

Part II of "Why Men Should Consider an Integrative Approach to Prostate Cancer" to follow in the next few days...
Click here to get answers to your prostate cancer questions from other survivors, patients, and advocates at the Blue Cure facebook support group page.
Popular in the Community