Francois Ozon almost charmed me into liking his new film Young and Beautiful which premiered this week at Cannes, what with his easy grin, quick wit, and snazzy outfit (navy jacket and chic blue-white scarf tossed around his neck), but the subject matter--voluntary prostitution-- is too charged a subject to switch-hit.

Young and Beautiful tells the story of a stunning 17 year old girl, Isabelle, from a typical classy bourgeois family in Paris (i.e. Henri IV high school, vacations on the Riviera, BCBG life in the cinquieme), who decides to become a prostitute to much older men, not because she needs the money, "but because it is a way to test the limits of adolescence," the director told us.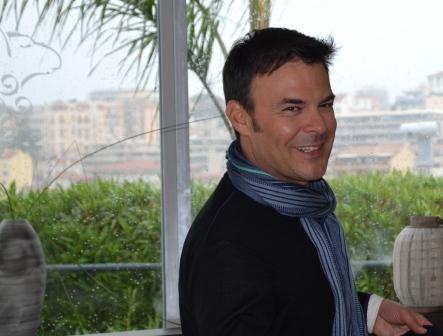 The movie is beautifully French. It begins with the kind of shot we have seen often in French cinema: a binocular view on a beautiful girl's body lying on the beach. The binoculars are those of Isabelle's younger brother, who finds his sister sexy. "What brother doesn't?" quipped the director with his affable grin. "She is quite beautiful, no?"

The film would have been more interesting actually if it pursued this near-incestuous relationship, but quickly the sister decides there are better masculine treats in store, beginning with the septuagenarian George, a wealthy cultured man, who brings her to swank hotel and gently, in a series of paternal encounters, teaches her how to climax.
"You too would like to be Georges!" teased the director to one of my fellow journalists, an elderly gent, who smiled back in fraternal complicity.
About ten encounters with Johns follow in the film, all set up in the modern way by cellphone and internet. "Prostitution is easy these days," Ozon grinned. "A matter of three clicks."

Typical problems result: the girl's parents get somewhat irate, i.e. the mother beats her for a few moments, only to follow with a tender hand on the knee. The girl gets in trouble with the police, who are also very gentle: "Do you realize what bad things can happen?"

How could she? The film director has sanitized prostitution so that all the encounters take place in quite lovely places, with Christian Dior sheets and beige decor. The elderly suave men, when they take off their shirts, have beautiful bods, as fit as that of the young actress Marine Vatch playing Isabelle. And young Isabelle? She is so wonderfully tender and mature with these older men, timid at first, but as caring as a forty-year old wife to her lovers, easily embracing this new sexual lifestyle without any adolescent torment.
The only angst she shows, in fact, is in the scenes I find most appealing in the film: shots of her brooding on her metro seat, or gazing with melancholy out the window, a tribute to the wonderful French tradition of showing soulful interiority, through the eyes.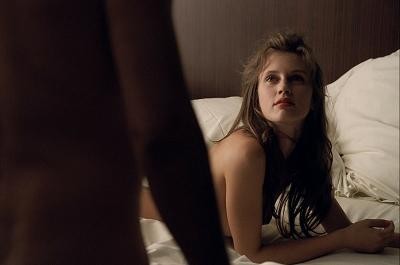 It's all very "beautiful."
But contrary to the director's view, and contrary to what may be the fantasy of elderly rich men, most teenage girls I have met would find sex with an older man disgusting--if not traumatic.

"Your view of prostitution is a bit too easy," opined uneasily one colleague, a male journalist from Sweden.
"Why?" responded the director. "You say this because you are from Sweden! Remember it's just one season."

Ozon was referring to the fact that the film is set up as a series of four seasons-- an homage perhaps to his French predecessor Eric Rohmer, creator of the renowned film series, Tales of the Four Seasons. The point of these four seasons, for Ozon, is to give an operatic poetic introduction to the coming of age of his fetching adolescent.

"The girl changes at the end," the director said, to the raised eyebrows of one of his listeners (i.e. mine). "I can't say how, but she does."

I personally can say how. As a professor, I have had several of my students become prostitutes after graduation from NYU and University of Paris8. (Believe me, this was not the outcome I intended from my courses).

One young woman confided that after six months of giving "Happy Endings"--easy money--in New York City, she felt so dirty she could no longer touch her boyfriend of four years.

Another young man, from a good family--driven to the escort experience for similar reasons as the girl Isabelle, as something exotic and extreme---stopped abruptly when a sixty year old trapped him in a red-painted bedroom with a red velvet bedspread and automatic controls on all the locks of the apt. He left in fear.

He had already been disturbed, he told me, from the anguished loneliness he saw in many of these older rich Johns (he like Isabelle charged 500 dollars a night).

"Some of these guys would just ask me to hug them," he said. "Or give them a massage. They had nobody touching them. It made me sick."

Hence Ozon's view of prostitution---clichéd, out-of-date, romanticized and old-fashioned patriarchal--alternatively offended and bored me.

One of the closing lines is Charlotte Rampling's, who plays the wife of Georges, the nicest elderly client. She meets the pretty girl her husband enjoyed, before his untimely death, and confides that it was a fantasy of hers as well to be paid by men to have sex, but she unlike the girl never had the courage to do it.
"I too fantasized about having men pay me to have sex," she wistfully notes. "But now I am too old, and I would have to pay them."

"Do you really think it is a fantasy of women to be prostitutes? I asked Ozon pointblank.

"Yes of course! The fantasy of many women. Of most people."

"You don't consider the humiliating aspect?"

He laughed. "What humiliation? It's free! If it's your choice, sometimes it is a good opportunity to give yourself over to the power of another."

He winked at me.

"You should try it."
Popular in the Community