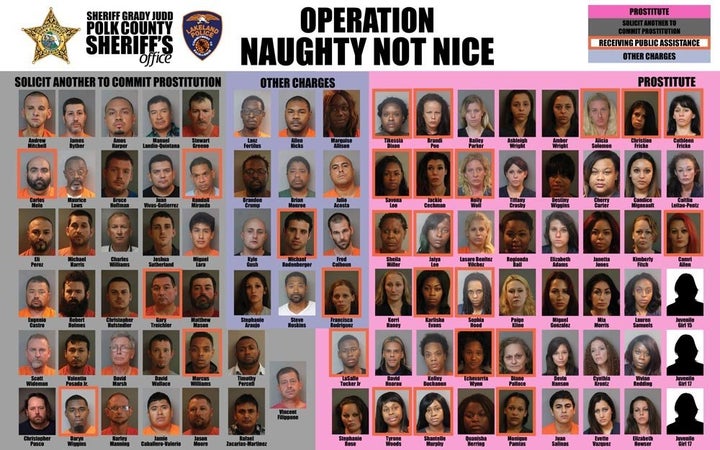 A five-day undercover prostitution sting in Florida has led to the arrest of 95 people, including three teenagers and a man wearing a French maid outfit, authorities said.
The spectacular bust, dubbed "Operation Naughty Not Nice" included the arrest of 33 "johns" and 50 sex workers, one of whom said she was positive for hepatitis, the Polk County Sheriff's Office said in a press conference Tuesday.
Some of the most notable arrests included a married high school teacher, an alleged sex worker who brought her 2-year-old son with her when meeting clients and a 68-year-old man who "rode a bike clear across Lakeland in his French maid outfit with a dog collar on," Sheriff Grady Judd said.

That man, identified as David Marsh, had lost his license following a DUI arrest. He's accused of soliciting sex work, specifically someone who would dominate him, Judd said.
A 15-year-old girl was the youngest to be arrested among the bunch, initially for prostitution. Two 17-year-old girls were also arrested for prostitution. 
A sheriff's spokeswoman told The Huffington Post the youngest teen did not initially provide a date of birth during her arrest. It wasn't until after she was booked that they learned her age and because of that, the state attorney's office will determine what charges, if any, will ultimately be filed against her, spokeswoman Carrie Hortsman said in an email.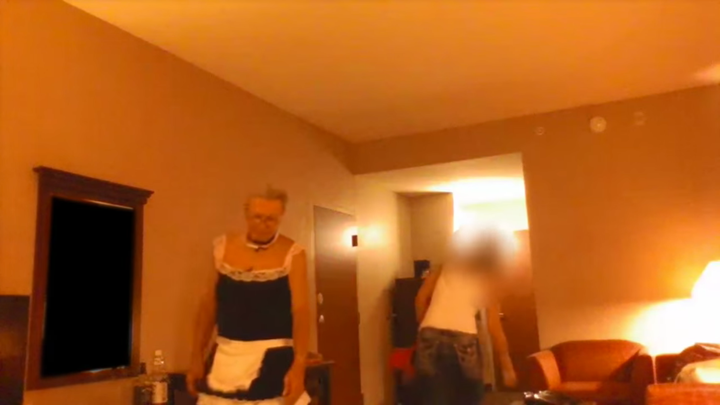 At Tuesday's joint press conference with Lakeland Police Chief Larry Giddens, the sheriff celebrated the arrests, which included the sex workers' alleged pimps, as well as the counties' growing reputation for being harsh on sex crimes.
According to Judd, detectives told them that they could easily have arrested twice as many people if the operation took place elsewhere, as some prospective clients and sex workers refused to conduct business in the Lakeland and Polk County area out of fear of getting caught.
Judd read an email out loud that a sex worker allegedly sent to an undercover detective. In it, the individual described the Polk and Lakeland areas as "notorious for stings, which is why I hope you understand me clarifying that I will not provide any illegal services."
"The chief and I are very proud of that, that they want to stay away from Lakeland and Polk County," Judd said with a smile at Giddens.
"Of all of these arrests we make, it's important to note that these aren't some innocent people wanting to engage in consensual sex and it's just a business affair," he said.
According to Judd, the suspects have a total of 205 previous felony charges and 399 previous misdemeanor charges in their criminal histories. 
They now face a new list of charges including prostitution, soliciting prostitution, aiding prostitution, battery, possession of marijuana, cocaine, meth, heroin, MDMA and drug paraphernalia, resisting arrest, contributing to the delinquency of a minor and deriving proceeds from prostitution.
In addition to some of the alleged clients and sex workers bringing children to their illicit rendezvous, 17 of the suspects identified themselves as married and cheating on their spouses. One of the 17-year-old girls arrested for sex work also told police that she lives with her mother who doesn't know the work she does, Judd said.
"We hope this sends a strong message to prospective johns that sex trafficking simply isn't a victimless crime," Giddens said.
In all, detectives filed 21 felony charges and 111 misdemeanor charges against the suspects. The complete list of charges and names can be seen here. 
Calling all HuffPost superfans!
Sign up for membership to become a founding member and help shape HuffPost's next chapter