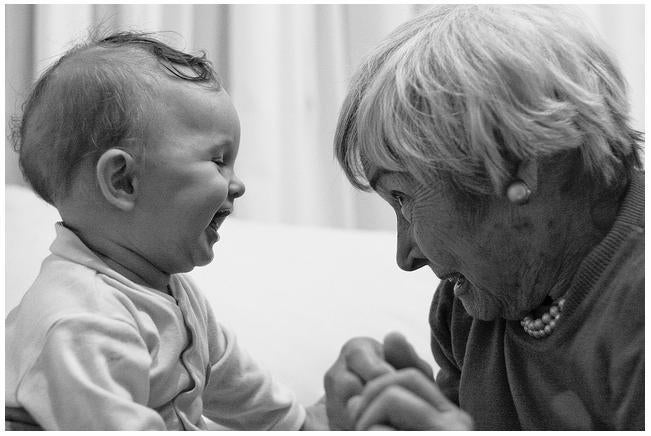 This post was co-authored with Robert (Bob) Blancato, the Executive Director at National Association of Nutrition and Aging Services Programs (NANASP)
As fall approaches, parents are focused on making sure kids have everything they need to have a successful school year—and thankfully, for many that also means making sure they're up to date on required vaccinations.
It's critical that all generations of our families receive vaccines to prevent the spread of disease—because many can seriously impact each generation in a variety of ways.
One such example of a vaccine preventable, multi-generational disease is pneumococcal disease, which can be very serious for young children, those at any age with compromised immune systems and adults aged 65 and over.
That means the new baby in the family needs to receive a pneumococcal vaccine, as well as your middle aged relative living with a chronic illness, and Grandma and Grandpa.
If the family as a unit is fully vaccinated, that reduces the risk of disease, especially if some members are too young for vaccination, or aren't able to receive vaccines because of other medical reasons.
One of the most dangerous things about pneumococcal disease is that it can spread easily, fast, and by someone who's not even sick. It's transferred by contact with respiratory secretions. So, someone can be a carrier of the disease in their nose and throat without any symptoms, yet still be able to spread it. All it takes is for someone near you to cough or sneeze.
And the symptoms can be deceptive. You might think you simply have the flu because you may only experience sweats, chills and a fever. Other symptoms include difficulty breathing, chest pain, cough, shortness of breath, a stiff neck and disorientation. By the time you seek treatment, symptoms may have deteriorated to a dangerous point.
According to the Centers for Disease Control (CDC), pneumococcal disease kills thousands of adults and young children every year. Thousands more end up in the hospital. Pneumococcal disease can cause severe lung infections and meningitis---which attacks the brain and can cause loss of limbs and death in and of itself.
That's why fully vaccinating all members of the family is so important. Infants receive the vaccine over a series of doctor's visits from the time they are two months to about 15 months old. Adults between age 19 and 64 living with chronic illnesses such as heart disease, liver or kidney disease or breathing conditions like asthma and COPD should also talk to their doctor about the available vaccines, as they are more at risk due to potentially compromised immune systems. And those aged 65+ need to be vaccinated as well to support healthy intergenerational connections as we age.
While it's routine for infants to receive vaccines, that can wane as we age.
Unfortunately, many adults don't realize they need to be immunized and consequently many aren't.
That's why we at Generations United and the National Association of Nutrition and Aging Services Programs (NANASP) are teaming up to raise awareness about pneumococcal disease and how it can be prevented. Healthy aging is a primary goal of NANASP which advocates for programs and policies that enhance the health and wellbeing of our elderly population. Generations United's mission is to improve the lives of all generations through sound public policy and collaboration.
The fact health experts at the highest level support that all generations of our families ward off pneumococcal disease with vaccinations speaks for itself. But getting the word out is critical. And that's why we've taken this cause on.
And cost isn't an excuse. Many health insurance plans cover routine vaccinations as part of their prevention programs. Medicare and the Vaccines for Children program will ensure that those both young and old should have affordable access to vaccinations.
Many of us get the flu vaccine this time of year—so this year at the same time, check with your loved ones and their healthcare providers. Make sure everyone in your family is protected and vaccinated, doing so may save a life of someone you love.
Calling all HuffPost superfans!
Sign up for membership to become a founding member and help shape HuffPost's next chapter
This post was published on the now-closed HuffPost Contributor platform. Contributors control their own work and posted freely to our site. If you need to flag this entry as abusive,
send us an email
.