Kidney disease is estimated to affect more than 20 million Americans and is sometimes called a "silent disease" because early kidney disease has no symptoms. People who have kidney disease may progress to kidney failure and are more likely to develop additional health problems—such as heart disease, and to die prematurely—which is why getting tested is so important.
Diabetes and high blood pressure are the main causes of kidney disease in adults. A family history of kidney failure, as well as heart disease, also increases the chances of developing kidney disease. African Americans, Hispanics/Latinos, and American Indians are at increased risk for developing kidney failure. This risk is due in part to high rates of diabetes and high blood pressure in these communities.
Get tested for kidney disease if you are at risk.
If you have diabetes, high blood pressure, heart disease, or family history, you should get tested for kidney disease. Testing is easy and involves a blood test and a urine test. The blood test tells how well your kidneys are working. The urine test checks for albumin. Albumin is a protein that can pass into the urine when the kidneys are damaged.
If you have diabetes, get checked every year. If you have high blood pressure, heart disease, or a family history of kidney failure, talk with your health care provider about how often you should get tested. You should also have your blood pressure checked regularly.
Early treatment can prevent or delay other health problems.
The sooner you know you have kidney disease, the sooner you can get treatment to help prevent or delay progression to kidney failure.
Talk with your family about your health history.
Diabetes, high blood pressure, and kidney disease tend to run in families. African Americans and others who may have a greater chance of developing kidney disease should know their family health history and share what they learn about kidney disease with family members. You can take steps to help protect your family from kidney disease and its causes—diabetes and high blood pressure—by adopting a healthy lifestyle for your entire family.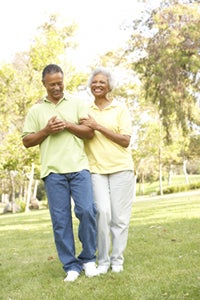 Add healthy habits to your routine.
Healthy lifestyle habits may help you, your children, and other family members maintain a healthy weight and reduce your risk of developing diabetes, high blood pressure, and kidney disease.
· Make healthy food choices—Choose fresh fruits, fresh or frozen vegetables, whole grains, and low-fat or fat-free dairy products. Read food labels and choose foods that are low in saturated fats, trans fats, cholesterol, salt (sodium), and added sugars.
· Make physical activity part of your daily routine. Be active for 30 minutes or more on most days.
· Aim for a healthy weight—If you are overweight, work with your health care provider or dietitian to create a realistic weight-loss plan. The NIH Body Weight Planner is an online tool to help you tailor your plans to achieve and stay at a healthy weight.
· Get enough sleep—Adults should aim for 7 to 8 hours of sleep each night, and children need between 9 and 14 hours.
· Take medications as prescribed.
· Quit smoking, if you smoke.
The NIDDK has materials for you to share, so you can become a kidney health champion. You can promote kidney health among your family, friends, and community.​​​​​​​​​​​​​​​​​​​​​​​​​​​​​​​​​​​​​​​​​​​​​ You can also find information about how to reach your own health-related goals and to protect your kidneys.
Calling all HuffPost superfans!
Sign up for membership to become a founding member and help shape HuffPost's next chapter
This post was published on the now-closed HuffPost Contributor platform. Contributors control their own work and posted freely to our site. If you need to flag this entry as abusive,
send us an email
.