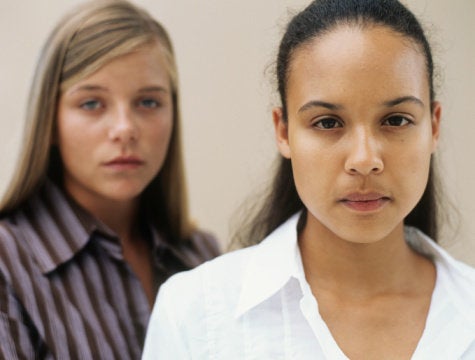 Trafficked, raped and alone, one former foster youth stands for thousands.
The story of 19-year-old Suahmirs Rivera is one of extended powerlessness turned diamond-hard inner strength. A strength he is now using to defend 1,400 former foster youth who like himself fear being cast into the street because of one of Governor Schwarzenegger's proposed budget cuts.
When the then 16-year-old Rivera was thrown in a truck and stabbed with an IV in his native Honduras, he was powerless. When the drugs wore off and he realized he had been trafficked to a flophouse in San Diego, he too was powerless.
He was kept in a small room, fed one meal a day and forced to sleep with both men and women. His captors told him that if he tried to contact his mother and his younger siblings back home they would be killed. Unable to lash out at his torturers, Rivera bit himself and tore the skin from his arms.
"I was afraid for my family," he says. "I didn't want nothing to happen to them, I was raped to keep them alive."
When the house was raided and he finally saw two police officers, he thought they were angels.
The teenager was soon placed in the foster care system. Despite bouncing through two foster homes, three group homes and a spate of mental institutions during his two years in foster care, Rivera says the system was a salve, a respite from the horror he had lived. But not long after his 18th birthday, he like most foster youth who reach maturity, was cast out, left to himself to navigate a country that was not his own, without family and carrying the burden of his nightmare.
Unfortunately, Rivera is not the only one. The stats are bleak for the 4,000-5,000 California foster youth who "age out" of care every year: one-fourth will have been incarcerated, one-fifth will have experienced homelessness, one-third will suffer major depression, and only two percent will ever graduate from college.
But Rivera was smart, and lucky. He enrolled in California's THP-Plus program, which provides transitional housing and life skills training for 2,000 former foster youth ages 18-24 up and down the state.
When Rivera heard about the Governor's recent proposal to eliminate the paltry $35.7 million THP-plus budget to combat the state's $20-billion deficit, his first reaction was fear.
"I was afraid to become to be homeless," he says. But then he had a daunting but attainable epiphany, "If I save this program I won't be homeless."
After years of keeping the details of his life hidden from everyone but foster care caseworkers and dependency attorneys, Rivera made the hard decision to talk. And at 19, having lived his nightmare, he may be better poised than anyone else to convince the Governor that casting 1,400 former wards of the state into the street will cost much more than the 0.18 percent of the budget shortfall cutting THP-Plus represents.
Rivera launched a website, www.savethp.com, to organize foster youth and advocates to save the transitional housing program. But more importantly, Rivera has come to understand the power of his story coupled with media coverage. He first appealed to Channel 10 News in San Diego, which ran a story about him and THP-Plus at the end of January. Soon after he was contacted by Good Morning America. The GMA appearance was cut, likely to save airtime for a cooking segment or celebrity gossip.
"I want to scream to the world, hey we do exist," Rivera says in frustration.
He knows that if he had made national TV, the Governor would have had to rethink the proposed cut. This is where you, the reader enter the story. Let's go a little grassroots and help Rivera save THP-Plus. Write to Good Morning America asking to let Rivera speak. Maybe if enough people write we can make it happen.
Then we will see the hidden power of a young man who had the bravery to face being more powerless than most could dare imagine. The power to make the leader of one of the world's largest economies change his mind.