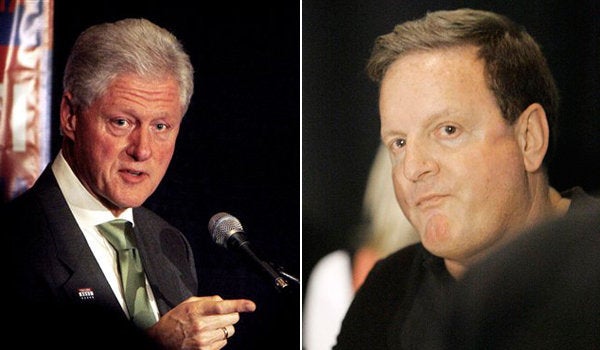 Bill Clinton has severed business ties with Los Angeles billionaire Ron Burkle, fearful that their deals could erupt into bad publicity damaging his wife's presidential bid, according to sources who know both men.
The break-up is a major development in the world of political fundraising, where Burkle has risen to the top ranks, credited with channeling $50 million or more into Democratic coffers over the past 15 years.
Burkle was one of Clinton's chief fundraisers while he was in the White House, a position that earned him a place on the Lincoln Bedroom guest list. After Clinton left the White House, Burkle brought the former president on board as a senior adviser at his investment firm, The Yucaipa Companies.
Now however, the relationship has apparently changed.
A source in Burkle's firm, who declined to speak for attribution, said: "When we are ready to announce the president's departure, we will announce his departure." The source contended there is no strain in the personal relationship between Burkle and Bill Clinton. He noted that if Hillary Clinton is elected president, Bill Clinton will have to divest himself of potential conflicts of interest.
Sources outside of Yucaipa independently confirmed the president's split with the company.
In an email, Clinton aide Douglas J. Band initially did not address the status of Clinton's investment in Burke's firm. Instead, Band wrote:
President Clinton and Ron are long-time friends and their relationship hasn't changed. President Clinton values his friendship with Ron as he has for almost 15 years.
Pressed for elaboration, Band then replied:
As President Clinton said this summer, he anticipates continuing his business relationships as long as they permit him to devote time to his highest priorities - the work of his foundation and supporting his wife's candidacy. He of course is taking steps now to ensure that should she receive the nomination, there will be an appropriate transition for those relationships.
Until recently, Burkle and Clinton have had a very close and mutually beneficial relationship. And the president has been a frequent houseguest at Burkle's Los Angeles estate, Green Acres, and a frequent passenger on Burkle's private Boeing 757.
Burkle made millions of dollars for both of them through Yucaipa, and served as Clinton's entry into the West Coast social world. Clinton, in turn, brought to their partnership his fame and allure as a popular president -- a powerful draw for prospective investors.
The crack-up of the Burkle-Clinton business relationship began over a series of controversial business deals that Yucaipa pursued, according to sources who know both men.
According to the terms of Clinton's deal with Yucaipa, he received a share of the profits from two domestic funds if their returns exceeded 9 percent over the fund's life. As reported by the New York Times, by 2005 one fund had reported a gain of 51.3 percent and the other 25.8 percent.
But it was how the funds earned their money - or, on occasion, lost it - that reportedly made Clinton skittish.
The crucial development, sources said, was the September 26 publication of a front page Wall Street Journal article detailing some of Yucaipa's questionable dealings. The story, which broke on the same day that heads of state and business leaders convened to discuss the Clinton Global Initiative, detailed how a young Italian businessman had convinced Burkle and a Clinton aide to invest millions of dollars in a poorly run church-property buying venture.
Clinton, according to sources, considered the piece a major embarrassment and decided to withdraw from Yucaipa.
Clinton was furious with Burkle after the WSJ story appeared, according to a source close to the former president. Burkle and Clinton exchanged heated words, the source said, adding, "their friendship will never be the same. There is now a real distance between Burkle and the Clintons."
According to the WSJ story, in May 2007, Burkle and Yucaipa filed a lawsuit accusing the Italian businessman, Raffaello Follieri, of "systematically misappropriating" at least $1.3 million to fund personal expenses and activities.
Follieri responded by accusing Burkle of blocking efforts to develop the purchased properties. Adding to the embarrassment was Follieri's reported promise to help deliver Catholic voters to Hillary Clinton, according to the Journal.
The lawsuit was settled in late November, according to court documents signed by a Delaware Chancery Court judge.
Prior to the failed church-property buying scheme, Yucapia found itself on the receiving end of a lawsuit. In April 2007, investors of Hawk Opportunity Fund sued Burkle over charges that Yucaipa's acquisition of Allied Holdings, Inc., North America's largest car-hauling company, gave it an unfair share of the market. The suit was dismissed.
But the transaction, not the lawsuit, forced Clinton to get involved. According to reports, the former president was brought on board to help persuade the International Brotherhood of Teamsters to take a 15 percent wage cut at Allied in exchange for bringing the company out of bankruptcy. The Teamsters agreed to accept the reduction.
Finally, according to USA Today, former Clinton aides helped secure a multi-million dollar federal contract for a Georgia-based company in which Yucaipa had 20% ownership. AmeriCold, one of the nation's largest cold-storage companies, was paid up to $85 million, to help with Katrina recovery efforts after James Lee Witt, who headed Federal Emergency Management Agency in the Clinton administration, lobbied on the company's behalf.
AmeriCold's job performance became the subject of controversy and bad publicity. As USA Today wrote: "truckers who were paid $800 a day [to help Katrina victims] hauled ice from state to state without unloading, then delivered their cargoes to AmeriCold and other storage facilities as far away from the Gulf Coast as Maine."
The president's relationship with Ron Burkle has been the subject of widespread speculation primarily concerning Bill Clinton's private life. Over a year ago, Patrick Healy wrote in the New York Times
Mr. Clinton is rarely without company in public, yet the company he keeps rarely includes his wife. Nights out find him zipping around Los Angeles with his bachelor buddy, Ronald W. Burkle, or hitting parties and fund-raisers in Manhattan.
With additional reporting by Huffington Post Staff Writer Max Follmer in Los Angeles.

Support HuffPost
The Stakes Have Never Been Higher
Popular in the Community