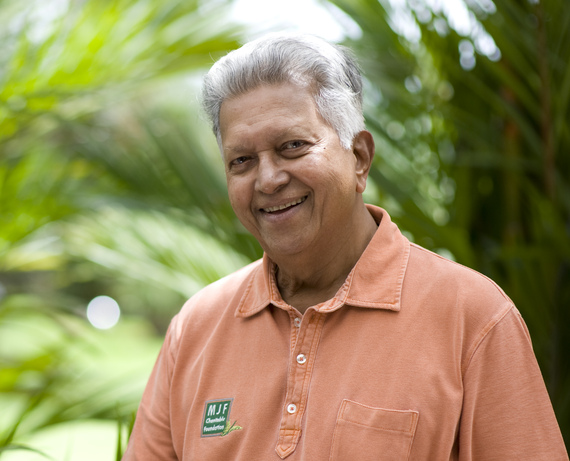 We are a family of tea makers who became accidental hoteliers, born of our commitment to ethical tea production and a genuine pride in sharing our country with interested visitors from abroad. Sri Lanka's tea has been acclaimed for centuries, but much of it was bulk-exported abroad and the serene beauty of the tea region was not widely explored by tourists.
Early in my career, I resolved to change the way the Sri Lankan tea industry operated, creating the country's first producer - owned brand - one that would offer the finest teas to consumers whilst providing a better deal to producers. Thus, Dilmah tea was born.
I faced enormous opposition from the big traders. Packing the tea at source in Sri Lanka was a threat to the exploitative and colonial system in place across the country at that time. Our team was small but passionate and our customers were too.
In 2000, when the Sri Lankan government announced a ceasefire in the long-running civil war, we began to receive letters from fans of Dilmah tea around the globe. They were intrigued by our beautiful country and delicious tea; they wanted to visit Sri Lanka to experience the unique culture for themselves.
Alongside my sons, Malik and Dilhan, we began running unofficial tea tours, with visitors staying in our tea planters' bungalows and estate managers' homes, touring the factories and plantations with our team. Word spread and our accidental hotel business began!
We renovated four colonial-era tea planters' bungalows - built between 1888 and 1950 - within the tea estate, between beautiful Mousakelle and Castlereagh Lake. In 2005, Ceylon Tea Trails officially opened as a unique 'hotel' concept, allowing guests to feel as though they have travelled back in time to colonial Ceylon.
We wanted our guests to experience graceful living in the pristine surroundings of our tea estate - awoken each day by a butler serving 'Bed Tea', an age-old institution, as their bath is drawn and curtains opened to reveal the misty valley below. At its core, Ceylon Tea Trails is a celebration of our country's greatest export and my family's great love - tea.
I have always believed that the greatest gift is the gift of giving - in sharing and caring, making our business a human service. Since the early days, out earnings have been shared amongst our workers, the differently abled and the wider community. Our business was established on the principle that success is a blessing to be shared.
The MJF Charitable Foundation was a natural extension to this, allowing us to widen the benefit to the community and the environment. Through this, we have supported 200 scholarships for members of our tea picking families - with 99 students going on to university. We have helped with housing improvements for workers including providing additional water supply, implemented a health care infrastructure and created a breast cancer awareness programme.
Other initiatives include the Small Entrepreneur Programme, the Prison Reform Programme and the Local Heroes Programme, all aiming to empower disadvantaged people and communities.
The two MJF Centres - in Colombo and Weligama - provide much-needed childcare, education and support to disadvantaged and differently-able children in the area. We also work with women from underprivileged, marginalised communities to create a livelihood through education. Alongside these social initiatives, we work towards environmental sustainability through Dilmah Conservation, protecting the fragile environment through harmonious co-existence between humankind and nature.
Following in the footsteps of Ceylon Tea Trails' success, we opened a second resort on Sri Lanka's south coast - Cape Weligama - in 2014. Situated on a spectacular promontory jutting out into the Indian Ocean, with whales passing by and wonderful surfing, this is a very different experience but it maintains the central principles of philanthropy and giving back to the community.
Looking to the future, we hope to continue showcasing our unique country and culture to visitors, with new properties in the pipeline. The next resort will be Wild Coast Tented Lodge - a luxury tented camp situated on a white-and beach on the fringes of Yala National Park, a renowned hotspot for leopards and elephants.
Here, we can showcase the unique biodiversity of the region whilst benefiting the local communities and fostering in our guests a respect and awe for nature.
As hoteliers, we have a unique role in protecting our country. Through understanding the mutuality that exists between the environment and tourism, demonstrating leadership and making a genuine commitment to sustainability and community engagement, we can truly shape the future of our unique island nation.
Pioneers for Change is a seed-bed for innovative thought. An activator of personal potential. A catalyst for collective energy. A community to drive social change.
Our annual, international Fellowship is open to anyone aged 28 - 108 years old. We gather change-makers -- a business person, a community person, an investor, a thinker or doer -- who are willing to harness their talents, energy and resources as a force for good. Pioneers for Change is an initiative of Adessy Associates.
Adessy Associates believes a better world is possible, and equips and enables organisations and individuals to make positive change happen, and contribute to a sustainable future. We focus on benefit for people, planet and profit. Our bespoke services harness sustainability, innovation, consciousness and purpose. We are proudly B Corp certified.
About Merrill J. Fernando
Born in 1930, in the village of Pallansena in South Western Sri Lanka, Merrill J. Fernando hails from a rural, middle class background. Following his early education at Maris Stella College, Negombo he moved to the capital Colombo, seeking better prospects. He wished to become a Tea taster, then the domain of British expatriates who guarded their profession keenly. Merrill was fortunate to be selected to join the first batch of Ceylonese (Sri Lanka was then called Ceylon) to be trained in tea at what was then the 'mecca' of tea - Mincing Lane, London.

Whilst at Mincing Lane, Merrill observed the dysfunctional aspects of an industry on which his country relied heavily, and which was exploited by large multinational corporations. Tea, a finished product that was handpicked, produced according to a traditional and artistic process in Sri Lanka, was treated as a raw material and shipped at nominal value to Europe where value addition, branding and packing took place.

This meant that the producer received a tiny fraction of the profits from the sale of Ceylon Tea, whilst middlemen - mainly a handful of large corporations - benefitted disproportionately. Addressing that inequity has been the fire that has driven Merrill since the age of 20, for more than half a century. He established his Dilmah brand - the first producer owned tea brand - after 38 years of endeavour, and has since championed Integrity - Quality, Freshness, Authenticity and Ethics - in tea.

The tiny, upstart tea company that Merrill formed in 1988 to change the exploitation of his country's crop by big traders, has today grown to become one of the top 10 tea brands in the world. However as Merrill says, his Dilmah will always be a small, family brand because it represents integrity, and integrity in tea requires quality, commitment and passion. Those are not qualities that can be extended to the mass market.

Merrill J. Fernando is joined in his passion for tea by his sons, Malik and Dilhan, whose names form the Dilmah brand. Together they pursue Merrill's vision of bringing quality back to tea, with tradition, ethics, and all the health benefits in fresh tea. Merrill maintains an active interest in Resplendent Ceylon - the hospitality arm of Dilmah - which is now overseen day-to-day by his son, Malik.
Merrill J. Fernando received the Business for Peace Award on the 6th of May 2015, incidentally also his birthday, as one of the five 2015 Oslo Business for Peace Honourees, by the Award Committee of Nobel Laureates in Peace and Economics.

The Business for Peace Foundation annually names honourees for the Oslo Business for Peace Award in recognition of business persons who, "through their own actions and commitments truly are business worthy, promoting socially responsible and ethical business practice in an outstanding way, and standing out as examples to the world."
Related
Popular in the Community