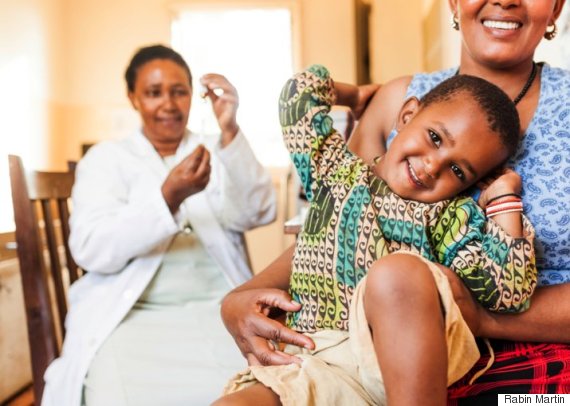 With 1.5 million deaths each year from vaccine-preventable diseases, there is still much work to be done. (Photo Credit: (Photo Credit: Olga Popova))
As a doctor and mother, the incredible power of vaccines never ceases to amaze me. When I was in medical school, we were taught how immunizations spared children from the suffering of previous generations. Vaccines not only protect individuals, but also communities where we live. When I had my daughter Daria, I knew she would grow up protected from some of the world's greatest scourges, like measles and bacterial meningitis, and that by vaccinating her fully and on time, I would be contributing to the health of the whole society. Isn't that simply incredible?
Today, I feel so fortunate to have been able to work for the past 16 years on expanding access to vaccines so that mothers everywhere can have this same reassurance. I am proud of my work on vaccines to combat diseases such as polio, cholera, typhoid and flu. I am also excited about new developments to increase access to vaccines in countries that lack the resources to easily deliver them. I'm proud to be working alongside global partners to advance vaccine delivery innovations in resource-limited settings. Innovations like a pre-filled injectable device that makes it easier to safely deliver pentavalent vaccines, which protect against five of the most preventable diseases.
My work takes me all over the world, and wherever I go, I encounter vaccines' biggest advocates: mothers. These women -- many in some of the world's poorest countries -- go to extraordinary lengths to vaccinate their children. Whether a mother takes her child to the doctor's office down the street or hikes miles to the nearest clinic, all of us mothers aspire to provide a healthy future for our kids. Some queue at the vaccination centers, under sun or rain, babies in their arms, fully trusting the doctors and nurses that are there to help that happen. Are we allowed to let them down?
So, what will it take to get life-saving vaccines to the 20 percent of children under the age of 5 who currently don't have access? The answer lies in strengthening partnerships, so that all of us -- vaccine developers, health workers, policy-makers, funders, governments -- join forces to deliver life-saving vaccines, innovating and improving products, fostering demand and acceptance, allowing health systems to be strong and sustainable.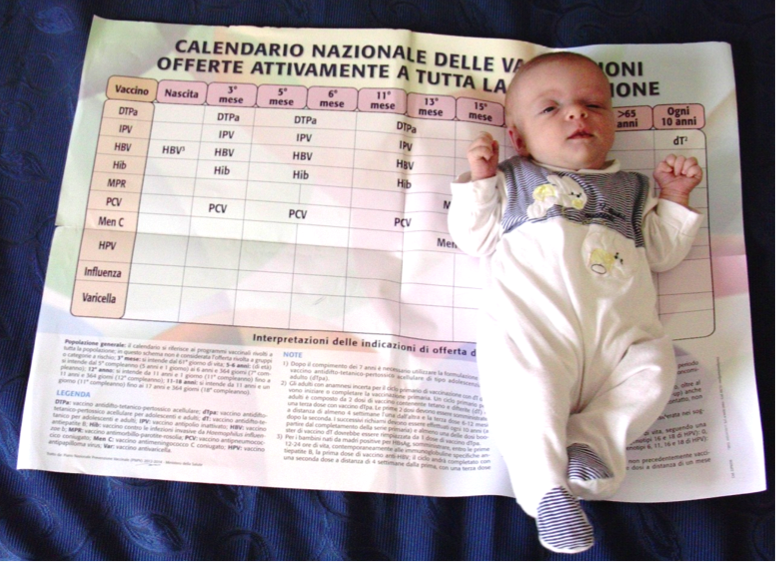 My daughter Daria pictured at three weeks old with her vaccination calendar. Every country has its own expert-approved vaccination calendar that details when to vaccinate your child. (Photo Credit: Olga Popova)
Vaccines both save lives and are remarkably cost-effective -- second only to the provision of clean water in terms of health impact -- making them a good investment for governments and other funders. Recently, donors such as the UK, Germany and the United States, as well as the Bill & Melinda Gates Foundation, pledged a record-breaking amount of funding to the Gavi, the Vaccine Alliance, to immunize an additional 300 million children.
It is our responsibility to do what we can to help reach the remaining children still at risk for vaccine-preventable diseases. We as mothers need to be vocal vaccine advocates in our communities and abroad, conveying how important it is for all children, no matter where they live, to have the same opportunities in life. This, to me, is what global motherhood is about.
Editor's Note: Johnson & Johnson is a sponsor of The Huffington Post's Global Motherhood section.
REAL LIFE. REAL NEWS. REAL VOICES.
Help us tell more of the stories that matter from voices that too often remain unheard.