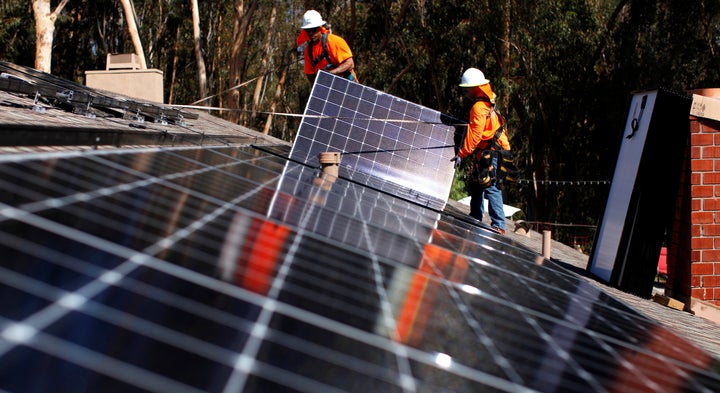 San Francisco has reduced its carbon emissions by 28 percent since 1990, while growing its GDP by 79 percent. And it's far from alone. Across the country, cities have been proving that protecting the environment and growing the economy go hand-in-hand.
A big part of this story is that cities – large and small, in red and blue states – have been transitioning away from coal and toward cleaner sources of energy. Clean energy sources are at their cheapest prices in history, and since burning coal leads to asthma, lung disease, cancer, heart disease, birth defects, and countless other illnesses, consumers are increasingly demanding cleaner energy. As a result, coal production is no longer economically competitive.
In fact, since 2010, nearly half of all U.S. coal plants have closed or switched to cleaner energy sources. As a result, the number of Americans dying each year from pollution from coal-fired power plants has been cut from 13,000 to about 7,500. That is great news for our health and environment – and it's also been good for our economy.
Today, nearly a half million people work in the solar and wind industries, while only about 65,000 people work in coal mines. Jobs in the mines started dying long before coal plants started to close, because technology has allowed coal companies to mine with very few miners. There were more than 800,000 miners in the U.S. in the 1920s. By the time coal production peaked in 2008, the number was down to 82,000. As cleaner energy replaces coal, that number has fallen even further.
"We ought to demand that government leaders do more to spur job growth outside of mining in coal communities."
In the years ahead, as the price of clean energy continues to fall, clean energy jobs will continue to grow – and cities like San Francisco are helping to lead the way. Seventy percent of greenhouse gas emissions come from urban areas, which means that cities play a vital role in accelerating the transition to cleaner energy.
San Francisco is one of twelve U.S. cities that belong to the C40 Cities Climate Leadership Group. Together, the twelve have pledged to deliver up to 131 million metric tons of CO2 savings by 2025. As part of this work, San Francisco has pledged to make its electricity at least 50 percent renewable by 2020, and 100 percent by 2030. And technology companies, from Apple to Facebook, have turned to clean energy as well—because they recognize that doing so is good for their business.
Replacing coal with energy from solar, wind, and natural gas is bringing broad benefits to communities across the U.S. But the economic side effects – the lost jobs in coal – are concentrated in a few regions.
We cannot forget that coal workers powered America for more than a century. In recent years, coal companies have been walking away from the health care and pension obligations they owe their workers, while politicians have been making promises they can't possibly keep about putting miners back to work. We should not tolerate either.
The economic reality is coal mining jobs aren't coming back. Washington can no more save those jobs than it could have saved the jobs of horse-and-buggy drivers 100 years ago. Instead, we ought to demand that government leaders do more to spur job growth outside of mining in coal communities. San Francisco's transition to 50 percent renewable sources is expected to generate over 5,000 clean energy jobs in the solar and wind industries.
The impact of coal on our health and planet, and what we can do to help coal communities affected by job losses, is the subject of a new film that will air next month on the National Geographic Channel called "From the Ashes," co-produced by Bloomberg Philanthropies. The film features several organizations in the Western and Appalachian regions that are providing economic development assistance and job training for out-of-work miners. To support this work and raise awareness of the need for more of it, Bloomberg Philanthropies has created a $3 million grant for these organizations and is matching donations from the public.
Citizens, cities, and businesses are leading where Washington won't. Together, we can build a coal-free future that benefits all Americans, in all regions of the country – while also allowing the United States to continue to be a global leader on climate change.
Popular in the Community