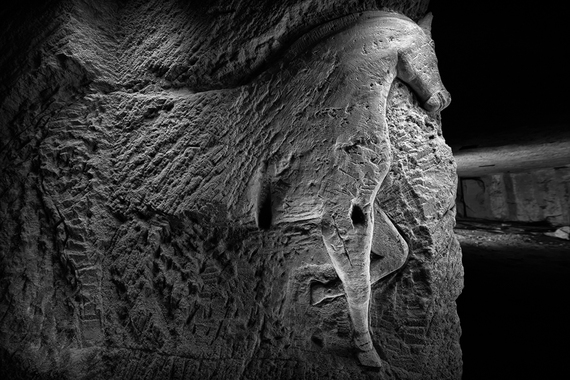 Carving of a horse. Photo by Jeffry Gusky
Every day Dr. Jeffrey Gusky, an ER physician and photographer, posts a haunting new photo on his Instagram feed. A portrait or list of names etched into a cave wall, a boot, a pile of unexploded shells or a set of tunneling tools leaning where its owners propped them underground a century ago--they seduce viewers with a mix of historical significance and emotional charge rarely seen on social media.
It's all part of a four-year memorial to those who fought in World War I, which began ravaging Europe in 1914 and finally went silent on November 11, 1918. Since 2014 Gusky has been bringing the wonders of the underground cities of World War I to wide public attention. These sites began as medieval quarries and natural caves in northeastern France, and during the Great War troops from both sides took shelter hundreds of feet below the trenches, building elaborate barracks, kitchens, worship spaces and even movie theatres. It's great to see these spaces, which help us relate to these long dead soldiers, getting such widespread attention.
However, as historian Alisha Hamel and I wrote in this column last spring, the popularity of Gusky's work also puts these sites in jeopardy.
Thankfully, Gusky appears as committed to securing and preserving them as he is to popularizing them. In a phone call from Paris last week, he described the moment that galvanized that commitment. In 2013 he had seen photos of a carved American ambulance on a cave wall and climbed down with a partner to find and properly document it. On their third journey deep into the cave, they discovered why they couldn't find the sculpture. "Where the American ambulance was, was now a blank space," he said. Slashes and chisel marks in the stone revealed where a power tool had been used to extricate the carving. "It's probably on the black market somewhere. That was really a disgusting and painful loss to witness." He went home with the sense that time was not on his side. "From then on I've been committed to not encouraging vandalism and protecting what we can."
Gusky said he is close to a deal with the French farmer who owns the land above one site in the region of Picardy to put steel gates over the entrances to it. "It always takes longer than you want. The owner of the farm was somebody that was an acquaintance, and now he's passed away. Now it's in the hands of his son, who I don't know. So that's the problem," he said. The mass of subterranean rooms has six entrances--a collection of sink holes and more formal tunnels in the sides of hills--all apparently used during the war as egress points to get to the trenches.
Funding the effort to secure the site will probably come from a combination of corporate and private donations. Gusky said he is talking with companies that specialize in crowdsourcing, and he's searching for corporate matching funds. "When we get the permission from the farmer, we'll make an announcement, and I want to give Americans the opportunity to be a part of it," he said. Explaining why he wouldn't be more specific at this time, he stressed the need to make sure the funding campaign is well planned, well audited and transparent. "I would like to make the announcement now, but I think it would be irresponsible right now," he said. "We want this to be the very best it can be."
The locations of these sites remain secret not only due to fears of further vandalism. According to Gusky, "You can have collapses. Some of the places are unstable." If the campaign to secure the sites from vandalism goes well, the next step would be finding capital to place support beams and stabilize the shifting earth above the areas most susceptible to collapse.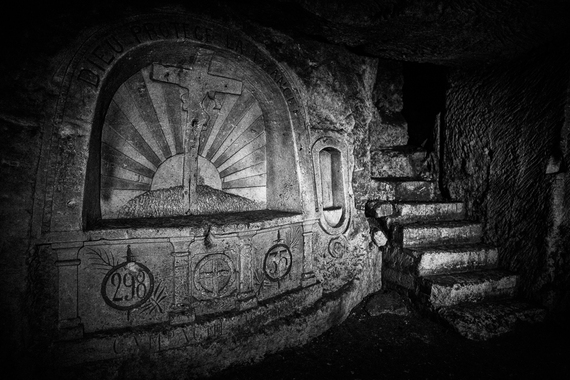 Alter and stairway leading to the surface (Photo by Jeffrey Gusky.)
Indeed, since we first published the above photo in May, this cave under the Picardy farm has become a prime example of both manmade and natural decay, discovered on a visit to the site on September 30, 2015. Speaking about the horse sculpture itself, Gusky said, "There were attempts to steal that. What you see is somebody started to drill, I think, underneath the leg of the horse. That wasn't there before." Elsewhere in the room a carved portrait is falling prey to natural erosion: "It's a beautiful carving, and the ground is starting to give way right above it. It was nearly covered up when we were there on the 30th. There are other places where the roof is cracking."
Today is known as Veterans Day thanks to a 1954 proclamation by President Eisenhower. Before that, it was called Armistice Day, the anniversary of the end of the Great War. Gusky said that link, between the first major deployment of American troops overseas and today's efforts to recognize the courage and commitment of every military veteran, helps drive his project.
"World War I was a catastrophe of scale, of the inhuman scale of modern life and the dark side of technology," Gusky said.
The power of the underground cities comes in how they pull this war back into human scale, letting viewers pause on the traces of men who left their creative mark and then climbed up to the trenches to take part in an unprecedented mechanized slaughter. Thousands never returned, and these are the last records we have of their lives. "It's different from looking at the gravestone of someone who has passed. It's someone who was alive, that wanted to be known, like a shipwrecked person who puts their name in a little note in a bottle that washes up on shore decades later. It's that human quality that we all have. We want to feel like our lives matter," he said.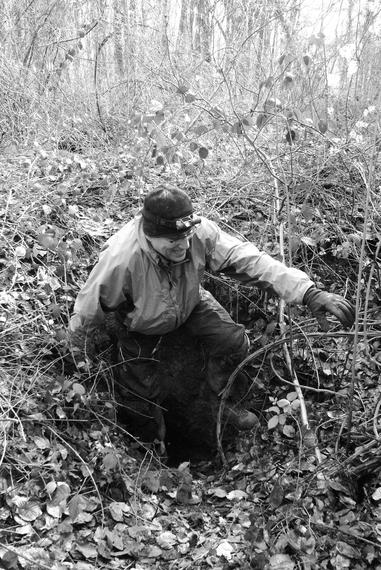 Dr. Gusky emerges from an entrance to one of the elaborately carved underground cities.
Gusky said his goal is to make the Great War "real and relevant" to the many people who feel no emotional connection to it. He's planning a multimedia effort in the next year to that end. Museum exhibitions and speaking engagements are in the works, along with as many as three TV series with the help of Kirk Wolfinger of Lone Wolf Media, whose company has produced dozens of documentaries for the National Geographic and History Channels, among others. One series may focus on genealogy (Gusky has documented some 4,000 soldiers' names), one on adventure travel with a camera crew underground, and one with the working title "Wine and World War I." Since the Western Front's trench line goes through wine country (Alsace and Champagne), this show would feature upscale travel with historical lessons tied to the war. "The hidden world is not just subterranean," Gusky said. "You find things that are in the raw. It's an amazing amount of remnants that are still left."
Follow Dr. Gusky's ongoing World War I memorial on Instagram, @hiddenwwi, and on the web at jeffgusky.com.
Paul X. Rutz, Ph.D., is a studio painter and freelance writer in Portland, Oregon. A former Naval officer and ballet dancer, he uses oil painting as a documentary medium to study body movement and the aftermath of combat. Find his work at paulrutz.com.
Related
Popular in the Community