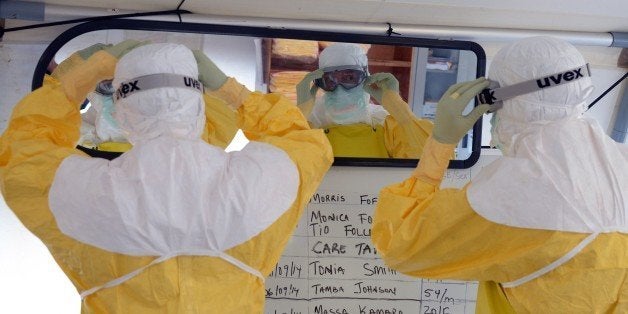 LONDON, Oct 30 (Thomson Reuters Foundation) - If Ebola is difficult to catch, as medical experts say, why are fully equipped nurses contracting it in the United States and Spain, and how can aid agencies in West Africa protect their staff more effectively?
One nurse in Spain and two hospital nurses in the United States were infected with Ebola after treating patients who had returned from West Africa with the virus.
All three were declared free of the virus in October, but many medical staff and helpers have been infected and died in West Africa.
"We have to wait for the evaluations being done (in the United States and Spain), but it seems like a lot of the problems are when you take off the protective gear," Johan von Schreeb, associate professor of healthcare in disasters at Sweden's Karolinska Institutet and adviser to the World Health Organization, said in a telephone interview.
"As a surgeon I'm used to putting on sterile equipment  but taking it off is quite difficult," von Schreeb said.
"There are a lot of dangerous moments where your skin could come into contact with the gear and then you could touch your eyes," he added.
The virus spreads when infected bodily fluids or secretions come into direct contact with the nose, mouth, eyes or broken skin. It does not spread through the air.
Worldwide there have been 13,703 cases of Ebola and 4,920 deaths in the current outbreak, according to U.N. figures released on Oct. 29.
"The problem is you're tired, you've been stressed, it's very hot. It's that human factor that's impossible to take away but we must strive for maximum security, which means stepping up the security precautions," he said.
Another potentially dangerous situation, particularly in West Africa, is when medical staff - who may not be wearing full protective gear - are assessing whether someone should be admitted to an Ebola treatment center.
It's impossible to tell whether someone has Ebola from symptoms alone - a blood test is needed.
"You have to keep your distance from the patients," said von Schreeb.
In both cases it is essential to maintain strict principles and a high level of discipline and to follow the rules, he said.
Von Schreeb was recently foreign medical teams co-ordinator for Ebola at the World Health Organization, and he is currently training Swedish medical teams about to leave for Liberia.
Staff in the severely underfunded health systems of West Africa often do not have enough protective clothing, are not used to throwing away equipment after a single use, and lack the training to dispose of the waste safely, he said.
The suit, gloves, masks and hoods can be used only once and must then be burned. The goggles and plastic face masks can be reused a few times, but the chlorine used to decontaminate them soon destroys them. Aprons and boots are often re-used.

The number of international agencies working on the epidemic has increased recently. In Sierra Leone there are now enough international staff to meet the needs, but gaps remain elsewhere, von Schreeb said.
"It seems like the international community has finally understood that this is a problem that is not about humanitarian assistance, it's not charity, it's a threat to global security," he said.
The danger, though, is that donor governments may not stay the course.
"This is a bit like a forest fire. Everyone might be there when the flames are 10 meters high, but (not so much) when the flames are just 3 or 4 centimeters high.
"When the last country has been declared Ebola-free then we should all celebrate. But that will take some time, and it will require enormous resources towards the end to ensure that all cases are followed up," he said.
"It's like a bush fire, if you turn your back on it and do something else, it will flare up again."
The international community knows how to contain an epidemic. "The problem is with this one it took too long. It took over three months until it was acknowledged, and once it was acknowledged the response was not there," he said. (Reporting by Alex Whiting, editing by Tim Pearce)