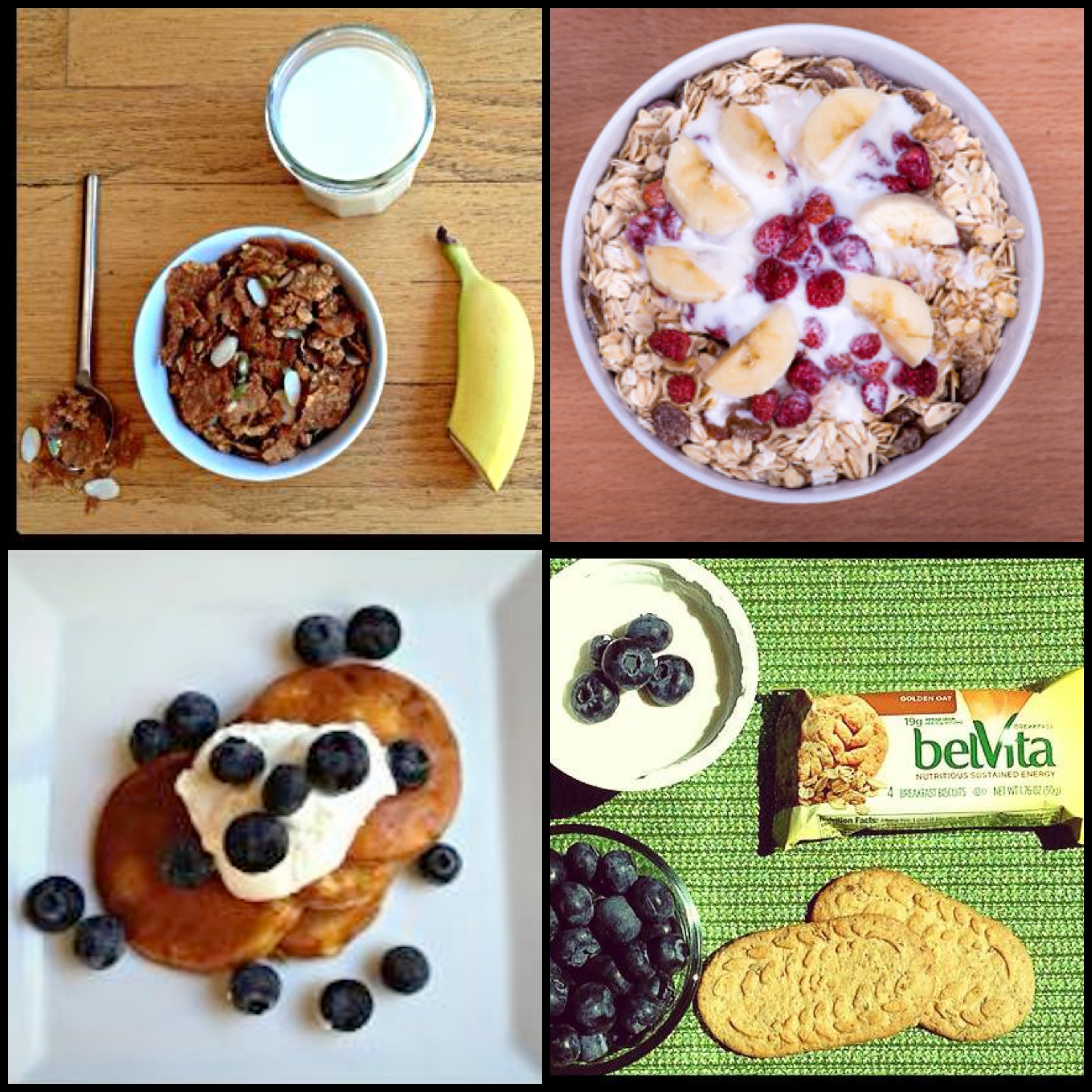 The right breakfast may help you achieve your weight loss goals, according to several published reports that found eating a healthy, protein-rich morning meal turns down hormones that trigger hunger and cravings, making it easier to eat fewer calories.
In one recent study, published in the European Journal of Nutrition, men consumed three breakfasts of equal calories while researchers tracked hunger, satiety and energy intake. The meals consisted of either protein-rich eggs, high-fat croissants, or carb-rich cereal breakfast. Results? When men ate the egg breakfast, they reported less hunger and desire to eat and consumed up to 331 fewer total calories throughout the entire day compared to when they had the cereal or croissants for breakfast.
Problem is, according to NPD Group, breakfast is skipped by 31 million Americans every day. What's more, typical breakfasts are often high in sugar and low in protein and quality carbohydrates. The national nutrition survey What We Eat in America found women eat about 12 grams of protein at breakfast while men average 17 grams. Studies show that 20-30 grams of protein is appropriate to help keep hunger and appetite in check.
A Week's Worth of Calorie-Controlled Protein-Packed Breakfasts to Aid Weight Loss
All of these first meals provide at least 20 grams of high-quality protein, lots of fiber for added fullness and no more than 450 calories.
Hi-Pro Oatmeal with Greek Yogurt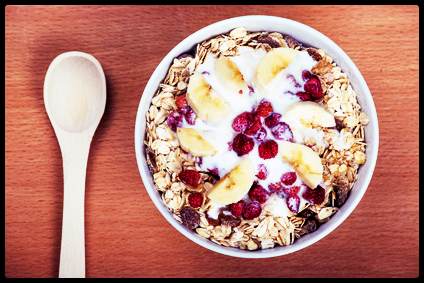 What: 1 cup high-protein oatmeal (e.g., Kashi GoLean or add 1/2 scoop protein powder to your oats before cooking) with ½ cup non-fat or low-fat plain Greek yogurt with 1 cup fresh fruit.
Why: Unsweetened oatmeal is one of the most satisfying breakfast foods because it is naturally low in sugar and provides beta-glucan, a viscous fiber that slows digestion and amps up hormones associated with fullness. Non-fat plain (avoid sugary-flavored varieties) Greek yogurt has one of the best protein-to-calorie ratios, making it a dieter's BFF.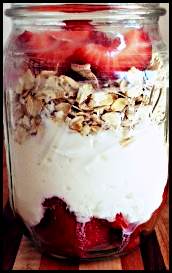 What: 8 oz. non-fat or low-fat plain Greek yogurt with 1 cup fresh berries and 1/2 cup quick-cooking oats. Layer fruit, yogurt, oats and honey in jar. Enjoy immediately or close and refrigerate overnight.
Why: This jar breakfast combines a filling combination of protein from the Greek yogurt, beta-glucan from oats and additional filling fiber from the berries.
Mushroom, Spinach and Leek Frittata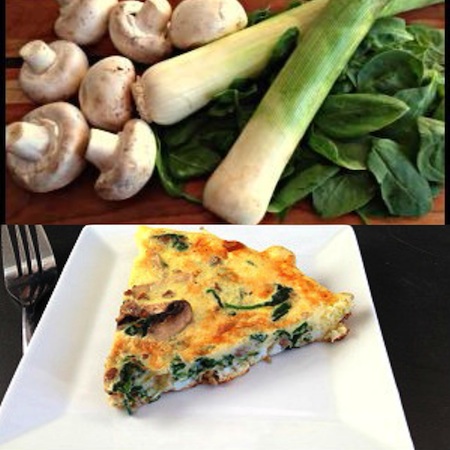 What: Frittatas are essentially a quiche -- minus the carby and fat-rich crust. You can make them with virtually any veggies that you have on hand. Enjoy a slice of this recipe with a toasted whole-wheat English muffin and 2 tsp soft spread or light butter.
Why: Any combination of eggs and vegetables = high in protein and relatively low in calories. Skip the fatty cheese and meats to keep your frittatas skinny.
High-Protein Cereal With Milk and Fruit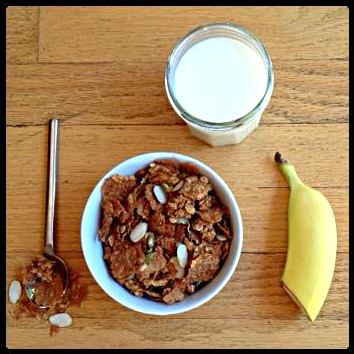 What: 1.5 cups Great Grains Protein Blend whole grain cereal with 1 cup skim milk and ½ small banana or 1/2 cup fresh berries.
Why: Cereal is one of the most convenient morning meals, and as long as added sugar is kept in check, it can be one of the most nutritious, too. And the good news is that protein is being added to several RTE cereals, but be sure to choose one that has 6 or more grams protein and no more than 8 grams sugar per serving and lists "whole grain ___" as the first ingredient.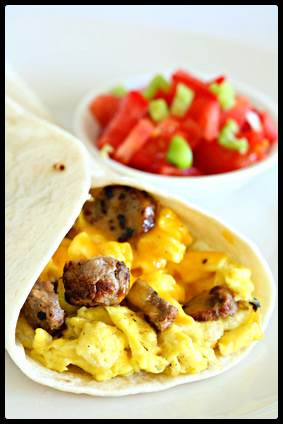 What: 2 whole eggs and 1 white (or 4 egg whites) scrambled with 1 oz. turkey or soy sausage or 2 slices Canadian bacon, chopped. Cook sausage or Canadian bacon and set aside. Scramble eggs, add sausage/bacon when almost done and serve in 1 small (6 inch) corn or whole grain tortilla. Enjoy with a piece of fresh fruit.
Why: Eggs can be scrambled with virtually any veggies you like and lean sausages or Canadian bacon add lots of flavor -- minus the saturated fat of full-fat breakfast sausages.
Breakfast Biscuits and Greek Yogurt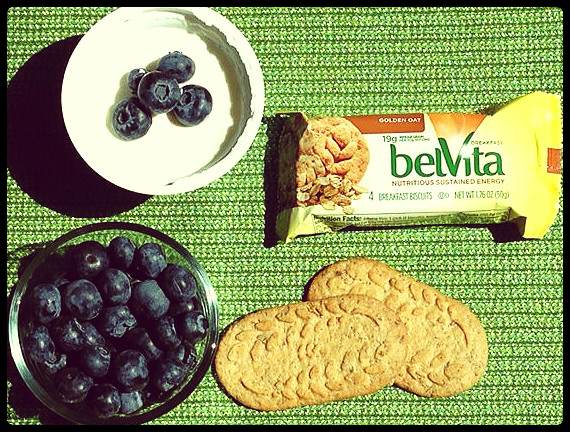 What: 6 oz. non-fat or low-fat plain Greek yogurt with 1 package Belvita Breakfast Biscuits with one cup fresh fruit or 1/4 cup dried fruit.
Why: This on-the-go breakfast travels well and packs enough nutritional oomph to give you the energy you need to fuel a busy day. The biscuits are made with whole grains and pack in 4 grams protein and 3 grams fiber.
Protein Pancakes (made without any grains!)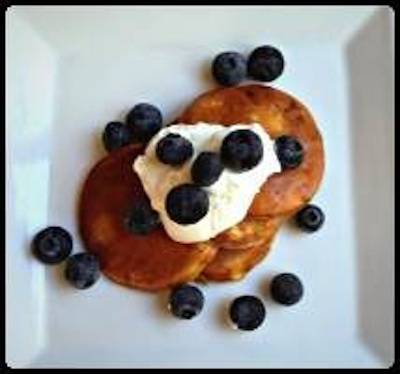 What: Enjoy 4-5 small pancakes (2-3 large pancakes) with 1/3 cup nonfat plain Greek yogurt and 1 cup fresh fruit
Why: These delicious protein pancakes are made with 2 eggs, a mashed banana and nut butter. They're completely grain-free, but you'd never know. Add a little cinnamon and vanilla extract for calorie-free sweetness.
Oatmeal photo courtesy of OledD-Fotolia. Burrito photo courtesy of JJAVA-Fotolia.